The award season is in its full swing with BAFTA and Oscar recently wrapped up. The red carpet events witnessed some of the best looks of the celebrities yet. And while the Grammy awards celebrate the music part of the industry, it doesn't mean that the carpet would be devoid of statement looks. The latest edition of the prestigious music award proved just that with artists walking down in all their creative glory, expressing it through their looks.
Best Clicks From The Latest Edition Of Grammy Awards
Dua Lipa
View this post on Instagram

Dua Lipa opted for a vintage dress from Versace's fall/winter 1992 collection. The dress with straps and golden buckles around the bustier has a column skirt to complete it. The dress fits like a glove, accentuating Lipa's curves. Moreover, Dua's long platinum-hued hair styled poker straight goes perfectly with the look. Needless to say, the heavily embellished choker necklace was the highlight of it all.
Billie Eilish 
View this post on Instagram

Following in her Oscar look, Eilish turned out dressed in all black once again. She showed up in an oversized dress by Rick Owen. Moreover, her pitch-black hair was styled in a wild updo. Also featuring were tiny sunglasses and boots, also black.
Michelle Zauner
View this post on Instagram
Zauner famously known as Japanese Breakfast turned up the vibrance on the carpet with her look. Her dress imitated a pattern of petals layered over each other. The yellow Valentino Fall 2021 Haute Couture dress made the young artist resemble a daffodil, a good one to look at.
Doja Cat 
View this post on Instagram
Doja Cat's this year's look was refreshingly different from her last year's neon look. The latest look was from Versace with a custom-made atelier corset. Moreover, the central bikini cut was covered with a crystallized sheer dress. The look was pleasingly shimmery adorned with a glass bag. Moreover, Cat chose to accessorize the look with jewelry from Samer Helimeh and Jacob & Co.
Carrie Underwood
View this post on Instagram
Carrie Underwood took the Grammy's red carpet looking absolutely ravishing in a ball gown. The Dolce and Gabbana gown made Carrie look like she hailed straight from the fantasy land. She kept her makeup subtle which made the ombre gold and tea-stained gown shine in all its massive glory.
St. Vincent
View this post on Instagram
The singer who nabbed the Grammy for Best Alternative Music Album Awards showed up in a Gucci. Vincent donned a sequinned pink floor-length gown from Gucci's Love Parade collection. The sequinned dress was complete with pink ruffles at the billowed sleeved and its hem.
Lady Gaga
View this post on Instagram
Talk about classic, Lady Gaga walked in one. The black and blush Armani Privé collection is all about classic timeless beauty. The white trail acted like a much-needed factor for the dress to stand out. Moreover, Gaga's styling of the dress was one to just stand and stare at with accessories from Tiffany and co. shining down.
SZA
sza wearing jean paul gaultier s/s 2006 at the 64th annual grammy awards pic.twitter.com/GnUO0Nrvc6

— ً (@muglerize) April 4, 2022
A dress with a central theme of flowers never spoke power so loudly. The nude body-hugging ruched gown that SZA chose for the event was much more than just eye-pleasing. The dress came from the Spring/Summer 2006 collection of Jean Paul Gaultier. It featured multicolored flowers adorning the center of the gown. Moreover, the tulle flowed into a train making the whole look more polished.
Tinashe
View this post on Instagram
Tinashe's look for the event proved that pink is still a sane choice for important events as such. Her subtle pink dress assembles many contrasting features that surprisingly worked in harmony together. The Italian label GCDS dress had a gigantic bow at its back and the flimsy material doubled up the wow factor for the whole look.
Halsey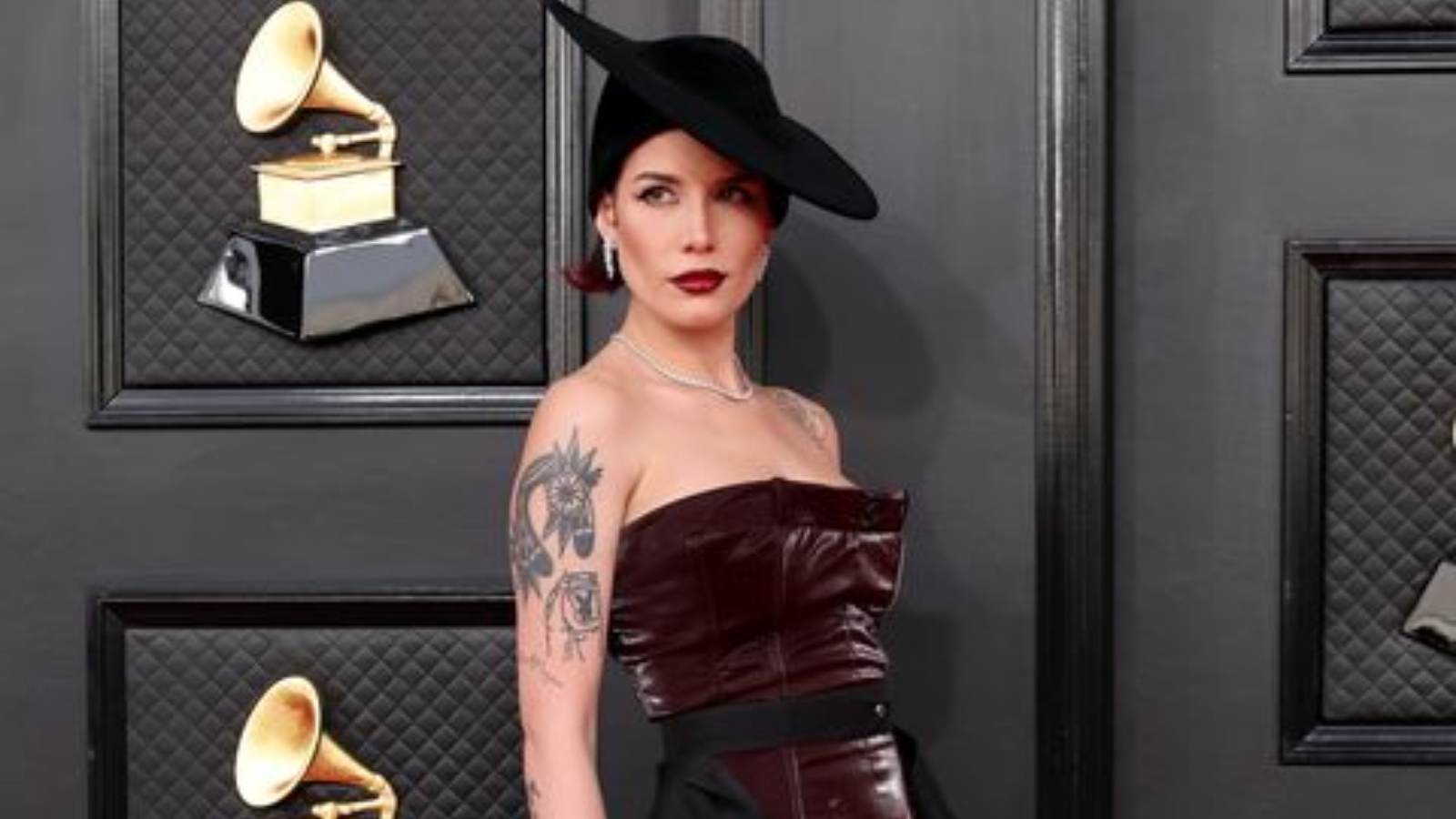 The singer walked in wearing a Pressiat outfit with a velvet corset. The whole look seemed perfectly put together with an elegant black vintage Pierre Cardin hat. Moreover, her red lips and sharply contoured makeup flowed in harmony with what the velvety dress aimed to look like.
Also Read: Ezra Miller's Future In DC Hangs In Balance After Bar Brawl In Hawaii