Peacemaker star, John Cena portraying the title character in the American television series curated by James Gunn for HBO Max appeared on The Tonight Show Starring Jimmy Fallon recently. The TV series premiered its first three episodes on the streaming service, HBO Max, on January 13, 2022. Peacemaker is based on the DC Comic character played by John Cena with Danielle Brooks, Chukwudi Iwuji, Jennifer Holland, Freddie Stroma, Robert Patrick, and Steve Agee.
John Cena, 44-year-old, an American professional wrestler and actor appeared for an interview at the American talk show and revealed about "You Can't See Me" secret! Actor and comedian Jimmy Fallon tried to get an insight into this secret that we will be sharing with you shortly in this article.
.@JohnCena breaks down the origin of his famous "You Can't See Me" @WWE move! #FallonTonight pic.twitter.com/1n7HqE5tls

— The Tonight Show (@FallonTonight) January 11, 2022
John first featured in The Marine in 2006 and got famous after his role in Trainwreck in 2015 and more. He is also famous for his recent role as a Peacemaker in The Suicide Squad.
Peacemaker Star John Cena Shares Secret At TTSS Jimmy Fallon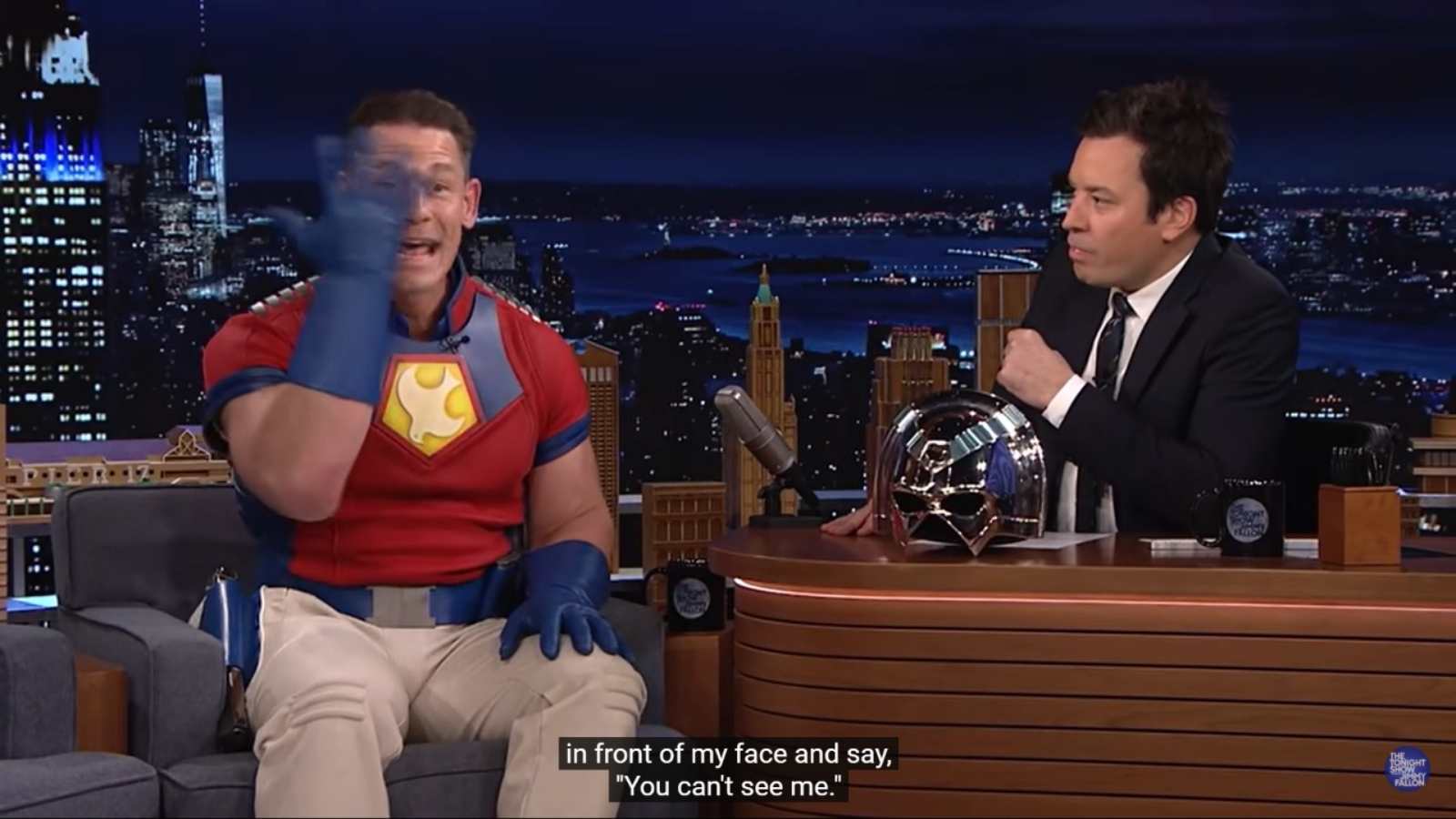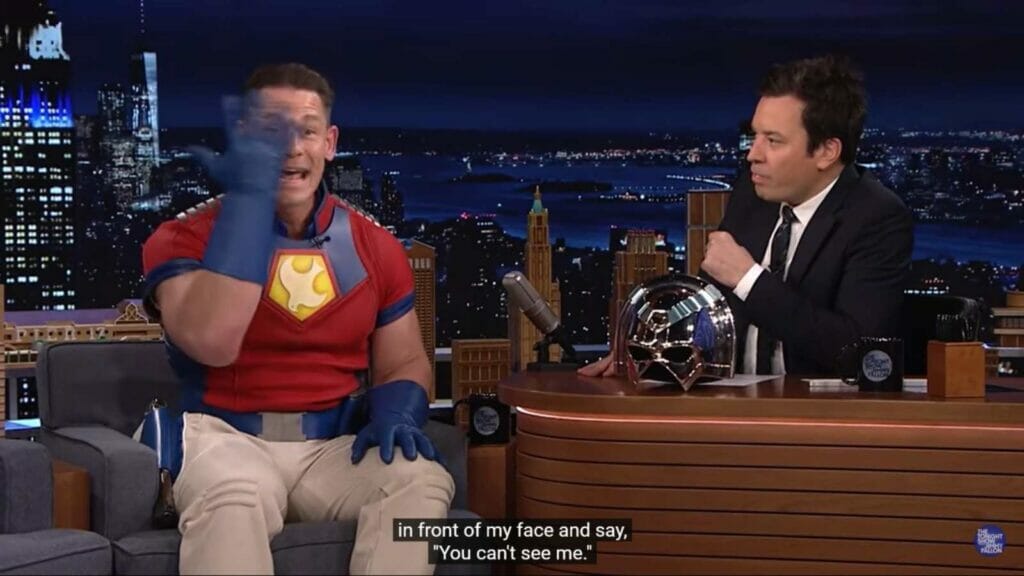 Jimmy Fallon, the host of the talk show informs fans that Cena appeared on the show several times and this is not the first time he is here. Fallon said, "You(referring to Cena) have been on the show almost 15 times now. We know each other for a long time. And we have never talked about the "You Can't See Me" move. What is the back story?
Jimmy also imitates the action of this phrase that John Cena does.
To this, John replied humorously, "Okay. So, for those of you who don't know, get the damn internet!" And Jimmy and the audience breaks into laughter and say. "of course". John continues and said, "I became a superhero long before donning the Peacemaker costume. I developed a special maneuver in the WWE called the "You Can't See Me".
He continued the story, "In which I put my hand in front of my face and say, "You Can't See Me."
Reason Behind You Can't See Me By John
Then Cena stated the reason behind this action and said, "I did this because while we were making the album to which my theme music is on, my younger brother, Sean was always our litmus test. He kinda liked the same music and he would never go to the studio with us. So we would come home with our tracks, and play for him and he was ruthless, man. He would never be satisfied with any song. And He heard, 'The Time Is Now' and just did this dance that Tony Yayo did in one of the G-unit videos.
Life mood #FallonTonight ahaha ???? pic.twitter.com/MH4CTeR03W

— Fahma????Muse???????????????????????????????????? (@fahma311) January 11, 2022
He explained by doing the action with his hands and explained it. "It was like he put his hand over his head and just kind of like bobbed his head like that. And I was like man what are you doing? That looks ridicuJohn's But John' brother used to say, "no-no man. This is Tony Yayo's dance.
From this John decided to do this thing on TV. Cena said, "I'll do it on TV." To this, his brother replied, "I dare you to do it on TV."
Cena concluded that "Little did he know I'll do this on TV. The studio bursts into laughter along with Jimmy Fallon and said, "don't dare John Cena."
In the end, John said it was basically on a dare, by absolutely chance and the term You Can't See Me means you are not even on my level. Over the years, it became a meme culture and I am now literally invisible. People are like why is Jimmy Fallon talking to an empty chair?"
And all this happened on a dare, by accident!