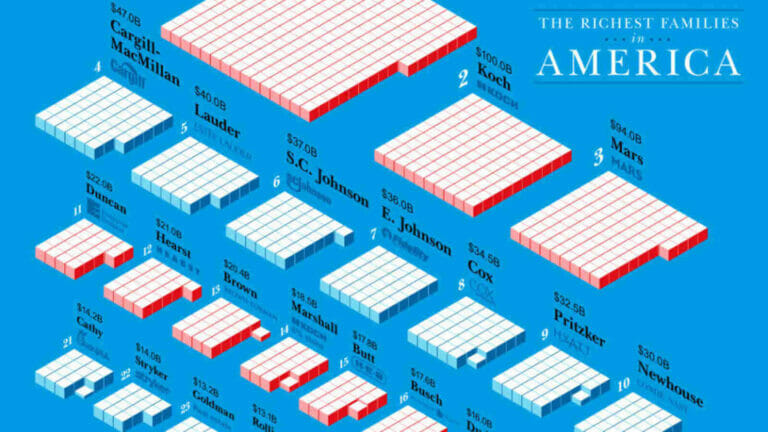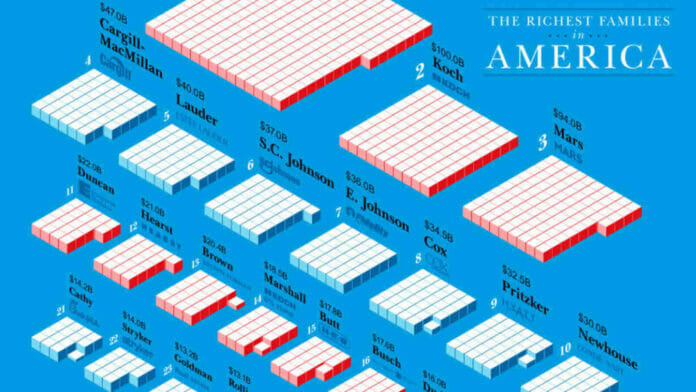 House of Gucci is a stunning new film about craziness, glitter, and greed within a legendary Italian fashion house. You won't have to go far in the United States to discover analogues. Many harsh struggles for succession and power have erupted among America's wealthiest families, yet some have quietly ascended to the levels of the privileged without any public attention.
Forbes has compiled a list of the country's wealthiest families based on estimated net wealth. From retail behemoths to publishing behemoths, here are their stories. Take a look at the list here.
The List Of Wealthiest Families In USA
25. Gallo Family
Net Wealth: 12.4 Billion Dollars
Gallo wines are named after a dynasty that began with disaster.
During Prohibition, Italian immigrant Joseph Gallo established an illegal but prosperous wine business, but he and his wife were both discovered dead at their vineyard on the eve of the repeal. In 1933, when their parents died, sons, Ernest and Julio founded a law practice.
Their descendants now own E&J Gallo Winery, a worldwide powerhouse in the wine business.
Arbor Mist, Black Box, and Wild Horse are among the more than Thirty wine brands that the business recently acquired from Constellation Brands.
24. Rollins Family
Net Worth: 13.1 Billion Dollar
This family gained their money in pest management and now owns Orkin, North America's largest pest control firm by revenue.
Rollins Broadcasting, a tv and radio company, was formed by O. Wayne and John Rollins in 1940. However, the brothers continued to grow into other industries, eventually purchasing Orkin for $62 million in 1964.
Wayne's son, Gary Rollins, is the CEO and chairman of the family firm. The family currently controls roughly 53 percent of Rollins Inc., as well as shares in RPC Inc. and Marine Products Corp., an oil and gas firm.
Four of Wayne's grandkids challenged their dad Gary and uncle Randall for ownership of the family trust money, which was settled in 2019.
23. Goldman Family
Net Wealth: 13.2 Billion Dollars
According to Forbes, the Goldman family is one of the wealthiest in real estate, owning more than 700 buildings around the country as well as investments in the World Trade Center complexes in lower Manhattan.
Sol Goldman founded Solil Management (named for him and his wife Lillian) in the 1950s by buying foreclosed buildings on the cheap in New York City. Sol was New York's greatest private landlord until he died in 1987.
His daughter Jane now runs the company, while his son Lloyd runs BLDG Management, a property management firm. Solil is owned by Jane and three of her siblings, each of whom owns a quarter of the company.
22. Stryker Family
Net Wealth: 13.2 Billion Dollars
In 1941, Homer Stryker, an orthopedic physician of Kalamazoo, Michigan, chose to construct his medical equipment to address the requirements of his patients — one of which was the portable hospital bed — and set up his firm to manufacture them.
His three grandkids received a 13% share in the business, and granddaughter Ronda Stryker has been on the board of directors since 1984.
According to Forbes, Stryker, a world leader in medical innovations, made revenues of $14.9 billion in 2019. Last year, the business also introduced a low-cost Emergency Relief Bed to aid frontline workers during the COVID-19 outbreak.
21. Cathy Family
Net Wealth: 14.2 Billion Dollars
In 1946, S. Truett Cathy founded the Dwarf Grill (later known as The Dwarf House) in Atlanta. Following its popularity, he founded Chick-fil-A in 1967, which has grown to become one of the largest quick-service chicken restaurants in the United States.
Dan and Bubba Cathy, the company's sons, now own and operate the fast-food chain, which has far more than 2,500 locations across the United States. Bubba is executive vice president, while Dan is chairman and CEO.
Trudy also works for the family company; after finishing her freshman year at Samford University, she became a provider of a Chick-fil-A in Birmingham, Alabama, where she presently serves as Ambassador. Andrew, Dan's son, is the executive vice president of operations.
20. Ziff Family
Net Wealth: 15 Billion Dollars
Dirk, Robert, and Daniel Ziff are the heirs to Ziff Davis LLC, a media conglomerate formed by their grandfather, William Bernard Ziff Sr., in 1927 as a publishing concern.
In 1994, William B. Sr. s son William B. Jr. sold the publishing house to Forstmann, Little & Company for $1.4 billion, and his three sons used the money to start Ziff Brothers Investments and the hedge fund Och-Ziff Capital Management.
In 2014, Ziff Brothers went out of business, and Och-Ziff has renamed Sculptor Capital Management.
Dirk is also the founder of the World Surf League, a professional surfing organization.
19. Dorrance family
Net Wealth: 15 Billion Dollars
In 1899, John T. Dorrance devised the technology for producing condensed soup, and his brand Campbell's Soup became a worldwide sensation.
Dorrance heirs are presently one of America's wealthiest families. According to CNBC in 2018, they together possess around 41% of the corporation.
Mary Alice Malone, John's granddaughter and president of horse-breeding property Iron Spring Farm, has the largest share in the soup business, with 17.7%. Bennett Dorrance, John's grandson, owns 15.4 percent of Campbell's and is the founder of DMB Associates, a real estate development business. Campbell's board of directors includes both of their siblings.
18. Hunt Family
Net Wealth: 15.5 Billion Dollars
H.L. Hunt, an Arkansas cotton trader who inspired the character J.R. Ewing on the TV show Dallas, transformed a $50 loan into a profitable oil empire, and his successors are reaping the rewards today.
According to Forbes, his eldest children sold Hunt Petroleum to XTO Energy for $4.2 billion in cash and shares in 2008, although sons Ray Lee and W. Herbert hold Hunt Oil and Petroleum-Hunt, accordingly. Hunter Hunt, Ray's son, is the President of Hunt Consolidated Energy.
Rosewood Hotels & Resorts was developed (and later sold) by his daughter Caroline, while his son Lamar was attributed with creating the Super Bowl.
After Lamar's death, his children acquired the Kansas City Chiefs of the NFL, a stake in the NBA's Chicago Bulls, and property investment in Kansas City and Texas.
17. DuPont Family
Net Wealth: 16 Billion Dollars
There are over 4,000 heirs to the chemical behemoth DuPont, which dates back to 1802. Only one of them, Eleuthere I. du Pont, remains on the management board today.
The firm was created as a gunpowder producer by E. I. du Pont but has since grown to encompass clean technology, consumer items, and medical equipment and materials. DuPont is also responsible for the development of rayon, nylon, and Kevlar.
DuPont joined with rival Dow Chemical in 2017 but divided into three firms two years later — DuPont, Dow, and Corteva.
16. Busch Family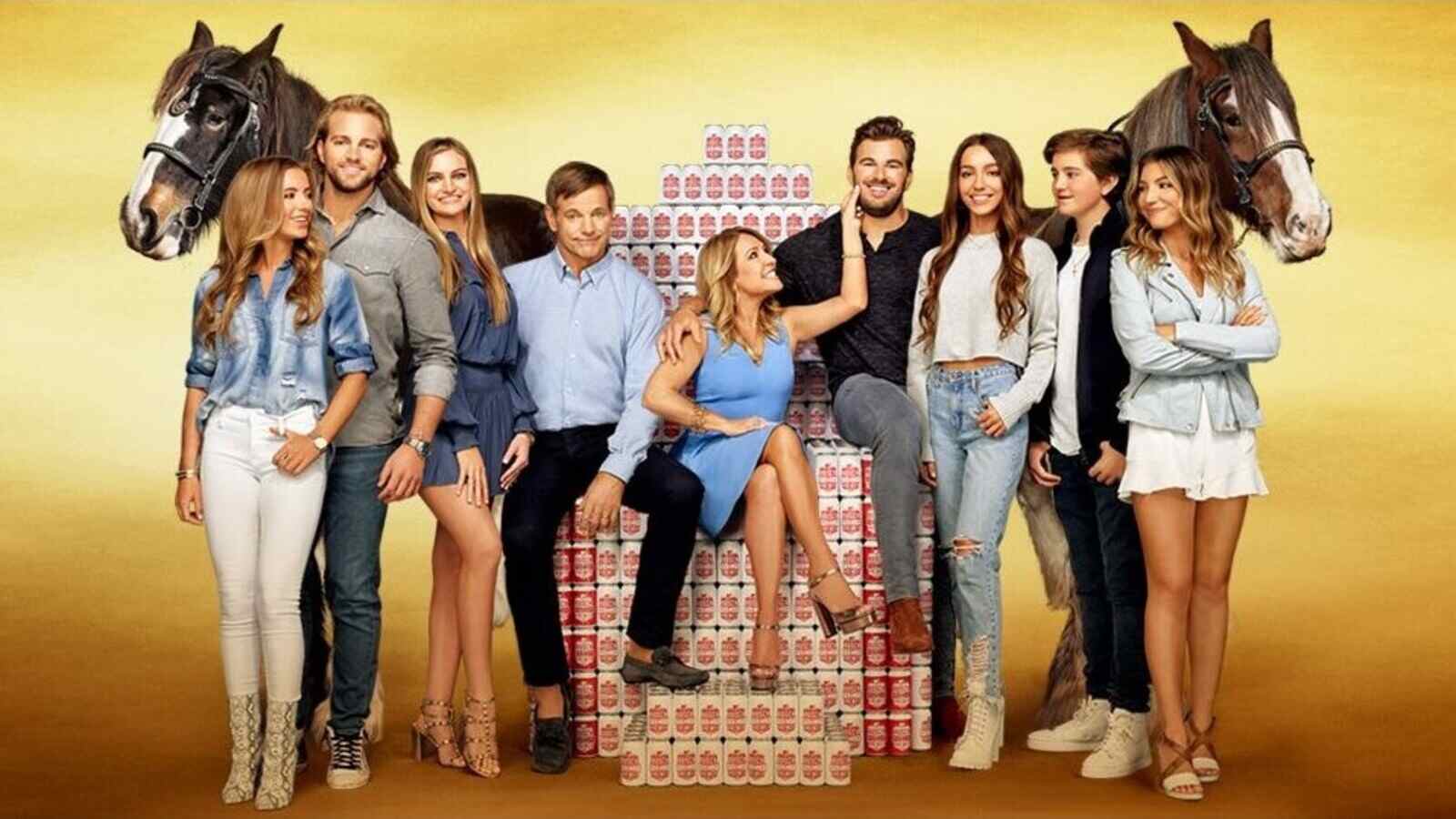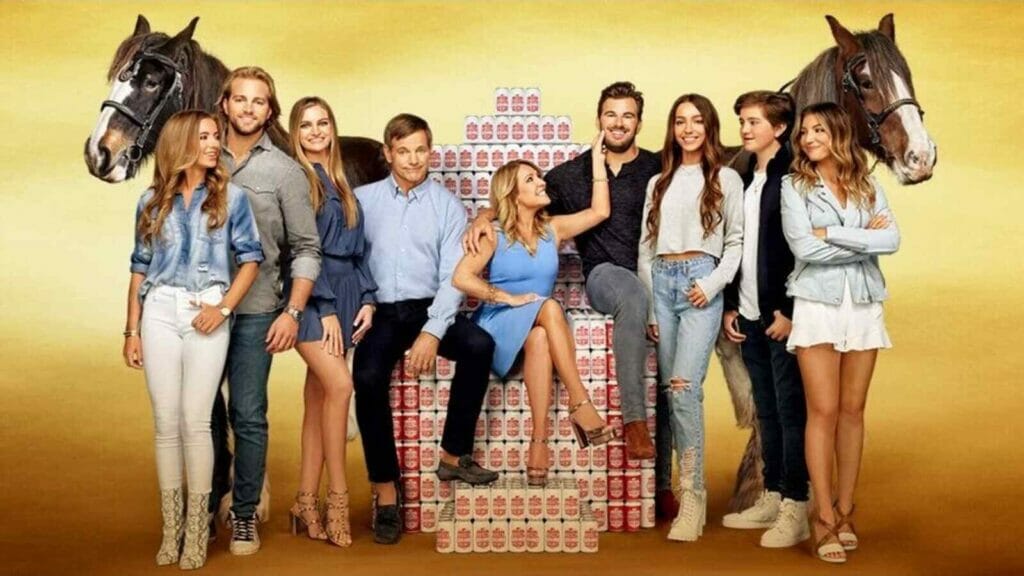 Net Wealth: 17.6 Billion Dollars
Budweiser as well as Bud Light are beer brands owned by the Busch family. In the 1850s, Adolphus Busch and his father-in-law Eberhard Anheuser created the local brewery Anheuser-Busch in St. Louis.
Despite the fact that the firm was passed down through the family after Adolphus' death, InBev bought Anheuser-Busch in a power grab in 2008 at approximately $52 billion.
August Busch IV, the company's CEO at the time, was the family's final heir to the throne.
MTV just debuted The Busch Family Brewed, a reality show that follows Billy Busch Sr., his wife Christi, and their seven children.
15. Butt Family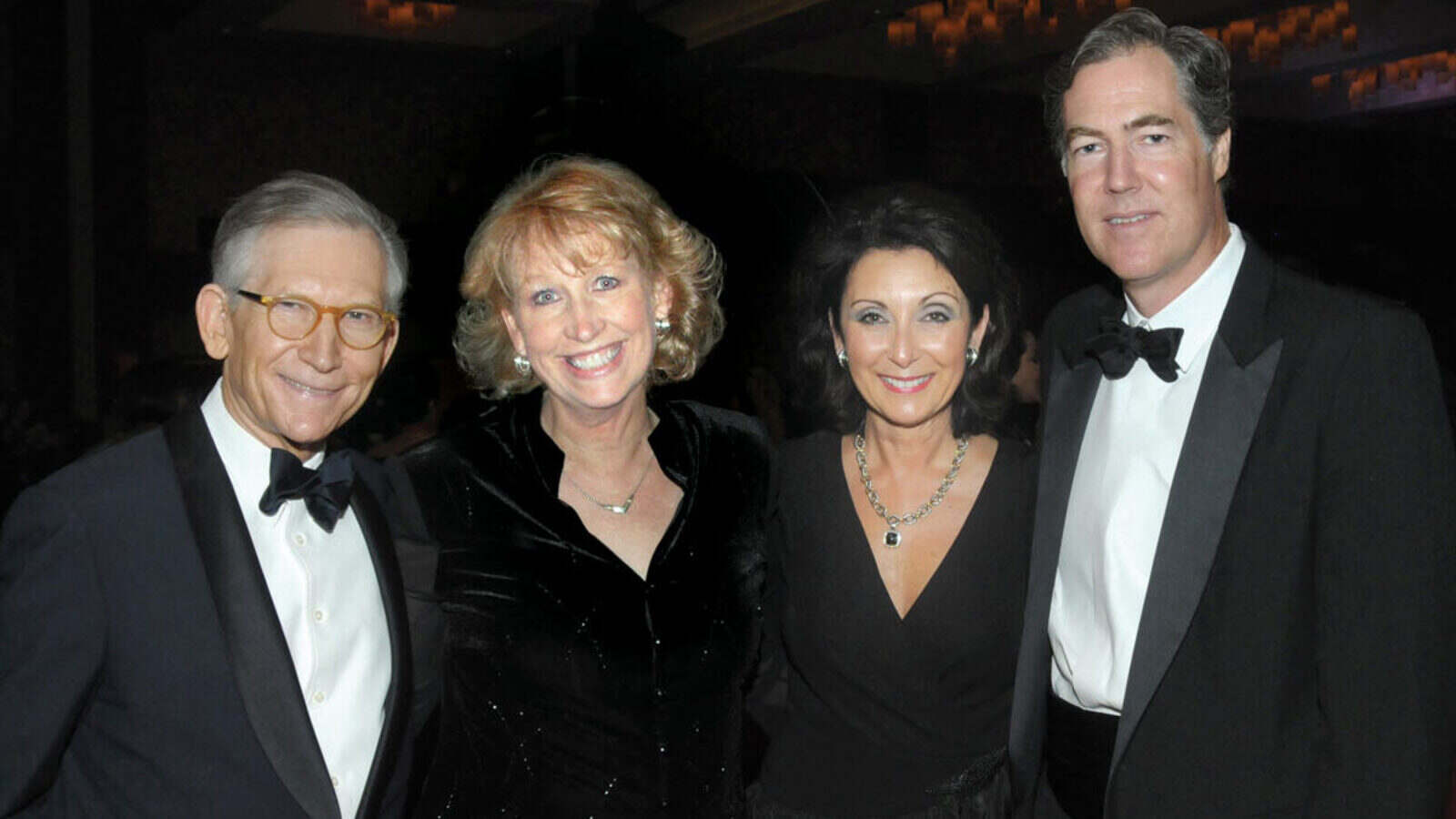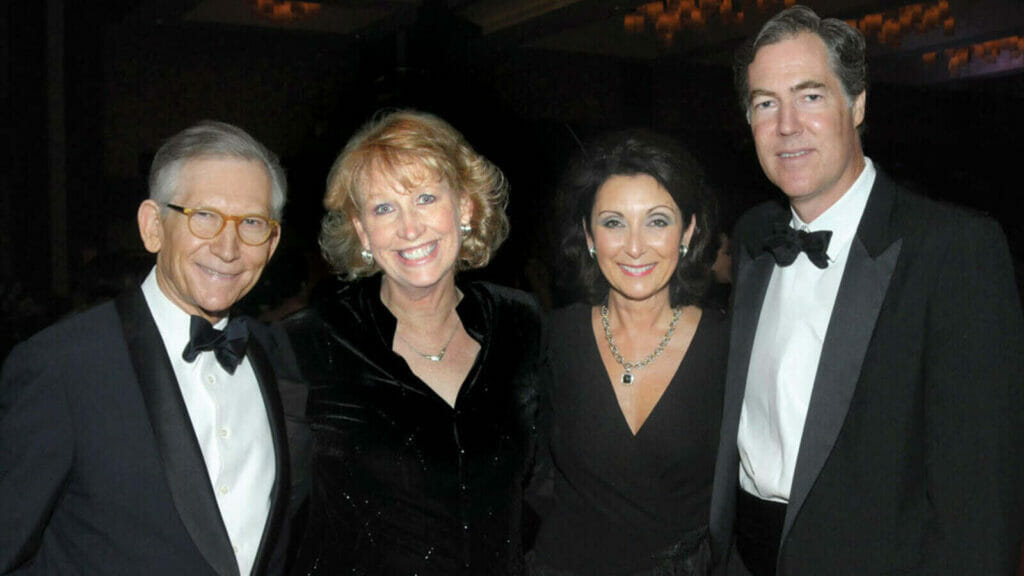 Net Wealth: 17.8 Billion Dollars
Florence Butt started the C.C. Butt Grocery Store at Kerrville, Texas, with only $60 in her pocket in 1905. H-E-B is still regarded as one of America's finest supermarket stores more than a century later.
Howard, Florence's son, took over the business in the 1920s and extended it over Texas, while Charles, Florence's son (who started bagging groceries for clients at the age of 8) took over in 1971.
With a majority position in the corporation, Charles remains CEO and chairman, and his two siblings and nephews also possess shares.
14. Marshall Family
Net Wealth: 18.5 Billion Dollars
The Marshalls obtain their money from Koch Industries, where J. Howard Marshall II was a business associate of founder Fred C. Koch and held a 16 percent interest.
His stock was handed down to his son, E. Pierce Marshall, and is currently held in partnerships for E. Pierce's wife, kids, and other relatives. Elaine is a board member of Koch Industries, and E. Pierce Jr. is the CEO of Elevage Capital Management.
Elaine possessed a 15% share in the company in 2012, making her one of the wealthiest women in the United States with a net worth of $12.7 billion, according to Bloomberg. But the heiress informed the Dallas Morning News that perhaps the valuation was "crazy."
13. Brown Family
Net Wealth: 20.4 Billion Dollars
Brown-Forman Corp., established in Kentucky and known for brands like Jack Daniel's and Finlandia, has been there since 1870.
George Garvin Brown, a pharmaceutical salesman, started a whiskey company using $5,500 in savings and borrowed funds, partnering with his bookkeeper, George Forman. Brown purchased Forman's stock after his death.
The Brown family now owns around half of the corporation. After 15 years on the board, George Garvin Brown IV, a 5th-generation member of the family, later stepped down.
Campbell P. Brown, who formerly served as president and chief executive of the Old Forester bourbon brand, is still chairman, and Marshall B. Farrer is senior vice president and president of Europe.
12. Hearst Family
Net Wealth: 21 Billion Dollars
In 1887, William Randolph Hearst, just 23 years old, took over the San Francisco Examiner and founded the Hearst Corporation. The media giant now controls over 360 companies in publication, television, radio, financial and medical services, and transportation.
The cable television networks A&E, HISTORY, Lifetime, and ESPN, as well as the popular magazines Cosmopolitan, ELLE, and Men's Health, as well as the dailies Houston Chronicle and San Francisco Chronicle, are among its brands.
William R. Hearst III, Hearst's grandson, and heir is executive chairman. He is also the director of the Hearst Foundations and president of the William Randolph Hearst Foundation. He additionally worked for the Examiner in San Francisco and the Herald-Examiner in Los Angeles.
11. Duncan Family
Net Wealth: 22 Billion Dollars
According to Forbes, Dan Duncan created the oil pipeline firm Enterprise Products Partners in 1968 and was valued at $9 billion at the time of his death in 2010.
Randa Duncan Williams, Milane Frantz, Dannine Duncan Avara, and Scott Duncan were the heirs to his $10 billion fortune, and their total wealth has more than doubled since then; each heir now has a net worth of more than $5 billion.
Randa joined the family firm in 1994, rose through the ranks to become president and Chief executive officer of Enterprise Products in 2001, and has been chairman of the board of directors since 2013. She is also the owner of the Austin-based publication Texas Monthly.
10. Newhouse Family
Net Wealth: 30 Billion Dollars
The Newhouses acquired Advance Publications, which owns Condé Nast Publications, which publishes Vogue, The New Yorker, Vanity Fair, and other magazines, as well as Discovery Communications and Reddit.
Samuel Irving (S.I.) Newhouse founded the company in 1922 and following his death in 1979, his sons Samuel and Donald took it. Samuel Jr. was in charge of the magazine branch, while Donald was in charge of the newspaper and television divisions.
Samuel Jr. died in 2017, however, Donald Newhouse is still the company's owner and co-president alongside his son Steven. Jonathan, Donald's cousin, is the chairman of Condé Nast.
9. Pritzker Family
Net Wealth: 32.5 Billion Dollars
These hotel heirs fought for years over the family trusts left by Jay Pritzker, who founded Hyatt and engaged in industrial holding company Marmon Group with his sibling Robert & Donald and their father A.N. Pritzker.
Liesel Pritzker Simmons, a former child actor who accused the Pritzker family in 2002 of allegedly depriving her and her brother of rightful fortune, is now the CEO of Blue Haven Initiative, a venture capital firm she co-founded with her spouse.
Thomas, Jay's son, is chairman of Hyatt, and Jason, Thomas' son, is a member of the company's board of directors. J.B. Pritzker, Donald's son, was elected governor of Illinois in 2019, and Penny Pritzker worked as Secretary of Commerce in the Obama administration.
8. Cox family
Net Wealth: 34.5 Billion Dollars
Cox Enterprises, a media and automobile firm started by James M. Cox in 1898 when he spent $26,000 from his family and friends to buy the Dayton Evening News, is owned by this affluent dynasty (now the Dayton Daily News).
Later in life, he served as governor of Ohio and ran for president with Franklin D. Roosevelt as his vice-presidential partner.
The board is now chaired by 3rd gen family member Jim Kennedy, who served as CEO from 1988 to 2008, and Cox is now led by great-grandson Alex C. Taylor.
In 2019, Cox sold a controlling interest inside its broadcast channels to Apollo Global Management for an estimated $3 billion, further increasing the family's wealth.
7. Johnson Family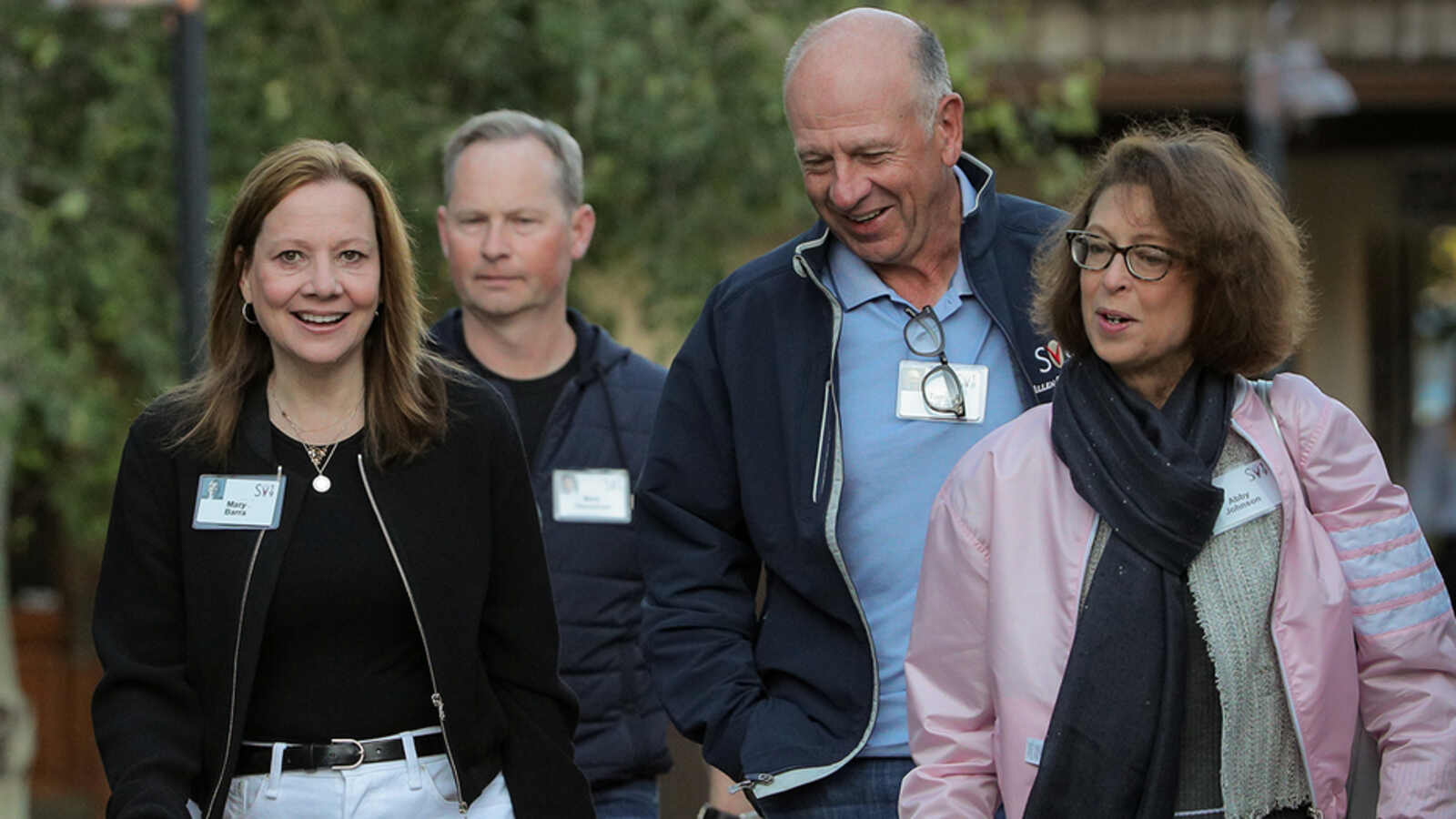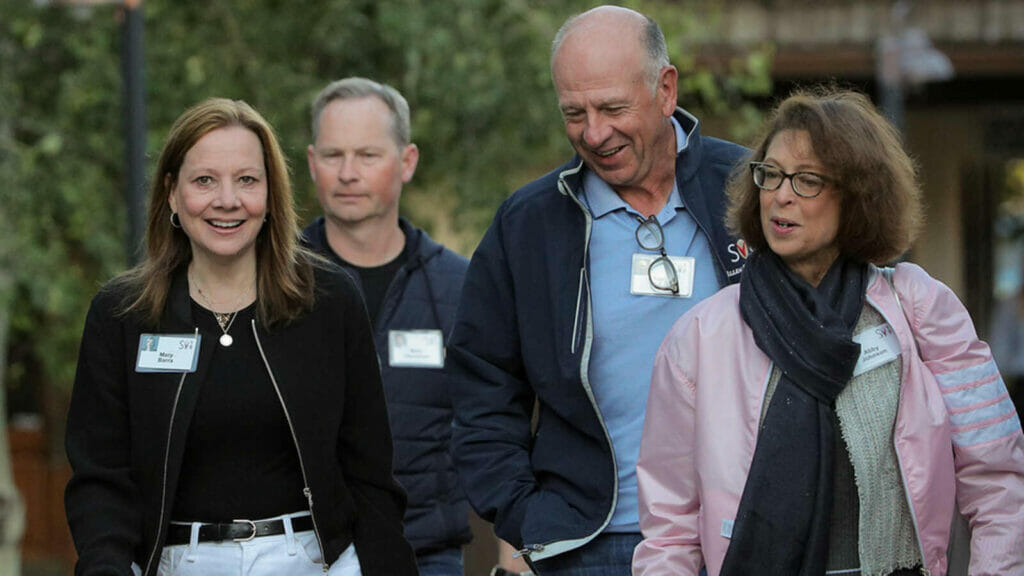 Net Wealth: 34.5 Billion Dollars
The Johnsons hold over half of the mutual fund behemoth Fidelity Investments, which is presently led by Abigail Johnson, Edward C. Johnson's granddaughter, who started the company in 1946.
Abigail, who worked for Fidelity over the summers while in college, became a full-time researcher in 1988 and succeeded her dad as CEO in 2014. Fidelity began generating cryptocurrency under her supervision and now allows investors to exchange Bitcoin and Ether.
Pembroke Real Estate, which is owned by Fidelity's parent firm FMR, is headed by her brother Edward Johnson IV.
6. S.C. Johnson Family
Net Wealth: 37 Billion Dollars
S.C. Johnson, the cleaning goods firm that owns the iconic home brands Windex, Glade, and Ziploc, was founded in 1886 by salesperson and manager S.C. Johnson, who purchased a parquet flooring business.
He invented a new floor wax two years later, and the company took off after that. With three Johnson family members as board of directors, the corporation has mostly stayed in the Johnson family.
H. Fisk Johnson, the company's Great-great-grandson, is the current CEO, while his sister Helen Johnson-Leipold, who manages outdoor gear shop Johnson Outdoors and heads Johnson Financial, is the company's chairwoman.
5. Lauder Family
Net Wealth: 40 Billion Dollars
The Lauder dynasty made their fortune from the cosmetics company Estée Lauder, which was formed in 1946 by the eponymous founder, who produced skin treatments in her kitchen and launched the company with her husband.
The Estée Lauder Companies owns 29 brands, including MAC and Clinique cosmetics and Donna Karan and Michael Kors fragrance lines.
The firm is owned by 6 wealthy members of the family. Ronald and Leonard Lauder, Estée's sons, are the chairman and chairman emeritus of Clinique Laboratories and Estée Lauder, respectively. William Lauder, her grandson, is the executive chairman of Estée Lauder.
Aerin, Ronald's daughter, is the family's style and image director, and in 2012, she launched her luxury lifestyle brand, AERIN Beauty. Jane, her younger sister, works in the corporate world.
4. Cargill-MacMillan Family
Net Wealth: 47 Billion Dollars
The Cargill-MacMillan family owns America's biggest privately-owned enterprise, dating back to at least 1865 when W.W. Cargill founded a food storage company in Iowa.
Cargill is world-famous for its food business, but it also has interests in medicines, cosmetics and personal care, transportation, and manufacturing.
According to Forbes, over 90 family members hold 88 percent of the firm now, with eight of them being billionaires and six serving on the management board. Whitney MacMillan, the last member of the family to lead the company, retired in 1995.
There will be no scarcity of mouths to feed when the world population approaches 10 billion by 2050.
3. Mars Family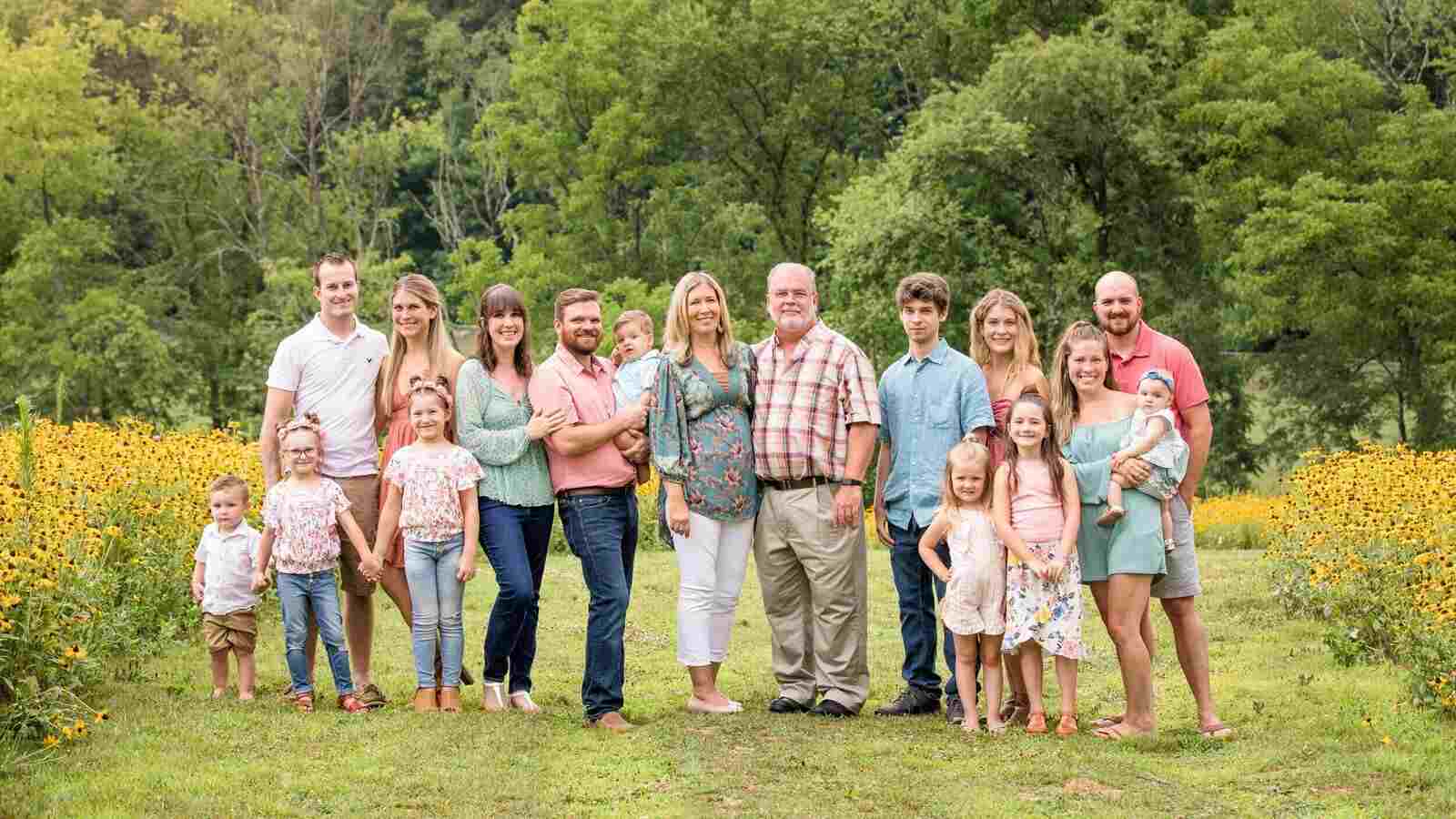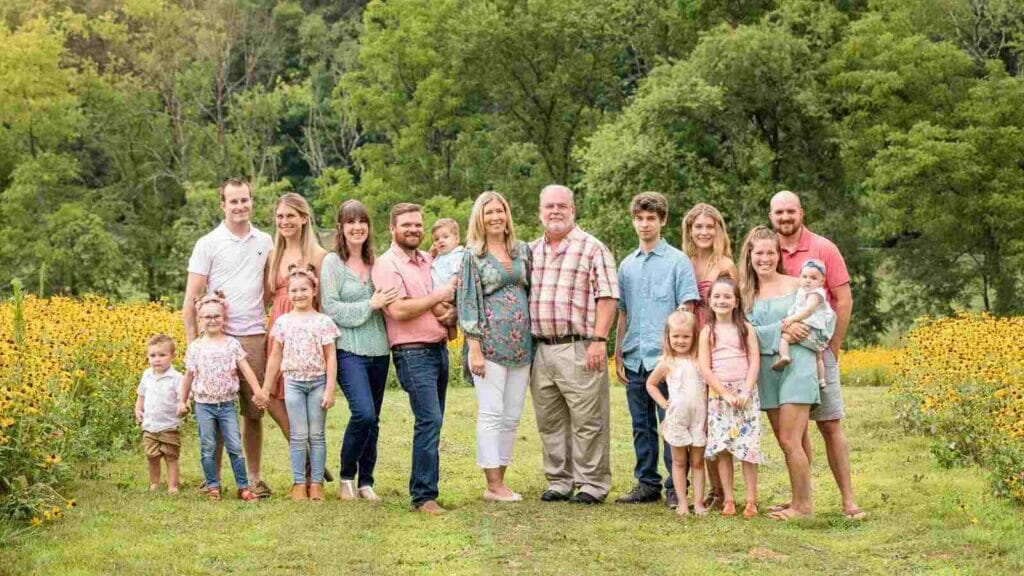 Net Wealth: 94 Billion Dollars
According to Forbes, the candy company Mars has already been expanding for over a century (it now has a pet care/food section), and its founder's granddaughters Jacqueline and John were two of the world's wealthiest individuals.
The Milky Way was created by Frank Mars, who founded the firm by selling candies out of his home, while his son Forrest created the popular brand M&Ms and Uncle Ben's rice processing method.
John and Jacqueline both hold a third of Mars, with the balance inheriting from their late brother Forrest Jr.'s four daughters.
2. Koch Family
Net Wealth: 100 Billion Dollars
The Koch family holds the majority of Koch Industries. In 1940, Fred C. Koch created the oil refinery company that would later become Koch Industries.
When he died in 1967, his son Charles became CEO and chairman (a post he still maintains), and his other sons Frederick, David, and William received shares.
Frederick and William were eventually kicked out of the family firm when their shares were purchased for $800 million in 1983, while David remained as executive vice president till 2018, a year before his death.
Each of Charles and David's families owns 42 percent of the company.
1. Walton Family
Net Worth: 247 Billion Dollars
According to Forbes, Walmart owners are the richest in the country. 7 of Sam and James Walton's descendants own about half of the retail behemoth's equity.
Sam's three children, Rob, Jim, and Alice, as well as his daughter-in-law Christy and her son Lukas, and James' daughters, Ann and Nancy, are among them.
Rob served as the chairman for more than 2 decades and continues to participate on the board, while Greg Penner, his son-in-law, took over as chairman in 2015.
Waltons own the Arvest Bank, Arkansas' largest and oldest bank. While the family has built a fortune by helping customers "Save Money, Live Better," you should be aware that big-box stores such as Walmart don't always provide the greatest discounts.
Also Read: Drake And LeBron James Join Forces To Surprise A Toronto Family