The power couple Justin Bieber and Hailey Bieber are under speculations about having a baby!
Well, this is not the first time that super model Hailey Baldwin and two times Grammy award-winning singer Justin Bieber making headlines because of a hoax on their plans for a big family. Another rumor made rounds when a media outlet on Instagram stated that Hailey is hiding her 'baby bump' at Grammys 2022.
To this, Hailey slams by shutting down all such rumors about her pregnancy. The model just recovered from a serious health issue about which Justin talked during his concert. Hailey also shared a stunning of herself on Instagram after recovering from it and was present with Justin during his tour.
Pregnancy Hoax Of Hailey Bieber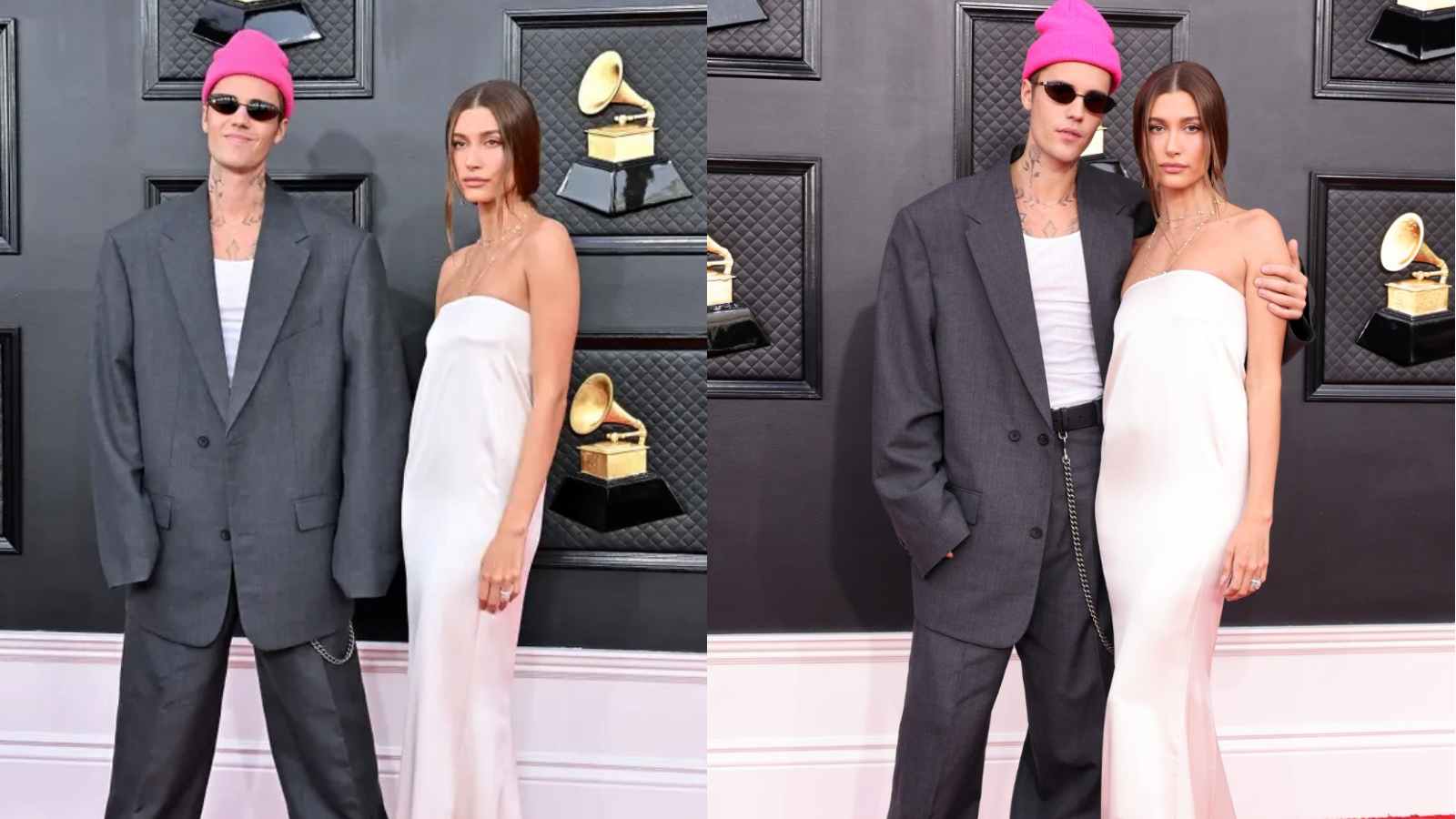 Justin and Hailey appeared on the Grammys 2022 red carpet and did some PDA that fans adored. The 'Yummy' singer donned an oversized grey Balenciaga pair of blazer and pants with a white tee. To accessorize his look he wore a pink skullcap. Hailey chooses to take the path of a subtle look in a white Siant Laurent gown with a loosely braided hairstyle.
But what took the attention of spectators was her belly in that outfit. Because of her belly, fans made an assumption that the model is trying to hide her baby bump underneath her loose gown from the waist.
Hailey Slams The Hox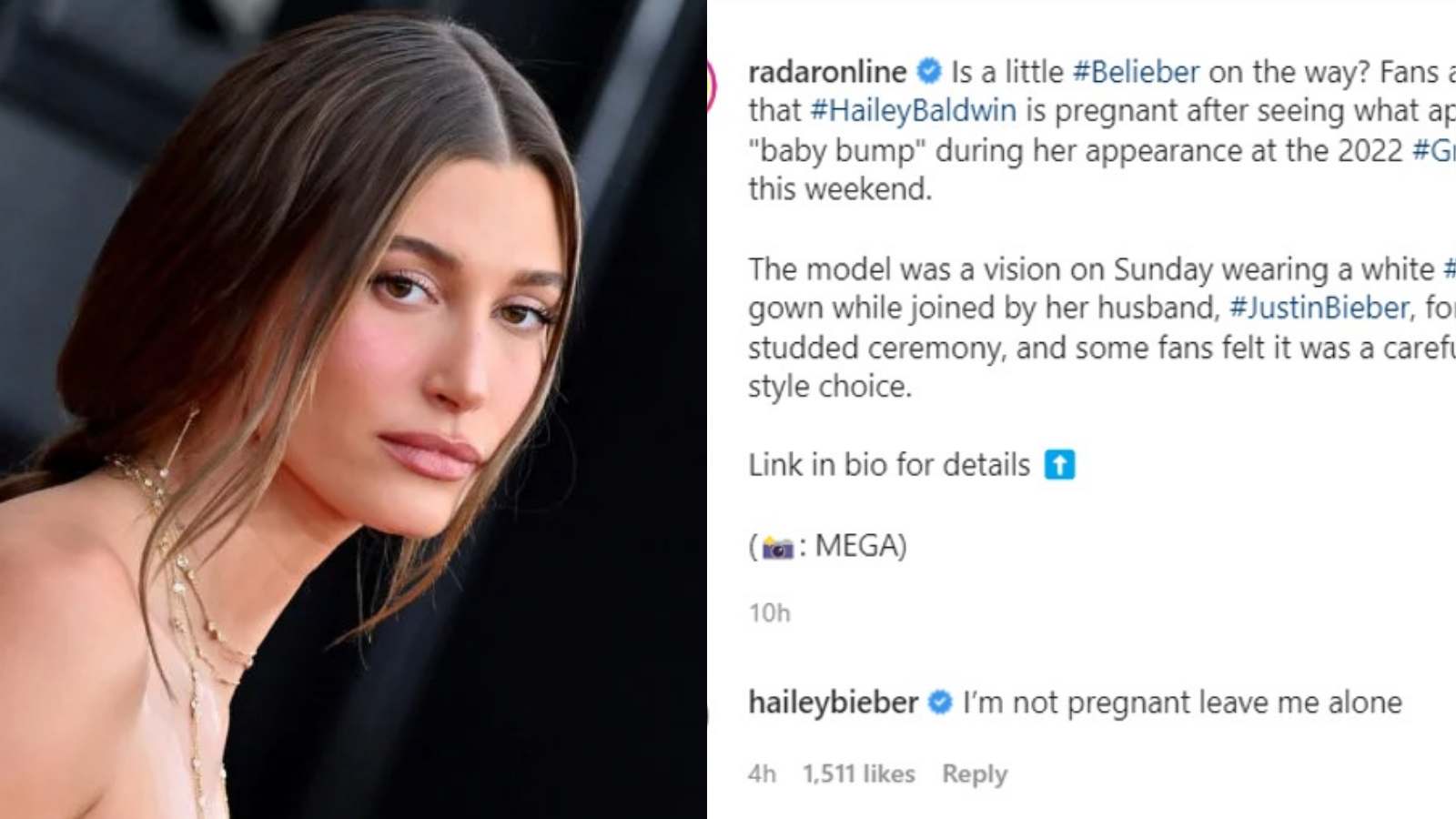 After noticing the change and getting 'distracted' by her belly, a post on Instgram floated about her rumored pregnancy. In the past as well, Hailey has been outspoken about her outlook and this time also, she did not brace any false news about her.
Hailey replied to Instagram that stated about her pregnancy in a very vexed tone. The caption read, "Is a little #Belieber on the way? Fans are speculating that #HaileyBaldwin is pregnant after seeing what appeared to be a "baby bump" during her appearance at the 2022 #GrammyAwards this weekend."
To This Hailey responded, "I'm not pregnant, leave me alone."
Fans Speak Out To Support Hailey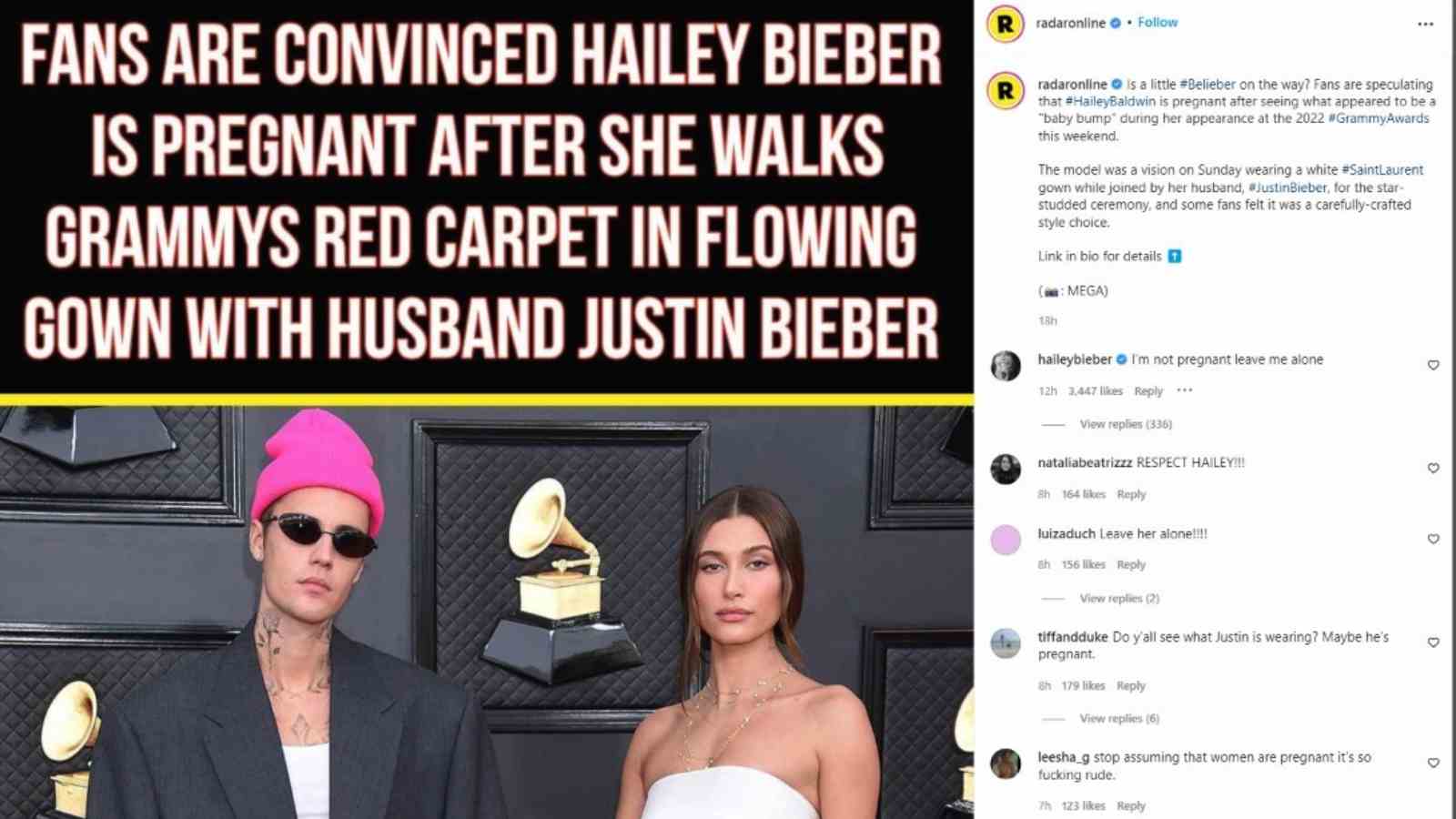 Hailey's fans have been supportive of her amid her pregnancy hoax and slamming other users on social media for spreading misinformation about her personal choices in life. That too, on the basis of her attire at the award ceremony.
One user wrote on Twitter, "Pregnancy is a private matter. Leave her alone plz." Another wrote, "I can't believe 'reputable' media outlets STILL if a woman (Hailey Bieber) is pregnant based off 'what looks like a bump.' Bloating? Period? None of your business? If they wanted you to know they've conceived, they'd tell you. Otherwise, don't ask or 'speculate.' So degrading."
Pregnancy is a private matter. Leave her alone plz

— Fashion Girl (@luvfashiongirl) April 5, 2022
Below are some tweets:
I can't believe 'reputable' media outlets STILL if a woman (Hailey Bieber) is pregnant based off 'what looks like a bump.' Bloating? Period? None of your business? If they wanted you to know they've conceived, they'd tell you. Otherwise, don't ask or 'speculate.' So degrading.

— April (@april_atteridge) April 5, 2022
Why does she have to be pregnant every time we see her? I don't get it. Ugh. People just need to stop. If it's not one thing, it's another. That's not cool. Poor J & H.

— ➥ ᗩLLɪSON (@musicobsessed) April 4, 2022
Where do they come up with this stuff when he's on tour and she said no babies this year

— coleybieber (@ColeyBieber14) April 4, 2022
i hate that hailey had to express herself again about the pregnancy, can yall stfu for a second about that and leave her alone?

— lucie – 5 (@lucivenchy) April 5, 2022
Hailey Bieber shuts down pregnancy rumours… again. This needs to stop already ???? #GRAMMYs pic.twitter.com/4gMUYdtpZw

— Muhammad khizer (@Khizerbieber90) April 5, 2022
Also Read: Grammys 2022: Lady Gaga Chooses Classic Hollywood Glamour For Her Red Carpet Appearance