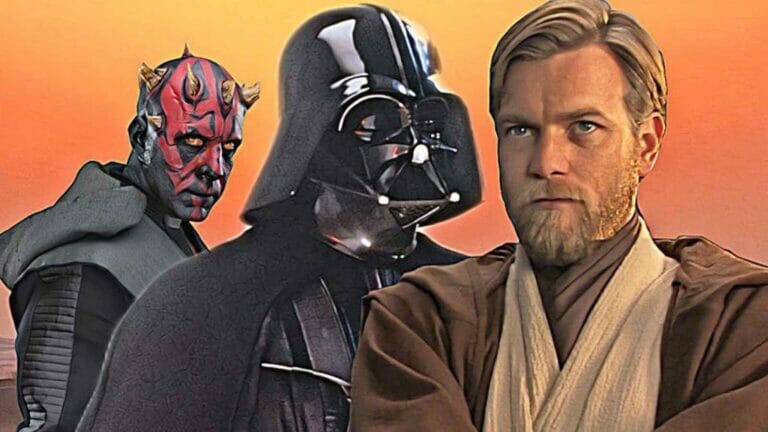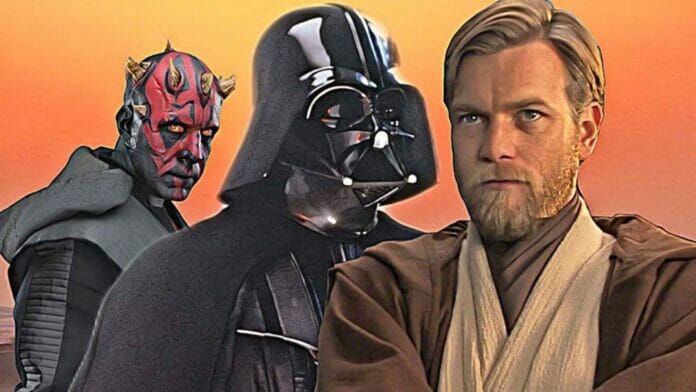 Star Wars: Obi-Wan Kenobi, the most hyped Star Wars series in recent times is nearing its release. according to sources, Obi-Wan Kenobi does not feature Darth Maul's Star Wars comeback. Even though fans were expecting him to reappear in the episode because of their legendary rivalry.
Obi-Wan Kenobi And Darth Maul
The Star Wars antagonist Darth Maul will not feature in Obi-Wan Kenobi since Disney+ TV drama eliminated him. Ewan McGregor reprises his role as Obi-Wan Kenobi in the highly anticipated upcoming Star Wars episode. Deborah Chow, who helmed The Mandalorian, will direct the six-episode series. The series will premiere on Disney+ at end of May 2022. The veil of secrecy around the Jedi's TV show began to break lately when the advertising campaign started.
The unveiling of the first Obi-Wan Kenobi teaser made fans feel happy. As they had to wait a long time to see McGregor's Obi-Wan again. The teaser video and first-look pictures and interviews were released. It gave Star Wars fans a clearer idea of what to expect from the program. Obi-Wan Kenobi follows a timeline 10 years before Star Wars: Episode III – Revenge of the Sith. It will once again pit Obi-Wan against Anakin Skywalker, a.k.a. Darth Vader (Hayden Christensen).
At the beginning of the marketing campaign, it was also confirmed that the other bad guys known as Inquisitors would be included. Fans of Star Wars will recognize these Jedi hunters from earlier canon sources, but this will be their first live-action appearance. Many people have speculated that one of the show's antagonists may be Darth Maul, Kenobi's long-time nemesis.
Why Darth Maul Might Not Be In Obi-Wan Kenobi?
Darth Maul cannot be shown in Obi-Wan Kenobi, per a new claim from THR. The announcement comes with more information on the show's development since it was previously planned to involve him. Ray Park, who portrayed Maul in Star Wars: Episode I – The Phantom Menace and Solo: A Star Wars Story, was said to be planning a return to the franchise. Darth Maul's part was shortened due to creative changes in the series. Despite Lucasfilm's denials, THR's sources claim that Maul is set to appear in future Obi-Wan Kenobi films. Darth Maul is unlikely to be found in the forthcoming Star Wars series in any scenario.
Star Wars: The Clone Wars hinted at the possibility of Darth Maul returning in Obi-Wan Kenobi. After appearing to die in The Phantom Menace, Maul was shown to have lived and given a mechanical lower half in the first illustrated Star Wars series. This allowed him to run into Kenobi a couple more times. Fans speculated about Maul's live-action reappearance after he was revealed to be living in a similar timeline to Kenobi. However, Maul perished for good in a brief lightsaber battle with Kenobi in Star Wars Rebels. It brought this plotline to a stop.
What Fans Might Go Through
Many fans expected Darth Maul in the upcoming series. Even fans understand why the series doesn't include him. Star Wars Rebels has already wrapped up his and Kenobi's conflict, and it did it flawlessly. Maul's presence would drastically disrupt this later connection unless the new series reproduced the conversation in live-action and linked the illustrated Star Wars tale like never before. Instead, Obi-Wan Kenobi's decision to go in a different route was probably for the best. Some fans may be sad that there would be no more Darth Maul. His absence allowed Darth Vader to resurface and the Inquisitors to make their live-action debuts.
Also Read: Halo: Pablo Schreiber Discusses The Mandalorian Comparisons And Separates