MCU's Spider-Man: No Way Home couple is a real-life couple, and fans cherish their romantic relationship. Yes, we are talking about Tom Holland, 25, and Euphoria star Zendaya, 25, as both are spending plenty of time in the city. The rumors about the couple dating first started in July 2017. But later, it became a sure thing when the couple's picture of a private moment aired in July 2021. This is the third time straight that Tom Holland and Zendaya were spotted together at New York Ranger Hockey Game on Thursday night.
The couple was not alone this time, as Euphoria co-star Hunter Schafer and Tom's younger twin brother were with them. We have more to break down about the couple's date night, so let us get started.
Tom Holland With Girlfriend Zendaya At New York Rangers Hockey Game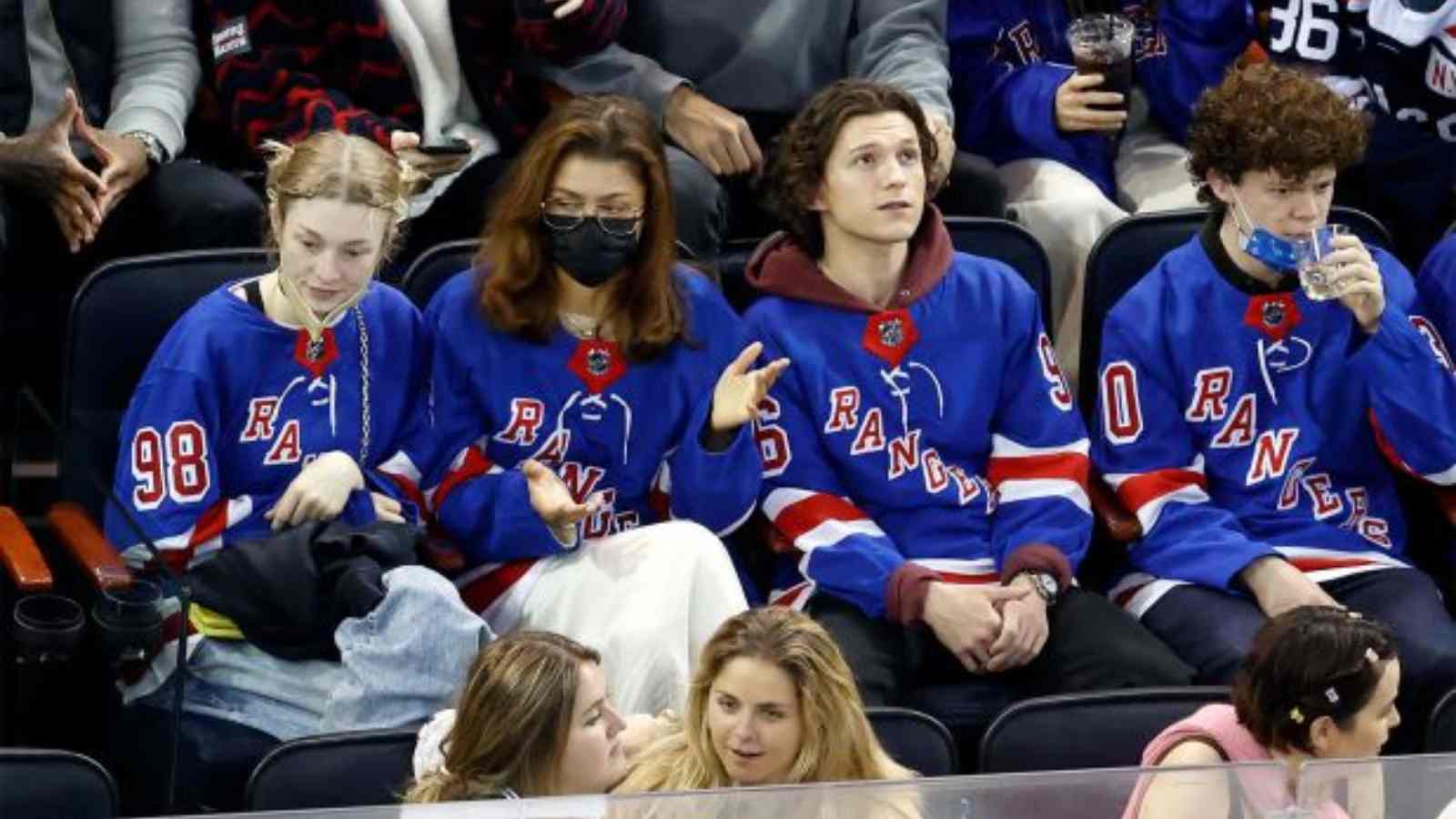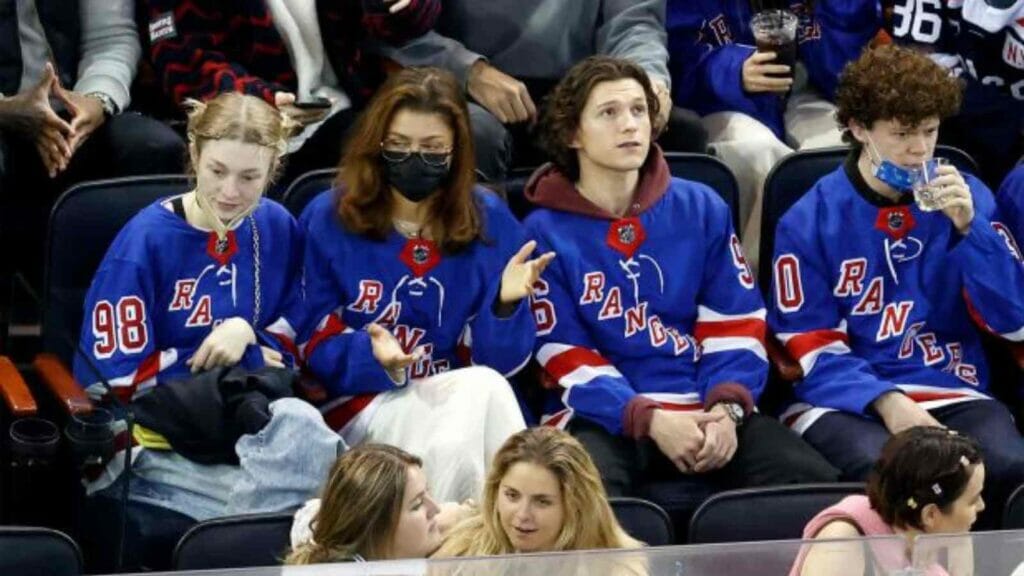 The couple was cheering for the Broadway Blueshirts on Thursday night at Madison Square, New York. The couple did a twinning by wearing jerseys but of each other's name. Fans find this gesture of love adorable. To be more specific, Euphoria star Zendaya was wearing a cream-colored sweater. She paired it with a long skirt colored white below.
But as we know, Zendaya is a fashion star for many, she did not stop at just that, with those she wore black leather boots and glasses. If we talk about Tom Holland, then besides the jersey, he was wearing a red hooded sweatshirt along with black jeans. But not following the casual way, the couple chose to wear personalized with each others' birth years. Zendaya's jersey flicked Holland while Tom's said, Zendaya.
To meet boyfriend Tom Holland, Zendaya came to the United Kingdom earlier this month, where Tom spent his childhood. And as per the reports, this visit was to buy some precious time with him.
Couple Spending Time Gets Caught By Paparazzi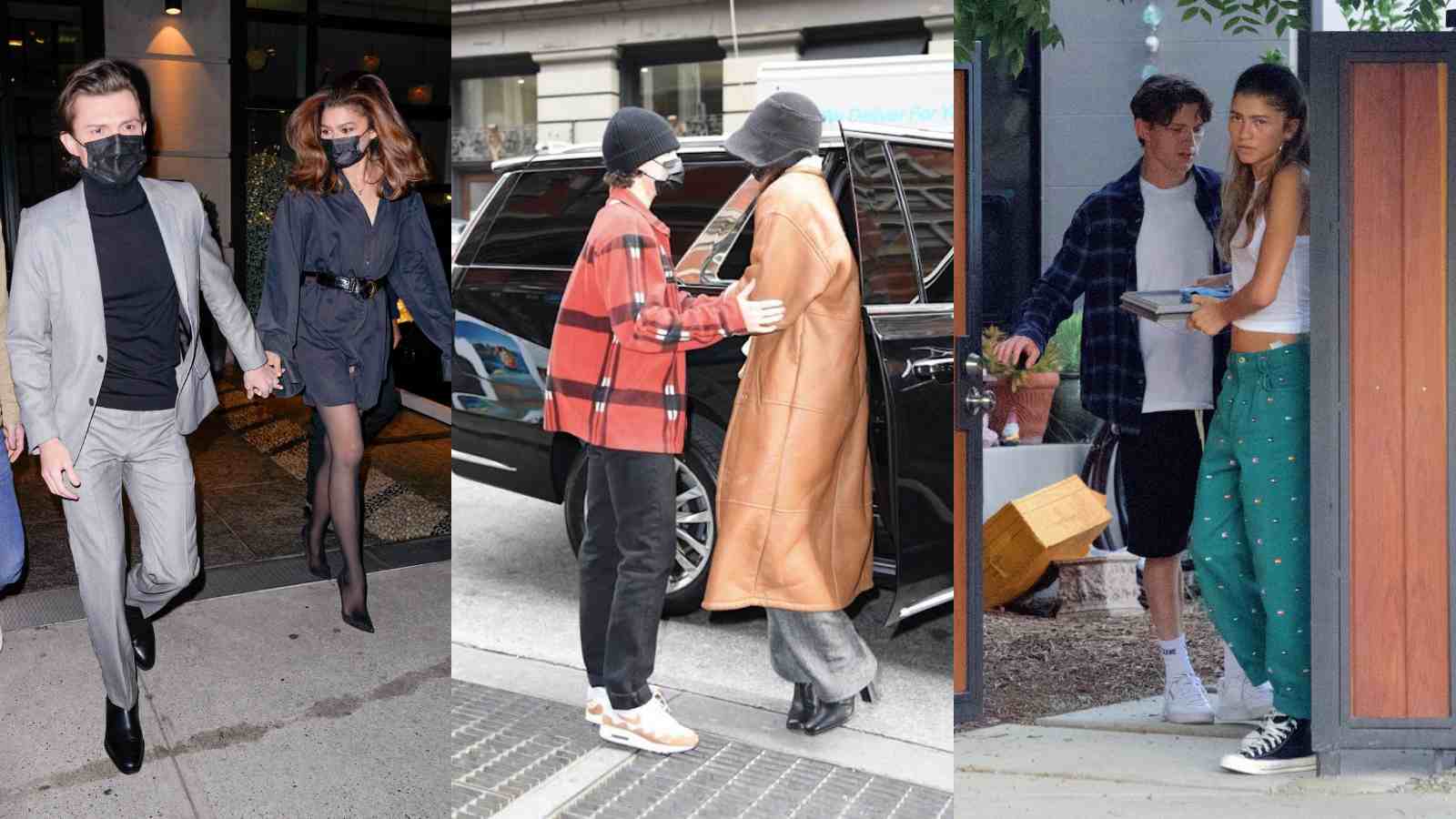 The visit to the Rangers game was not the first time they were together. Before that, they were seen together outside a hotel in New York on Wednesday, and on the morning of Wednesday, they visited Prada together. At that time they were holding each others' hands and going to see the screening of the new movie of Tom Holland. The name of the movie is Uncharted. And just a day before that day, they were having dinner together.
The couples like to keep their relationship private but try to spend quality time with each other. Zendaya met Holland's family in London during the visit last month, and get caught by Paparazzi at that time also.
Both of them try to keep their relationship away from the media attention as much as they can. But being famous makes it difficult to do so. In November 2021, Tom Holland even talked about the same privacy challenges when he spoke to GQ magazine. He said, "One of the downsides of our fame is that privacy is not really in our control anymore. And a moment that you think is between two people that love each other very much is now a moment that is shared with the entire world. I have always been really adamant to keep my private life private because I share so much of my life with the world anyway."
Also Read: How did Tom Holland and Zendaya start dating? Know all about their love story