Obi-Wan Kenobi is back with a bang after seventeen years of 2005 Star Wars. It is an American live-action television series. Lucasfilm is the creator of the series in association with Disney+. The series is a part of several Star Wars spin-offs.
Who is Obi-Wan Kenobi?
Ewan McGregor as Obi-Wan
Obi-Wan Kenobi, a fictional character, came into the limelight in 1977 as a Star Wars franchise. Alec Guinness plays the character Obi-Wan, a Jedi Master in the original trilogy. Guinness's performance as Jedi Master earned him a nomination for Academy Award for Best Supporting Actor. Although he did a spectacular job, he shows his concerns over the script and saying it was repetitive and rubbish.
In the prequel trilogy of 1999, Ewan McGregor shows up as the younger version of Obi-Wan alongside Anakin Skywalker. He is a Padawan to Jedi Master Qui-Gon Jinn and a friend to Anakin, who became evil Sith Lord, Darth Vader, after falling into Dark.
The series will release this year, almost seventeen years after Star Wars: Episode III – Revenge of the Sith in 2005. Even though the plot of the series is unknown, it is an anticipation that it takes place 10 years after the revenge of Sith where Obi-Wan defeats Anakin Skywalker. Ewan McGregor told Variety in an interview that it was really good fun shooting the series. He enjoyed working with director Deborah Chow. The new technology they use is cool and it was a different experience working altogether.
The cast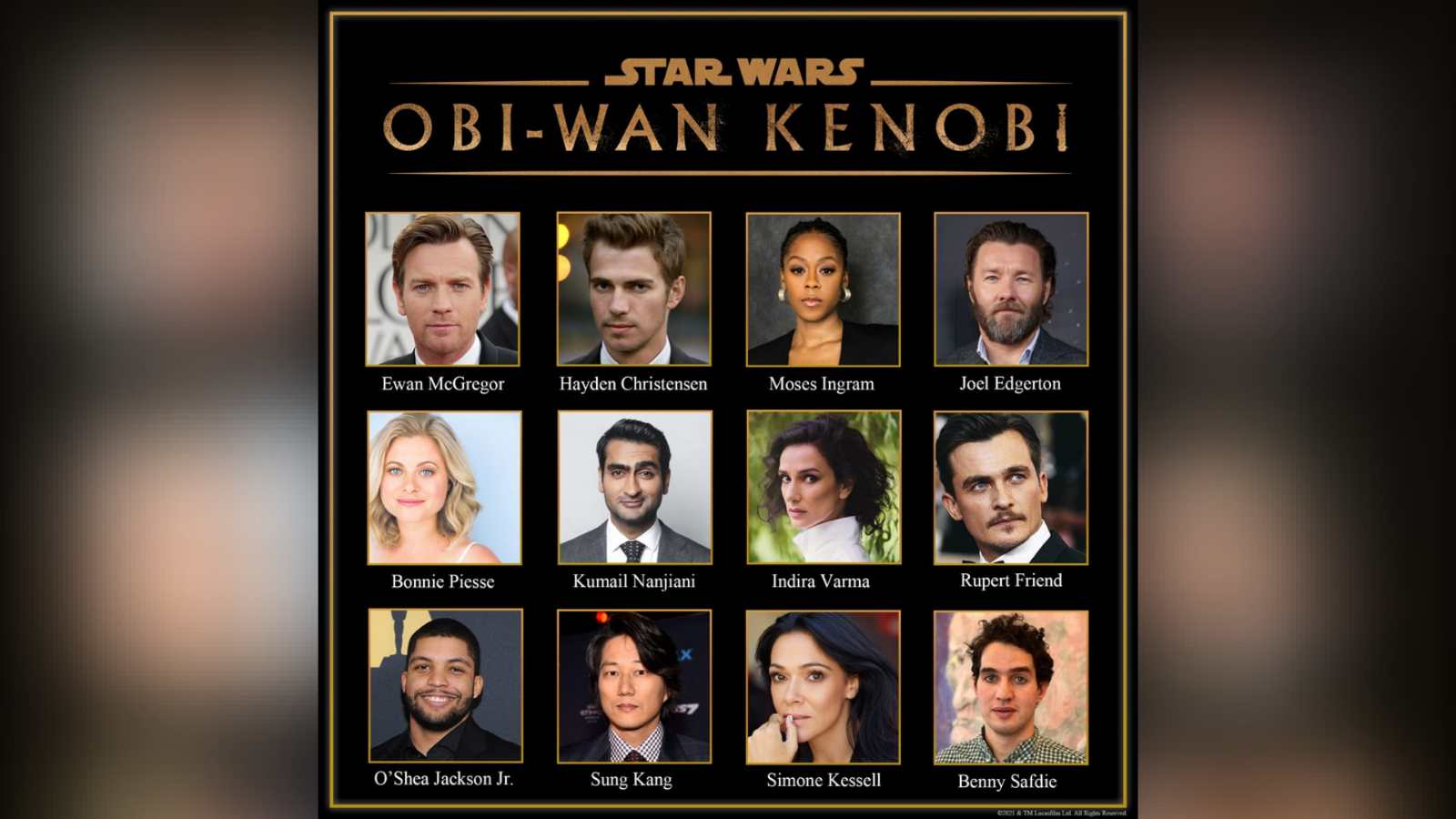 Lucasfilm announced the official cast list of the series on 29 March 2021. The list is as follows:
Obi-Wan Kenobi
A legendary Jedi master who is responsible for the death of Sith lord Darth Maul. He continues his adventures with Anakin Skywalker and serves Tatooine. Escaping the death sentence in Geonosis Arena and surviving Order 66 (the extermination of all Jedi Masters in the universe) in Utapau. Finding Anakin Skywalker's betrayal as Sith Darth Vader and fighting him till death to watch over Luke Skywalker (son of Anakin Skywalker). Ewan McGregor will play Obi-Wan Kenobi. 
Darth Vader
Obi-Wan's former Jedi Padawan aka Anakin Skywalker receives training from Jedi Master himself. He goes on adventures and becomes friends with Obi-Wan. Furhter in their journey, the friendship faces downfall when Skywalker joins hands with the dark side and becomes Sith lord Darth Wader and betrays Obi-Wan as he commands order 66. In a dual with his former Jedi Master, he nearly kills Obi-Wan. Hayden Christensen will play Darth Vader.
Owen Lars 
An uncle of Luke Skywalker and moisture farmer on Tatooine. Joel Edgerton will play Owen Lars .
Beru Whitesun Lars
An aunt to Luke Skywalker and wife of Owen. Bonnie Piesse will play Beru Whitesun Lars.
Adding to these, the cast includes Indira Varma, Kumail Nanjiani, Mosses Ingram, Rupert Friend, Sung Kang, Simone Kessell, Benny Safdie, O'Shea Jackson Jr., Rory Ross, and Maya Erskine.
Obi-wan Kenobi series release date
Now-deleted tweet by a Disney employee reveals the official release date of Obi-Wan Kenobi. The series is literally a few months away. Brandon San Giovanni, Disney Plus Executive, tweeted- Our very own Obi-Wan will be saying 'Hello there' on Disney Plus. May 2022.
 Brandon deletes the tweet and clarifies that he was talking about an upcoming comic. Adding to this, Hollywood reporters know about the series heading to Disney Plus in May.
No official date is known for the release of Obi-Wan Kenobi. May the fourth be with fans as the most anticipated series will release in 2022 at some point.