The evening of the 64th Annual Grammy Awards was dazzled with the celebrities and musicians gathered together for the celebration of music and to honor the deserving ones. Any red carpet event is never complete without a faux pas. Every celebrity flaunted their unique look during the Grammys' Red Carpet event, and many are receiving love from their fans. But, Justin Bieber is receiving a lot of criticism for his attire choice from fans and critics. Though the same evening, he delighted the fans with his wide-legged leather pants.
Justin Bieber Arrived With An Oversized Suit And A Pink Beanie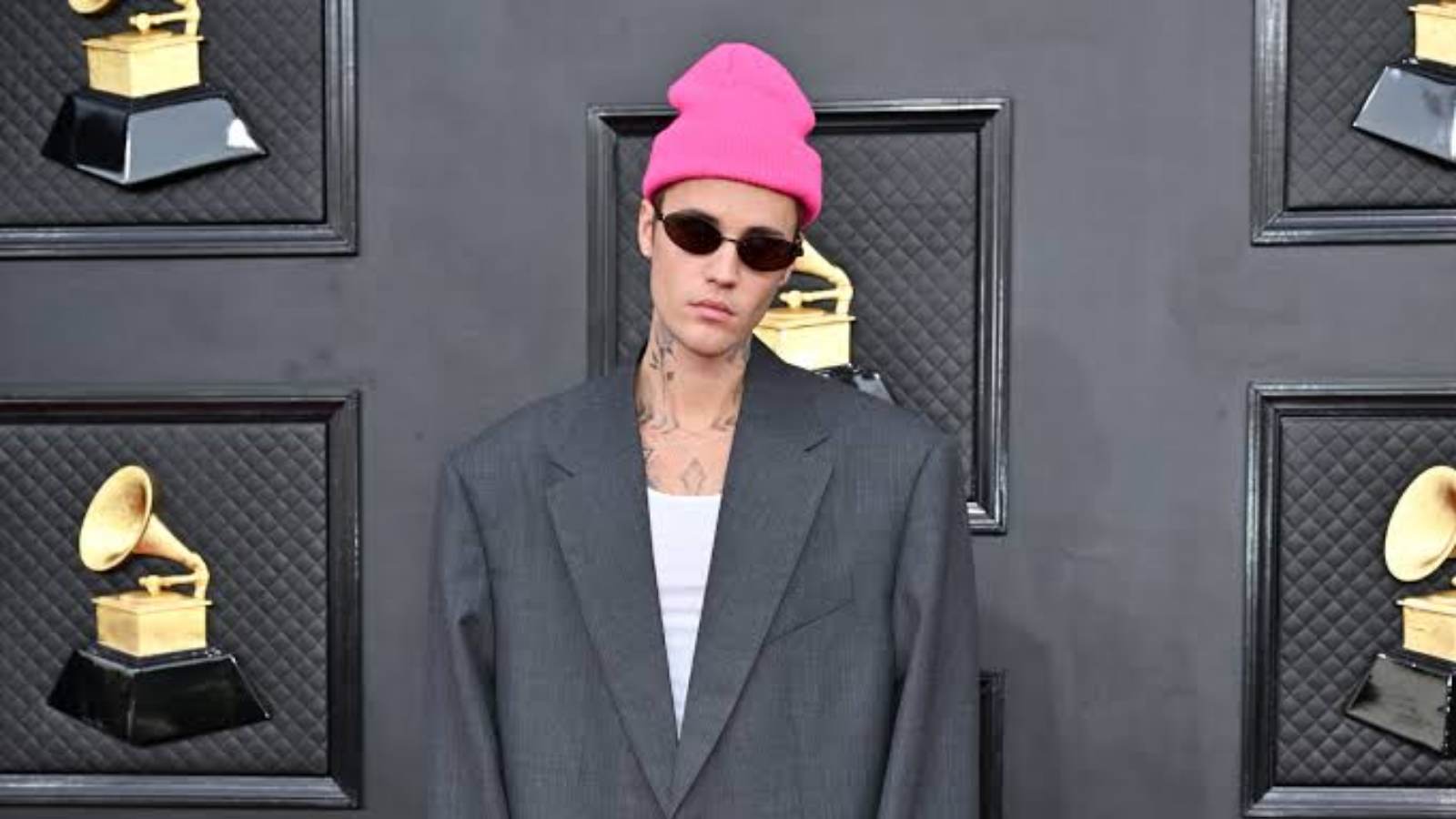 The STAY artist and his wife Hailey Bieber strutted their way on the red carpet of the glorious Grammys. Bieber had received nominations in eight categories. As the fans anticipated their favorite singer's performance, they were disappointed with the outfit choice on the red carpet of the event.
Justin Bieber couldn't go off the radar without his outfit becoming the talk of the town. The singer wore a matching grey suit and trousers from Balenciaga with chunky platform boots that could give Crocs a run for their money. He styled his look with black glasses and a pink hat inspired by Thelma and Louise.
Fans went after the Grammy-nominated artist and tickled the funny bones on Twitter. Someone wrote, 'Credits to Shaquille O'Neal for lending Justin Bieber one of his suits to prevent him from coming to the #GRAMMYs naked,' and another chiming in: 'Lol
@justinbieber looks like he was running late and borrowed @SHAQ 's suit jacket.
One wrote, "if you're looking for Justin Bieber on the red carpet just look for the giant walking suit #GRAMMYs."
The Singer Stunned The Fans With His Performance And Leather Pants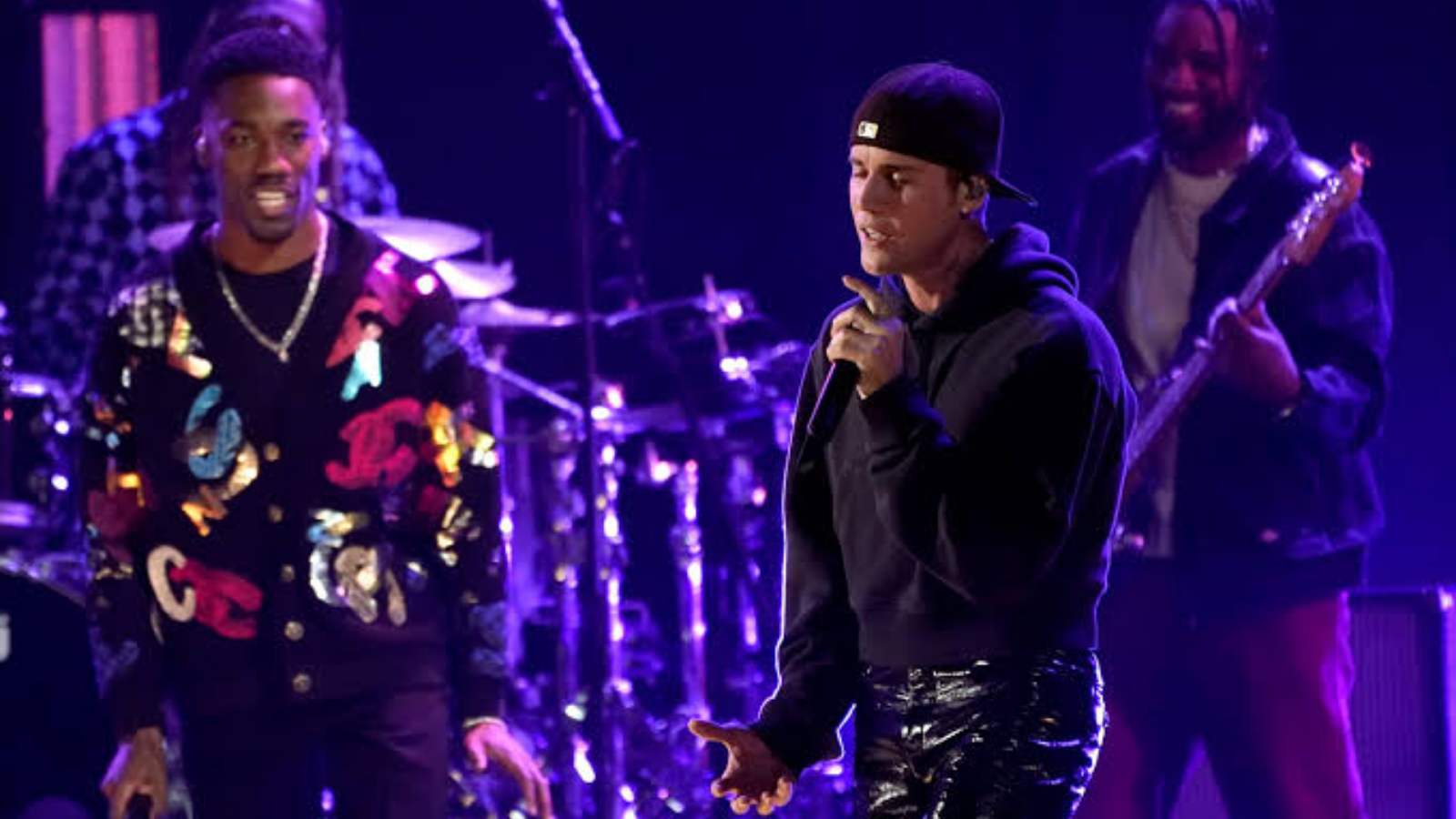 With the red carpet disaster, Justin Bieber did not disappoint the fans on the stage. Firstly, he left the fans in awe due to the range of his vocals that he exhibited while performing a rendition of his summer of love song Peaches along with Giveon and Daniel Caesar.
Secondly, he arrived on stage with a Balenciaga set. The unique yet understated look received praise from the fans online as they applauded Bieber for his choice of a second outfit.
"The Grammy goes to the tailor of Justin Bieber's leather pants," one person tweeted, while another said: "I've been looking for leather pants like @justinbieber has on for months!! I wonder where they are from."
Justin received nominations for Best Music Video, Best Pop Duo/ Group Performance, Best Pop Solo Performance, Record Of The Year, Best R&B performance, Album Of The Year, Best Pop Vocal Album, Song Of The Year.  Unfortunately, he had to go home empty-handed.
Also Read: Grammys 2022: Trevor Noah Mentions Oscar Slap Incident With A Pinch Of Humour