'Tis the season of spookiness! Around Tinseltown, there have been many celebrity Halloween parties, like The Standard's Annual Halloween Party, hosted by Evan Mock and Badius. The hottest party hosted by Casamigos also had many A-list celebrity guests, including George Clooney, Austin Butler, and others. But no one celebrates Halloween like Heidi Klum!
Every year since 2000, the supermodel and multi-hyphenate celebrity has been hosting the annual Halloween Party, which has been getting better and grander every year. Klum has taken her 'Queen of Halloween' title very seriously. In 2022, she spooked us with a worm get-up, and in 2023, Heidi extended her love for the animal kingdom.
Related: 'Queen Of Halloween' Heidi Klum Has A Reason To Why She Throws An Annual Halloween Party
Heidi Klum Dresses As A Peacock For Annual Halloween Party 2023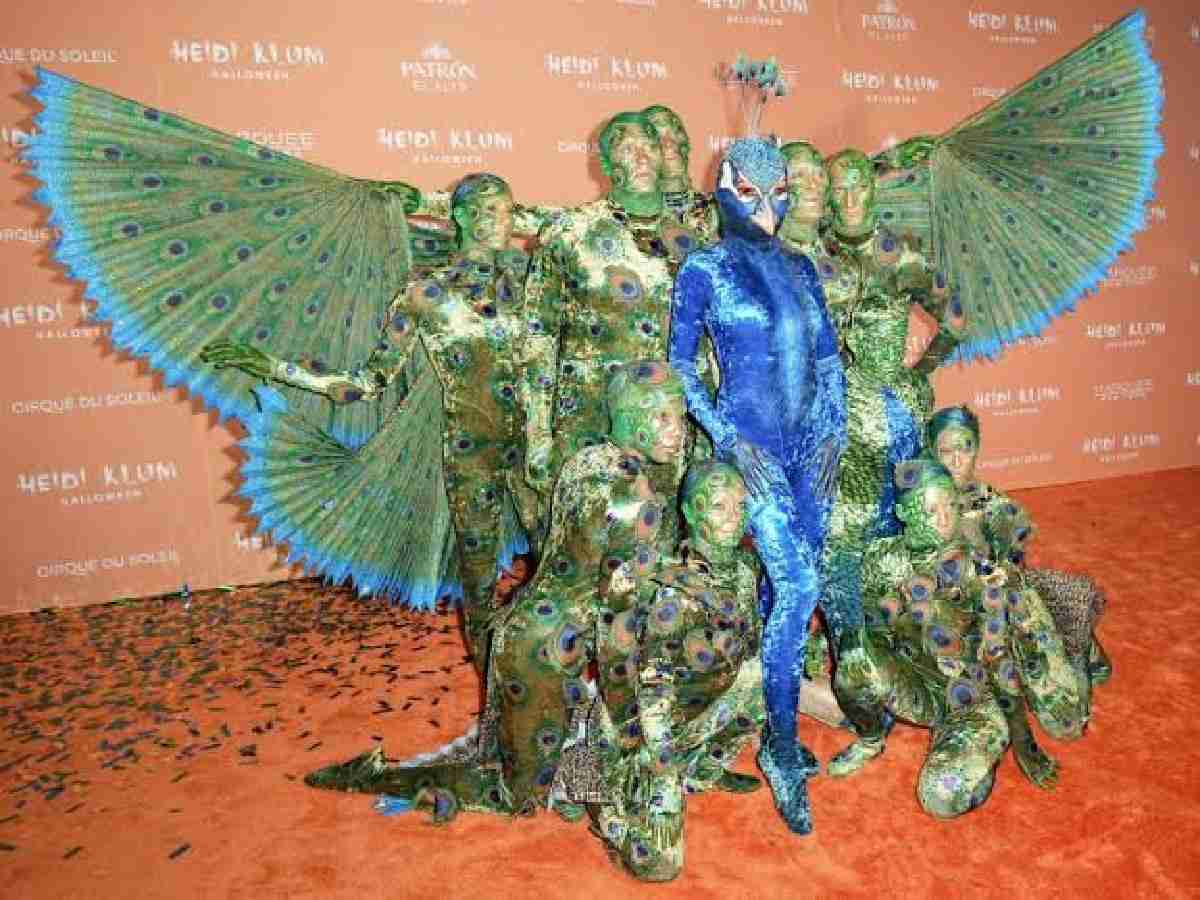 The model, producer, judge, and 'Queen of Halloween', Heidi Klum, never stops to amuse the fans with her quirky and campy Halloween costumes. In 2023, the love for the animal kingdom spilled over from 2022 as she arrived at her annual Halloween party dressed as a peacock.
But there is a twist! She was not alone on Marquee New York's carpet. She brought an entourage and had a theatrical Cirque du Soleil act on the red carpet.
Heidi Klum was seen in a blue bodysuit with a headpiece and an intricately done beak. Along with her, there were other people camouflaged into her to assist with the peacock feathers.
Heidi talked to Entertainment Tonight about her peacock look. She said, "Just because I was this very minimal kind of worm, I wanted to make something elaborate and I wanted to make a costume with multiple people." So, while deciding on an outfit for 2023, she wanted to have a detailed arrangement.
The supermodel added, "I was thinking a peacock because a peacock is kind of together with the feathers and then it opens up. I wanted to make an art performance out of it."
In Case You Missed: "Memes And All These Funny Things": Heidi Klum Has An Intention Behind Dressing Extra For Halloween
The Supermodel Embraces The Title Of 'Queen Of Halloween'
Heidi Klum has been doing the annual Halloween party for 23 years now, and she has been doing better each year. While talking to The Hollywood Reporter in 2018, Heidi expressed surprise at successfully hosting one of the biggest Halloween parties in the fraternity. She said, "It's crazy. I never expected that this party was going to go on for so many years, but here we are!"
During the interview, Heidi Klum revealed that she wants to live up to the title of 'Queen of Halloween' for years to come. However, the idea of doing spooky costume parties emerged out of the candy and costume parties during the annual Karneval celebration in Germany.
She added, "When I moved to America, I immediately fell in love with Halloween and the spookiness of it. All that was missing was a fantastic party. It felt like a real opportunity for me."
You Might Also Like To Read: Heidi Klum Extends Her Halloween Party Invite to Taylor Swift And Travis Kelce