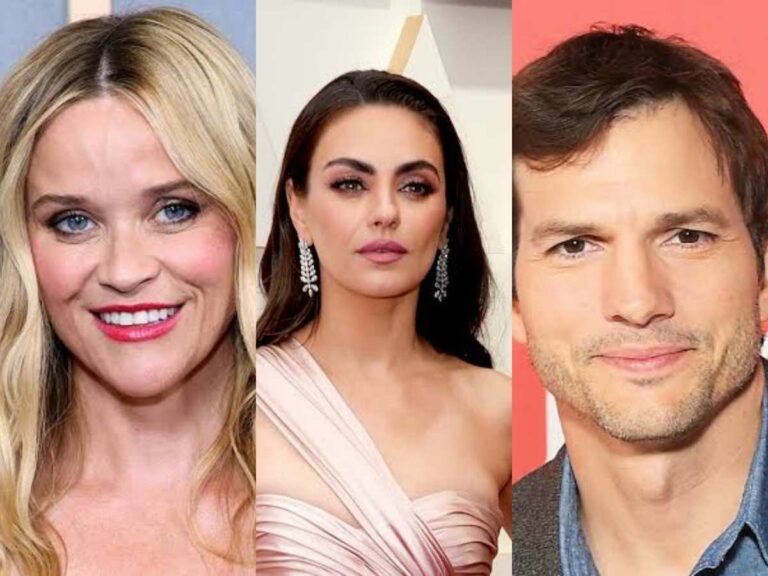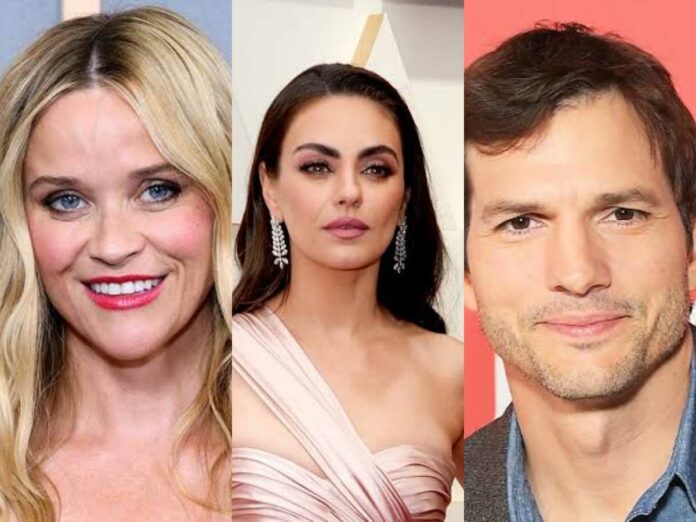 Ashton Kutcher and Resse Witherspoon are out-and-about to promote their new Netflix film 'Your Place Or Mine'. They are collaborating for the first time in a rom-com set in New York City. It is the story of two best friends Debbie and Peter, who have been friends for 20 years. Despite their polar opposite personalities, the two decide to swap their lives, but the two have not confessed certain things. Mila Kunis and Reese Witherspoon have been friends for a long time, but this is the first time meeting and working with her husband.
Recently, Mila Kunis and Ashton Kutcher reprised their roles in 'That 70s Show' for the new Netflix sequel 'That '90s Show'. The new show centres around Leia Forman, Donna Pinciotti, and Eric Forman's daughter. The two special characters that gave a boost to Mila and Ashton's careers, Michael and Aline Brosch made a cameo during the show. The new film will be the second Netflix venture of Ashton Kutcher. During promotional events, Kunis criticized their pictures together.
Related: 'Your Place Or Mine': Cast,Plot, And Release Date Of Reese Witherspoon And Ashton Kutcher's Netflix Film
Reese Witherspoon Recalls Mila Kunis Conveying Her Criticism Via Email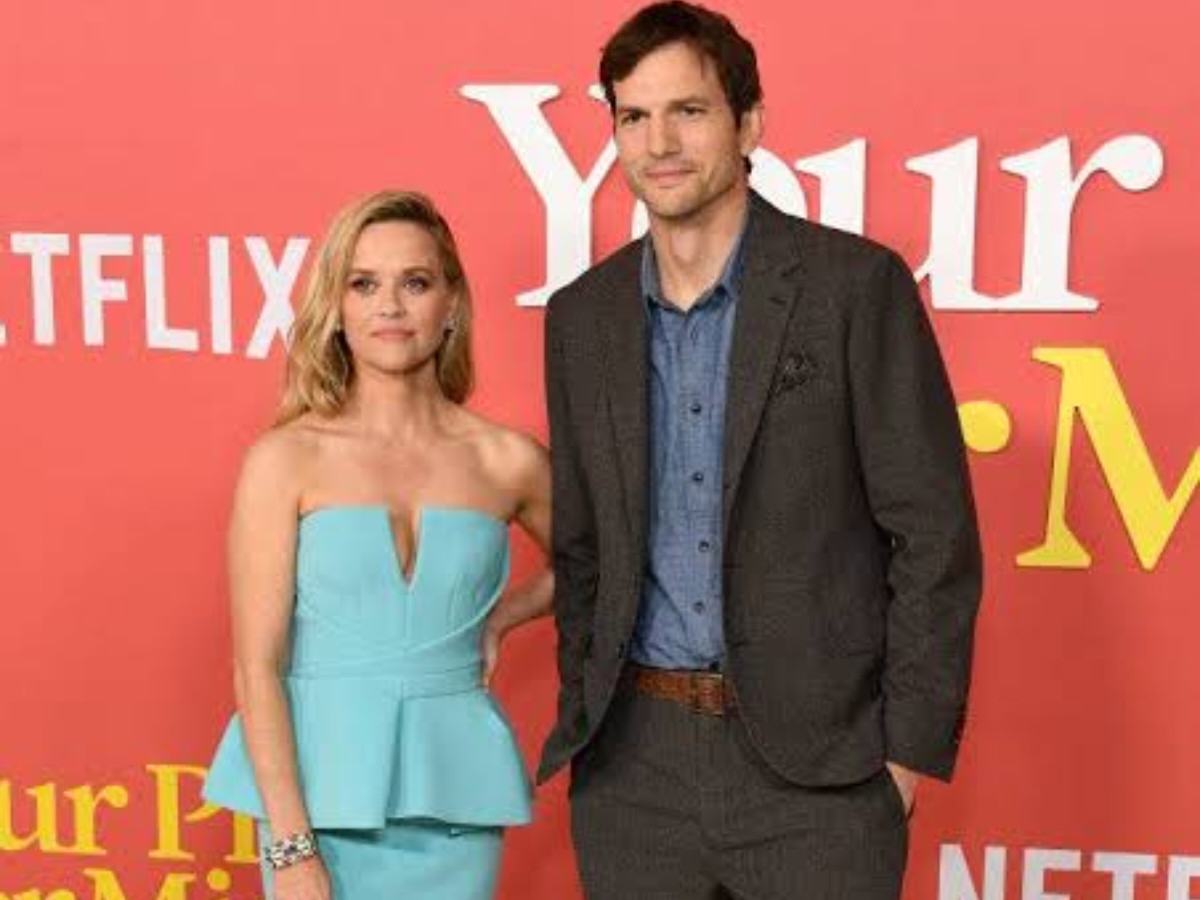 While promoting 'Your Place Or Mine', Reese Witherspoon and Ashton Kutcher posed for paparazzi. The co-stars looked awkward while posing for the pictures and the fans called them out for their clumsy pictures on the internet. But, Ashton's wife had some notes for the stars. During an interview with 'Today with Hoda & Jenna', the 'Big Little Lies' artist recalled how her friend Mila reacted to their pictures.
Witherspoon said, "She [Mila Kunis] even emailed us last night. She goes, 'You guys look so awkward on the red carpet together.'" Reese and the 'Black Swan' actress have known each other for so long, so she admitted that it was good to know her husband.
She said, "It was just fun to get to know her significant other 'cause I've loved her for so long". The actress had nothing but good things to say about Kutcher. "He's so professional. He's the funniest guy. I mean, such a goofball. We had so much fun, and every time he'd wear a funny outfit, I'd text Mila. I'd be like, 'What is he wearing?' " Reese said.
In Case You Missed: Mila Kunis Net Worth, Career, Awards, Husband And More
The Twitter Is Having A Good Time Taking A Dig At Their Chemistry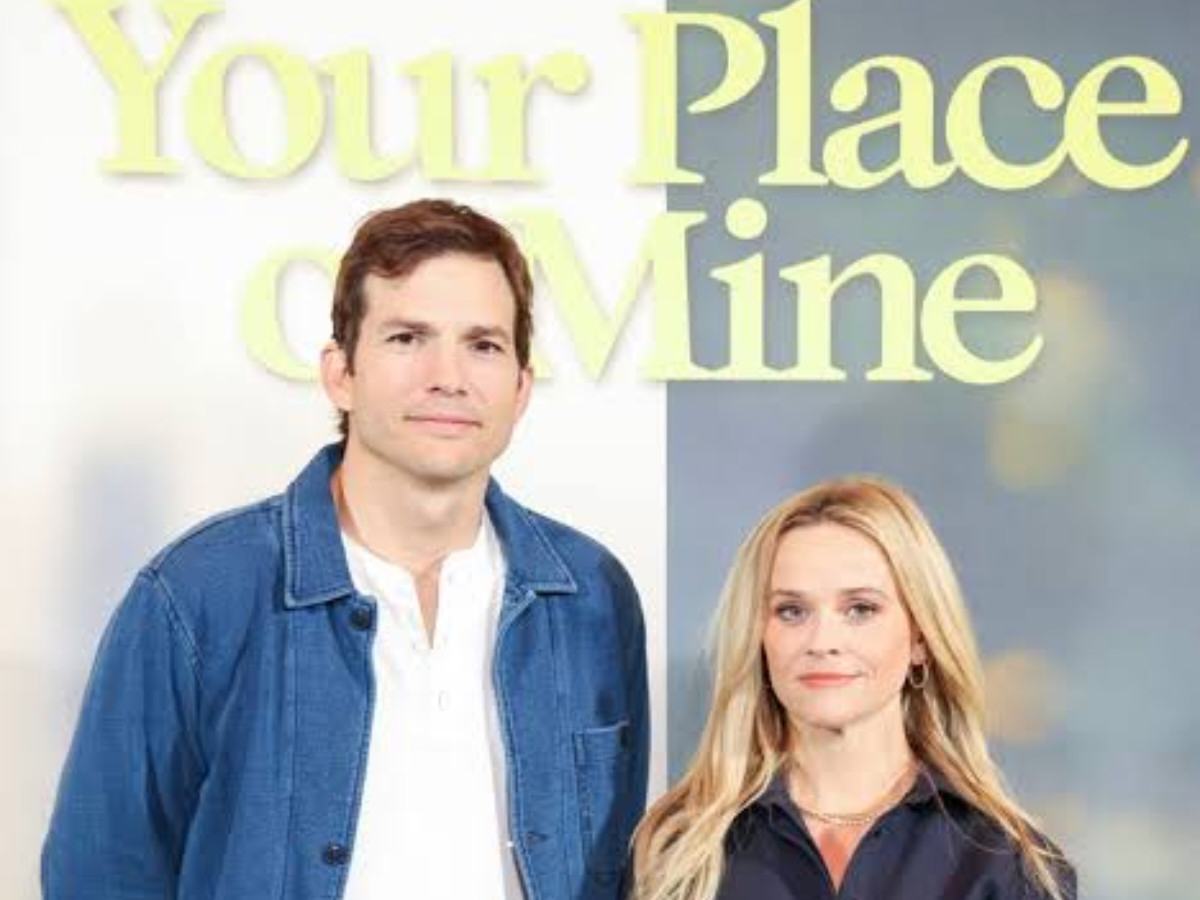 During an interview with Esquire, Ashton Kutcher talked about what made him choose the new Netflix film. He said, "I'm hankering to find something fun". Reese admired Ashton as a family man.
He said, "He loves his family so deeply and really is such an incredible dad who shows up every day for his kids. There is no pretense. He is just very comfortable in his own skin. And did I mention he is hysterically funny?" Even though it seems they have great chemistry, their chemistry has become the butt of the joke on the internet.
the chemistry is insane!!!!

— kie (@criminalplaza) February 4, 2023
Gotta take some notes from them pic.twitter.com/4Wzs1pFJDH

— Nickel from Nickelback (@chocomiljpg) February 5, 2023
Like where is THIS energy??? pic.twitter.com/wxf85eX4bz

— ℭ𝔩𝔞𝔲𝔡𝔦𝔞𝔯𝔬𝔰𝔢 (@badgalclaudia) February 5, 2023
This screams they already did and are trying to act "normal" but can't because they have already crossed that line… 🤨

— Masks Save Lives 😷😷😷 (@GeorgiaCaliDays) February 6, 2023
Looks like the spouses gave them a good talking to

— Talk2abrotha (@Talk2aBrotha) February 6, 2023
You May Also Like To Read: Reese Witherspoon Kids: Meet Ava, Deacon And Tennessee