Mary J. Blige, 51, American singer that brought glamour and soul to the Super Bowl LVI Halftime show. Not just this but also some drama as secrets are revealed from the show. Mary J. aka Queen of Hip-Hop Soul collaborated with Dr. Snoop Dogg, Eminem, 50 Cent, and Kendrick Lamar at Super Bowl. Performances by high-end artists became the highlight of the show at So-Fi Stadium. The dress that 9 times Grammy award winner wore was a style statement. In this article, we reveal her last-minute changes in the costume at the show. Stay Tuned!
View this post on Instagram
White And Silver Custome of Mary J. Blige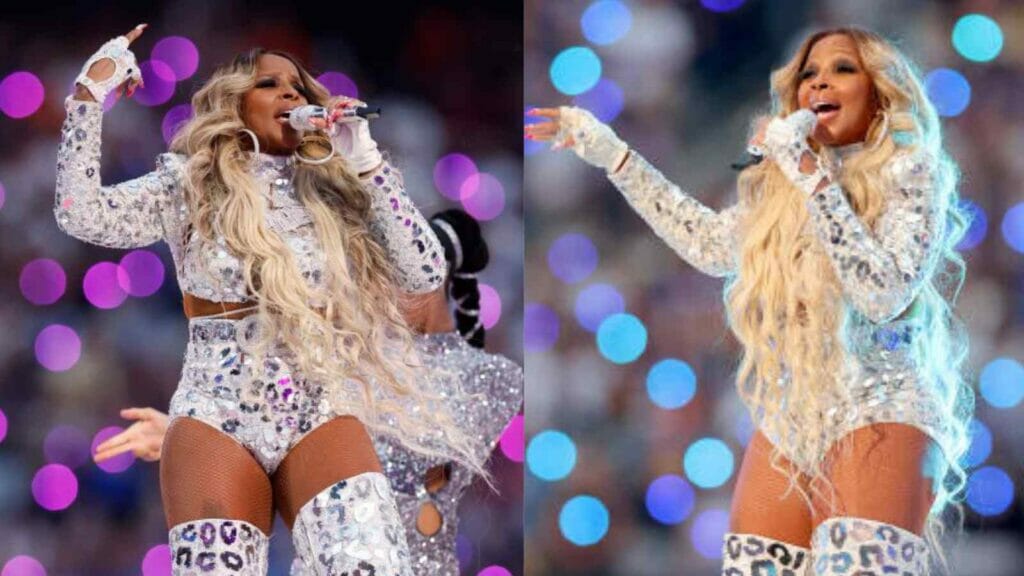 Mary J. Blige wore a white-and silver costume with a long sleeve crop top. We will break down the detailing of the dress according to sources as explained by her stylist Jason Rembert. The costume also had a fedora-style hat to compliment it. The costume was designed with the help of Peter Dunas. It had other elements such as thigh-high boots and car gloves that were all embellished with silver mirrors all over, pearl beadwork, and Swarovski crystals. The costume made the hip-hop queen shine along with her amazing performance.
Rembert said, "I reached out to some of my designers and put this great mood board together that embodies Mary J. Blige currently."
He further added It was important for her to be her. Whichever brand she works with as a collaboration rather than this is her design. So it was cool, great colorwise. We are always pushing for color but we did not go with the bright color like I thought we would."
The revelation made by him that there were five look options for the Super Bowl. She narrowed it down to what she wore. The costume was also made in purple before coming to the silver and cream. Same look, different color, and she chose the cream, Jason shared.
He informed about his earings-diamond crusted hoops were from her brand Sis Love and told that Mary was very collaborative for this. He stated as a team they wanted the best for Mary. Jason revealed no other jeweler was involved and it was Mary only and that was a great thing.
Boots of Mary J. Blige
View this post on Instagram
The boots that Mary J wore created an impact and took a lot of manpower to curate it. Jason revealed that boots were made in India.
Rembert stated, "Someone flew all the way across the world, probably like six or seven days ago but it is so intricate. It took so much manpower to create in two weeks. It is made of leather. We put embroidery on top of it, super intricate embroidery. The heel is still a high heel because Mary can run in heels. So I was confident about her wearing heels because she was performing on a rooftop. Jason said when they saw the costume in person, there were like WOW!
Other Elements
View this post on Instagram
The costume had so many elements to count on that made it look phenomenal on Mary. The gloves are one of them blended into the overall look. The stylist of Mary revealed, "You probably won't be able to notice it, but there is a mic pack sleeves on the back of the suit that is also encrusted with the same material."
Who Are The Stylist Behind The Look?
View this post on Instagram
Peter Dundas worked in collaboration with Mary J. Blige and her stylist Jason. To create this costume for halftime at the Super Bowl took a lot of effort and creativity. The costume had a crop top with matching shorts in white and silver mirror embellished material. The thigh-high boots were an addition to upgrading the costume. To complement it, Dundas suggested the hat as well.
For Jason Rembert, to work with Mary J. Blige was an incredible experience for the Super Bowl. He said It is great to see something that went from a sketch in November to seeing it in person because you know this is the one." He went on to shower Mary with compliments.
Also Read: Super Bowl Halftime Show Caused A Giant Social Media Stir after Eminem takes knee in support of Black Lives Matter