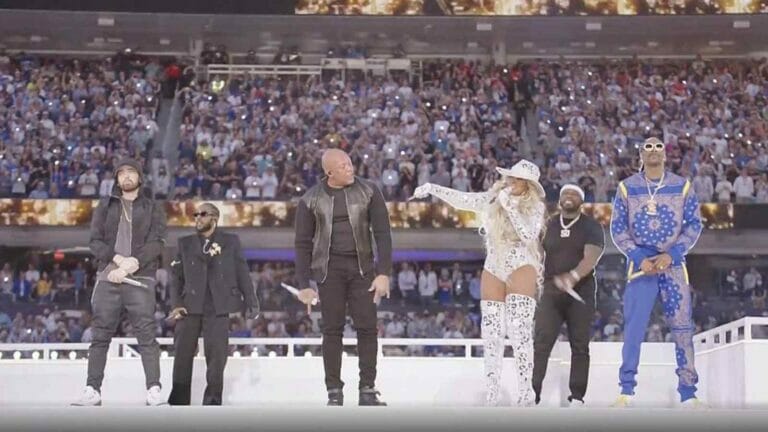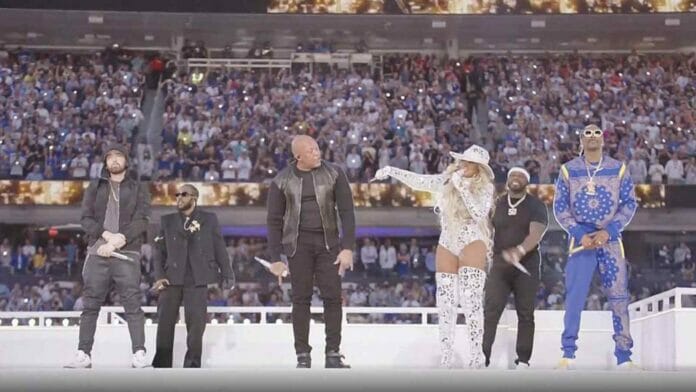 With an array of popular artists performing at the Super Bowl LVI halftime, social media was buzzing with praise and appreciation for the spectacular show. Artists like Dr Dre, Eminem, Snoop Dogg, Mary J. Blige, 50 Cent, and Kendrick Lamar graced the stage with stunning performances that have become the talk of the town!
Eminem in The Halftime Solidarity – Black Lives Matter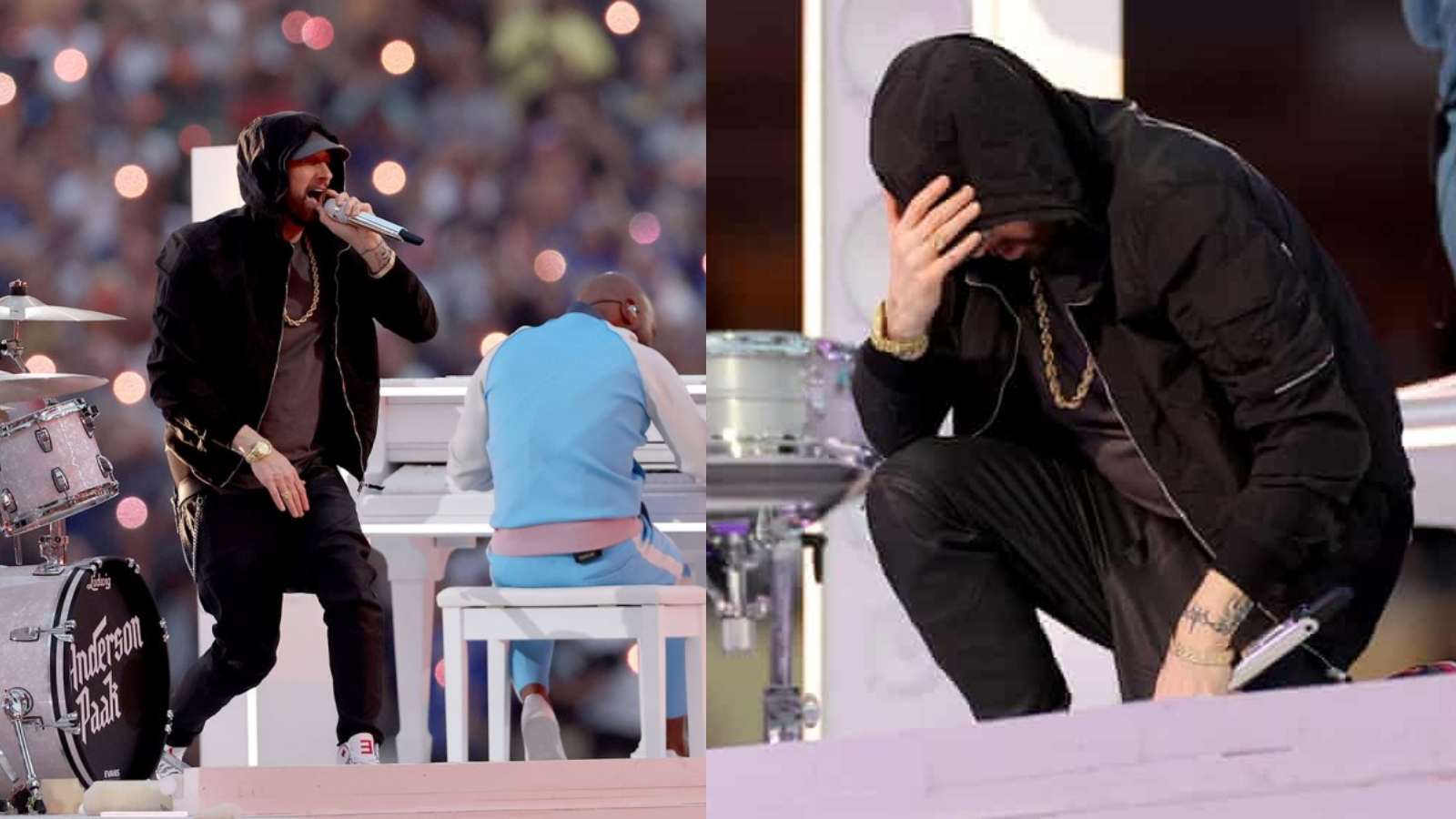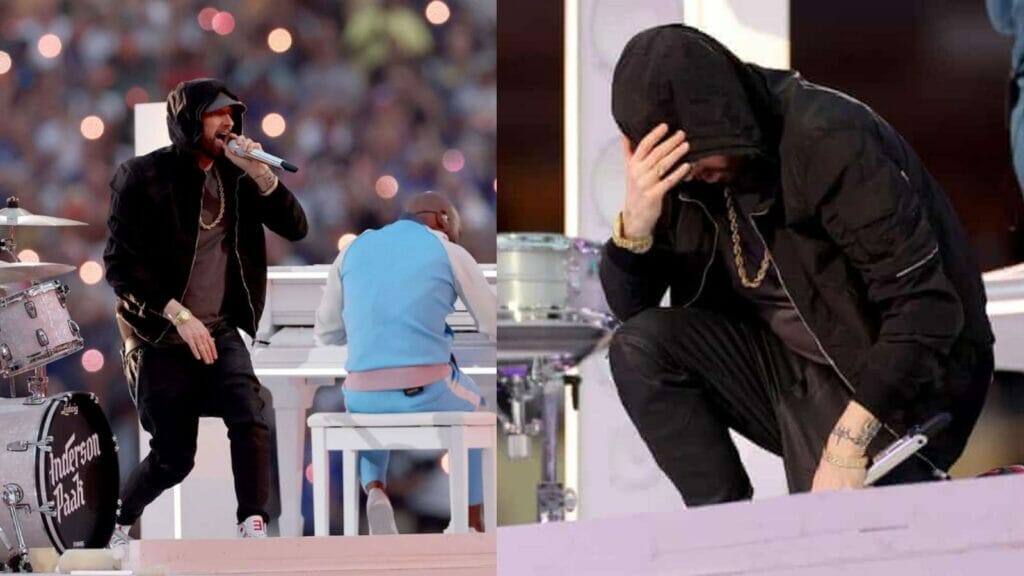 Despite the many big things happening, Eminem was trending for his controversial action of taking to one knee after the gesture was shut down by the officials. Taking a knee is a symbolic gesture that shows solidarity with the anti-racism movement started by Colin Kaepernick in 2016. He shed light on the issues concerning racial inequality and police brutality. The Black Lives Matter movement adopted this gesture as a show of solidarity.
Defying the NFL
A report mentioned that Eminem wanted to bend the knee Colin-style, but the organizers refused to entertain that request. Even Snoop Dogg's planned outfit was flagged due to some connections with it being gang-related. We noticed his outfit was not what he intended initially. However, Eminem didn't care what the organizers say, he went ahead and bent the knee anyway.
A flood of memes and tweets made headlines making the halftime show memorable to the core. The show consisted of rap medleys of hit tracks and served as a delight for all rap and hip-hop fans. All artists also brought their behemoth hits to the stage.
The List Of Performances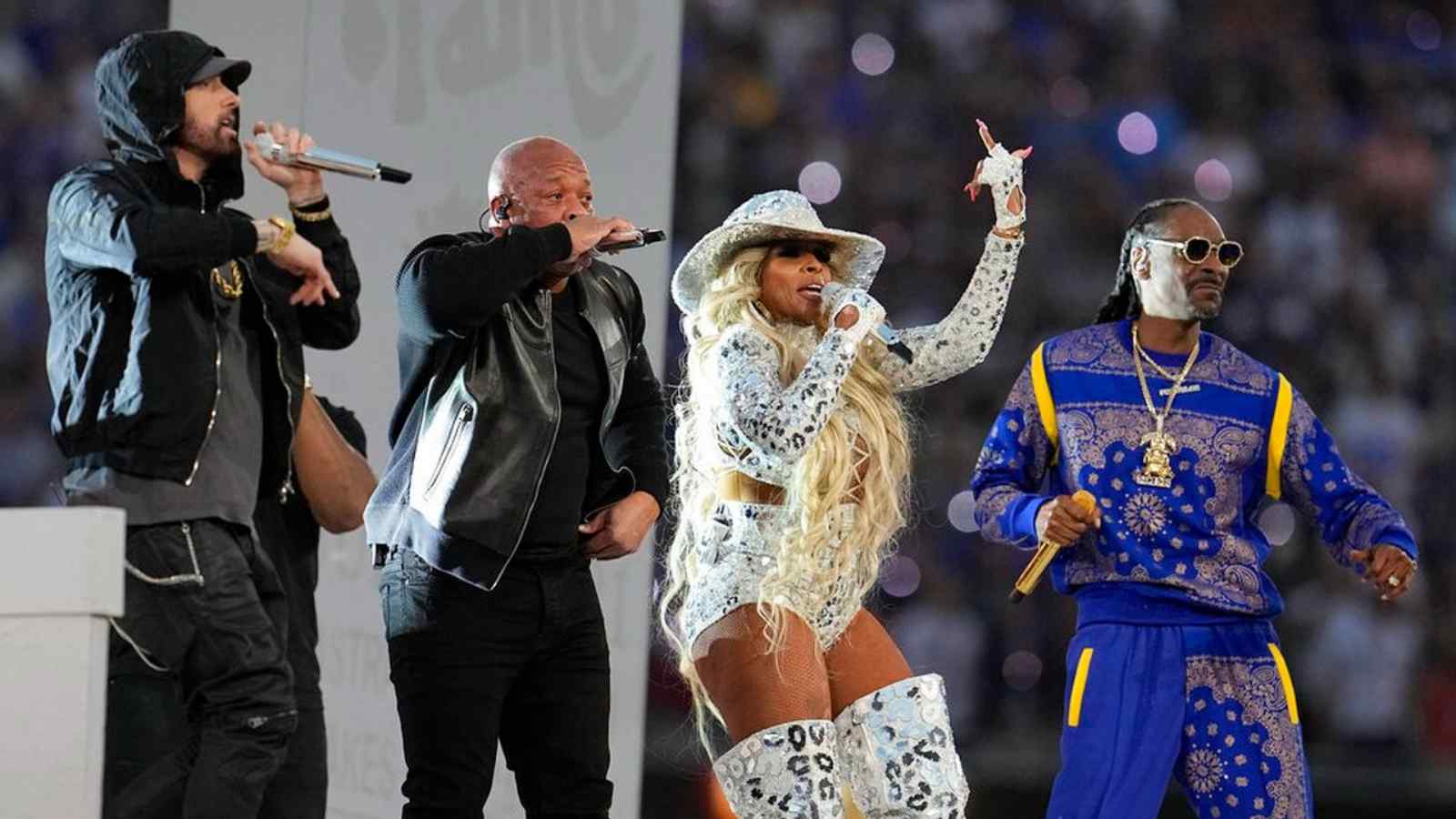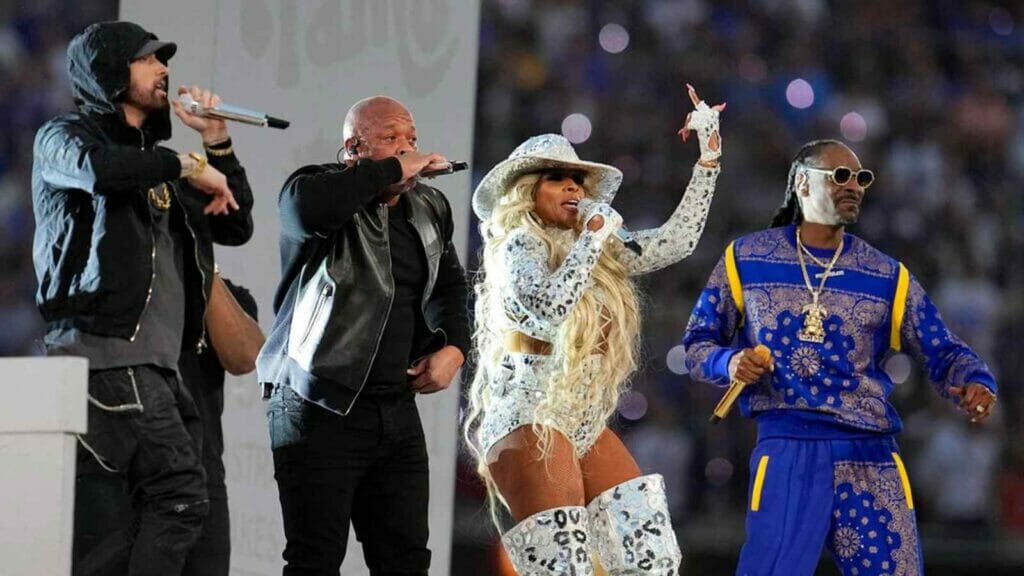 1. "The Next Episode" — Snoop Dogg
2. "California Love" — Dr. Dre
3. "In Da Club" – 50 Cent
4. "Family Affair" – Mary J. Blige
5. "No More Drama" – Mary J. Blige
6. "M.a.a.D City" – Kendrick Lamar
7. "Alright" – Kendrick Lamar
8. "Lose Yourself" – Eminem
9. "Still D.R.E." – Dr. Dre and Snoop Dogg
Star Studded Stadium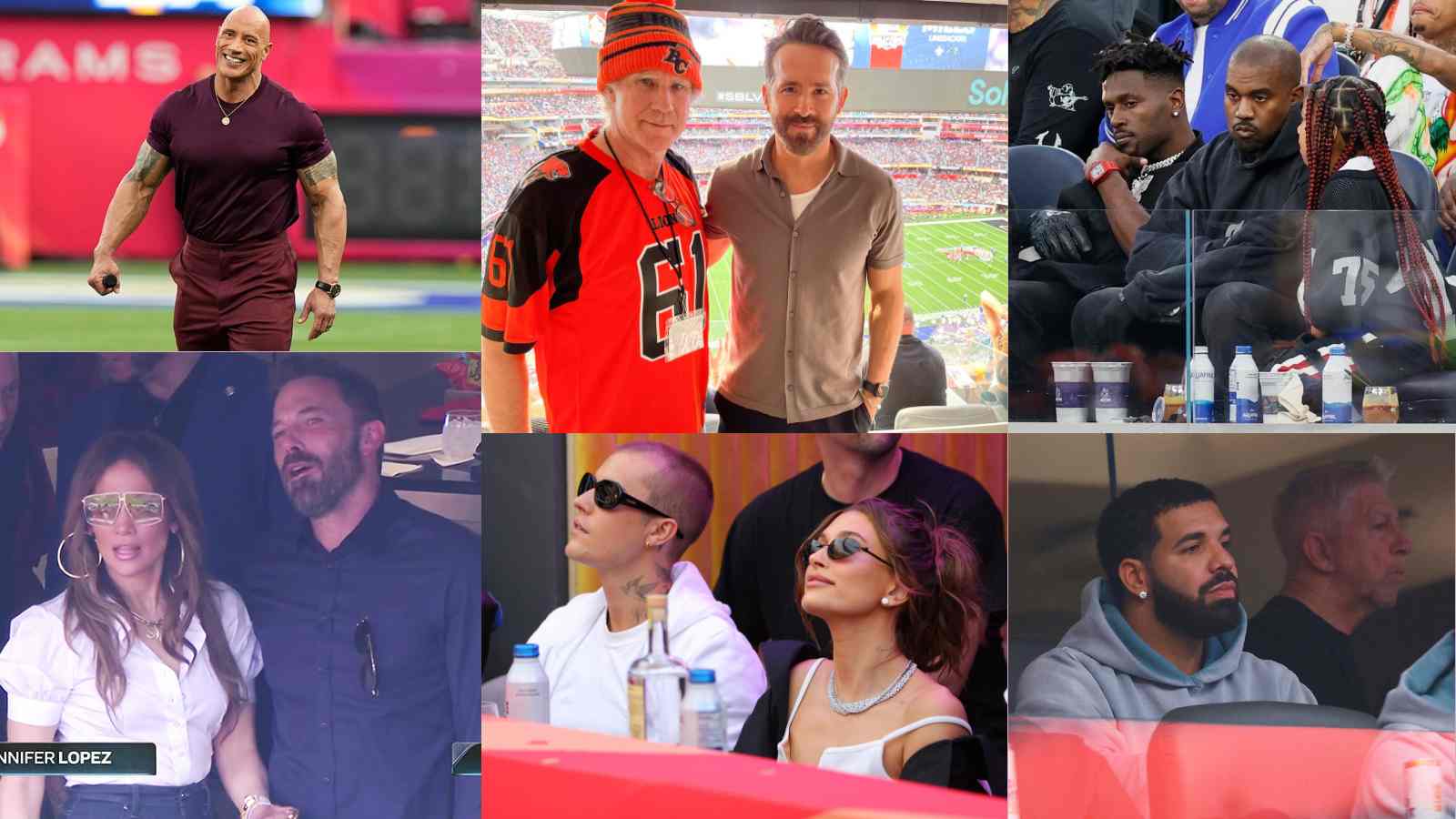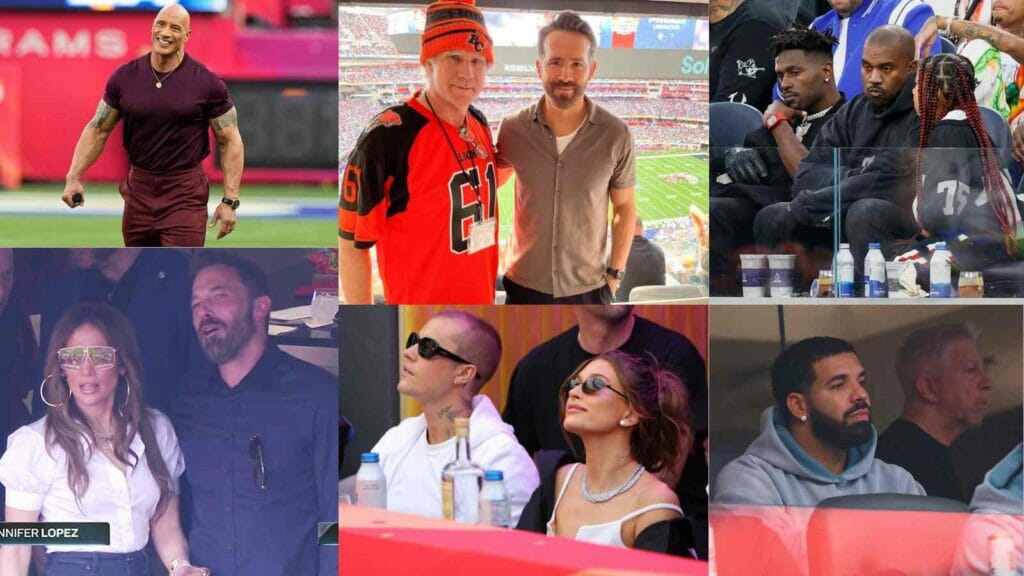 The stadium was filled with fans cheering as the performances went on. A rocking introduction by Dwayne Johnson kicked off the event. Some notable celebrities like Rebel Wilson, who is a frequent audience for sporting events, were spotted. Kanye West, Jennifer Lopez, Ben Affleck, Jay-Z, Beyonce and daughter Blue Ivy Carter, Cardi B and Offset, Justin Bieber, Matt Damon, Sean Penn. More Hollywood stars like Charlize Theron, Mark Wahlberg, Sean Penn, Heidi Klum, Kate Hudson, Katy Perry, and Orlando Bloom, and several others were in attendance.
Ryan Reynolds was hilarious as ever, with his Hollywood funny man, Will Ferrell dressed in Canadian Hockey attire. Super Bowl commercials featured famous names like Dolly Parton, Miley Cyrus, Jennifer Coolidge, Ewan McGregor, Will Smith, Arnold Schwarzenegger, and Salma Hayek.
Twitter Reaction
Many big names in the entertainment industry to the stage for the halftime show previously. Aerosmith, Jennifer Lopez, Justin Timberlake, Lady Gaga are some of those names. In 2011, Snoop Dogg and Co were all halftime show gang. 5o Cent even made an astonishing guest appearance at the show. Here are some tweets:
Also Read: Drake Bets On The Right Man – Odell Beckham Came Through