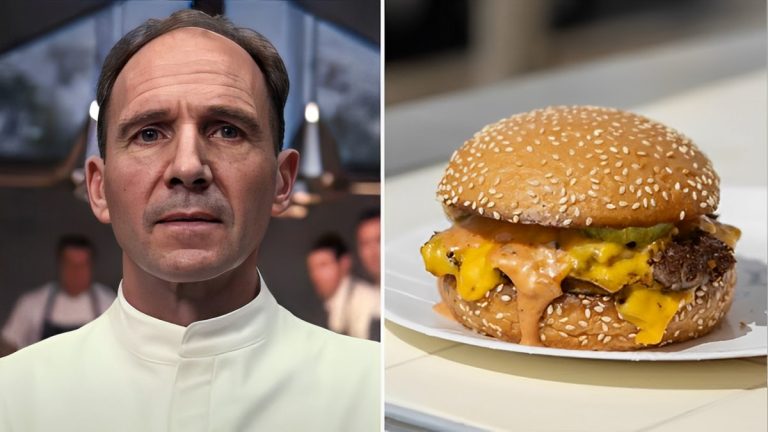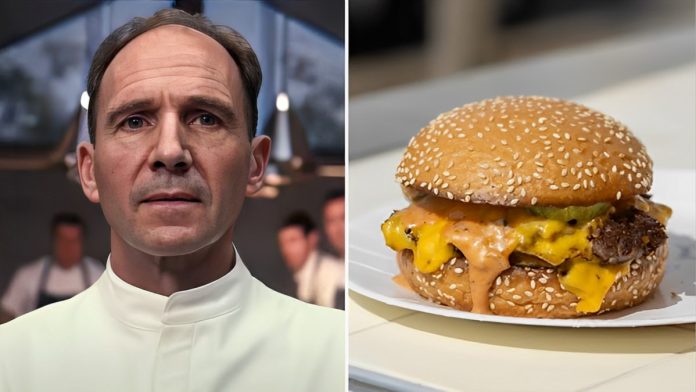 Only a few days into 2023, we are seeing some excellent movies coming our way. As we move closer to the Golden Globes and the Academy Awards, many films are being made available on VOD so we can enjoy them from the comfort of our homes. Searchlight Pictures released 'The Menu' starring Ralph Fiennes and Anya Taylor-Joy, on January 3, 2023, for the audience who missed it while it was playing in the theatres.
Directed by Mark Mylod (Succession, Ali G Indahouse) and written by Seth Reiss and Will Tarcy, 'The Menu' stars Ralph Fiennes, Hong Chau, Anya Taylor-Joy, Nicholas Hoult, Janet McTeer, Reed Birney, Judith Light, and John Leguizamo. This baffling satire centered on the sin of gluttony has got us baffled. We sit down today to make sense of an ending.
Related: Anya Taylor-Joy Marries Boyfriend In A Secret Courthouse Wedding
What Happens In 'The Menu'?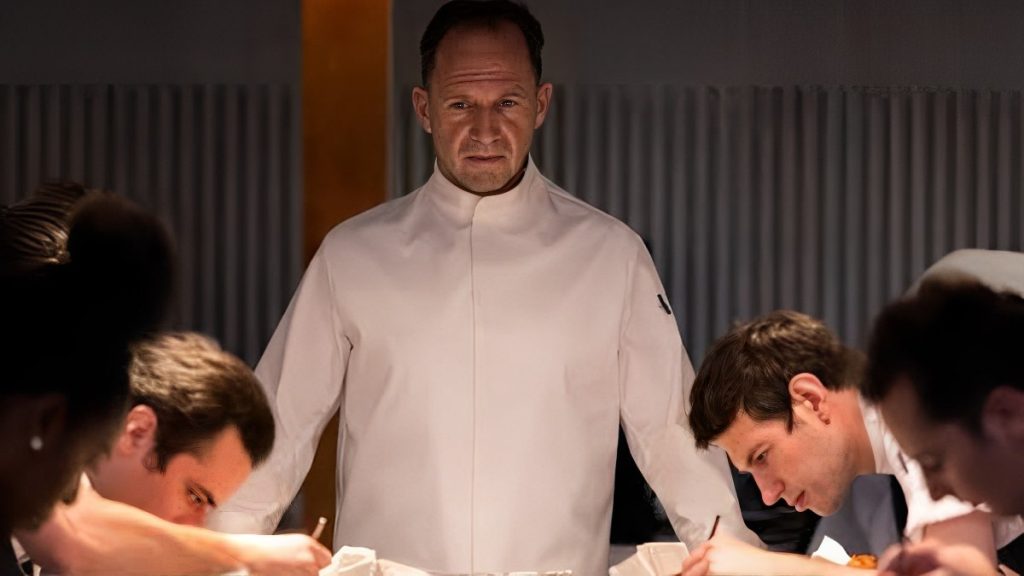 'The Menu' begins with Tyler (Nicolas Hoult) and his date Margot (Anya Taylor-Joy) accompanying a boat full of guests. Their destination is Hawthorn, an exclusive restaurant located on a private island. All aboard are the guests of the superstar chef Julian Slowik (Ralph Fiennes), who has promised them the best menus of their lives.
On the surface, everything on the island is marvelous and meticulous. But as the night approaches and the food courses and good wine flow, we see this grand event's true and insidious nature. Chef Slowik reveals the night shall be their final supper, as he plans on setting everything and everyone on fire.
All the guests present, except Margot, were selected because they pose a severe threat to the culinary arts. With each course, he tells a frightening story of his downfall. Before the night's end, the guests are punished with brutal acts of violence. Everything will happen according to the plan, but the unexpected appearance of Anya Taylor-Joy's character causes a stir in the events to come.
In Case You Missed It: Top 25 Thriller Movies Of All Time
How Does Anya Taylor Joy Survive The Massacre With A Cheeseburger?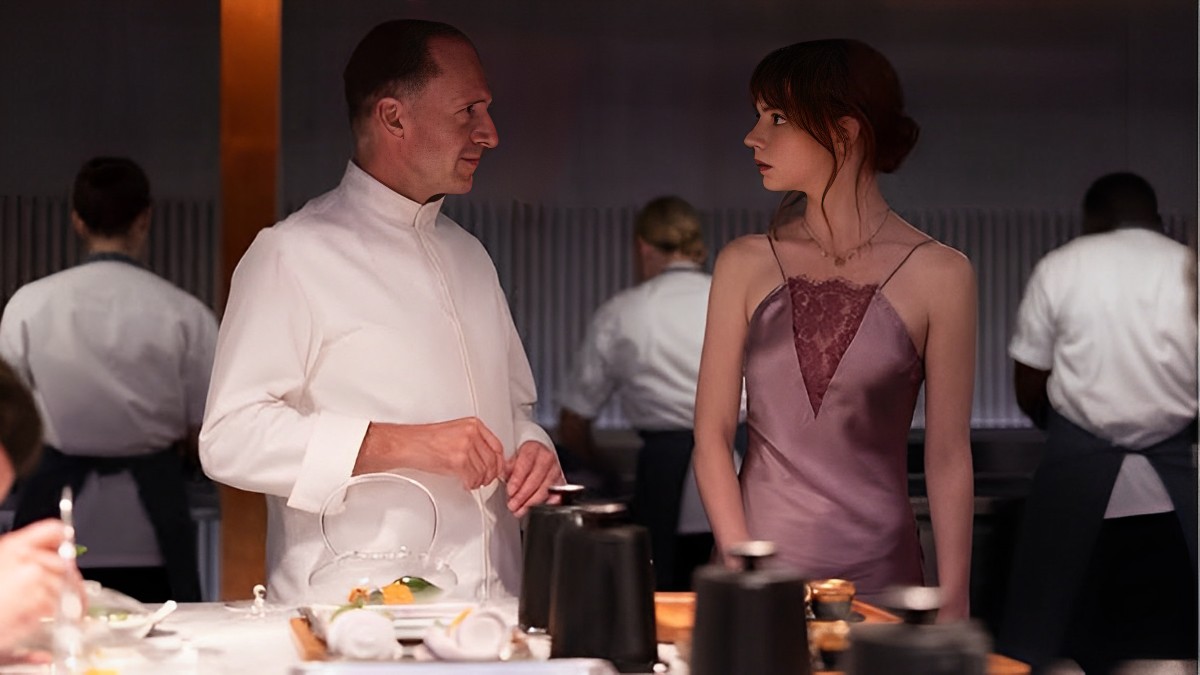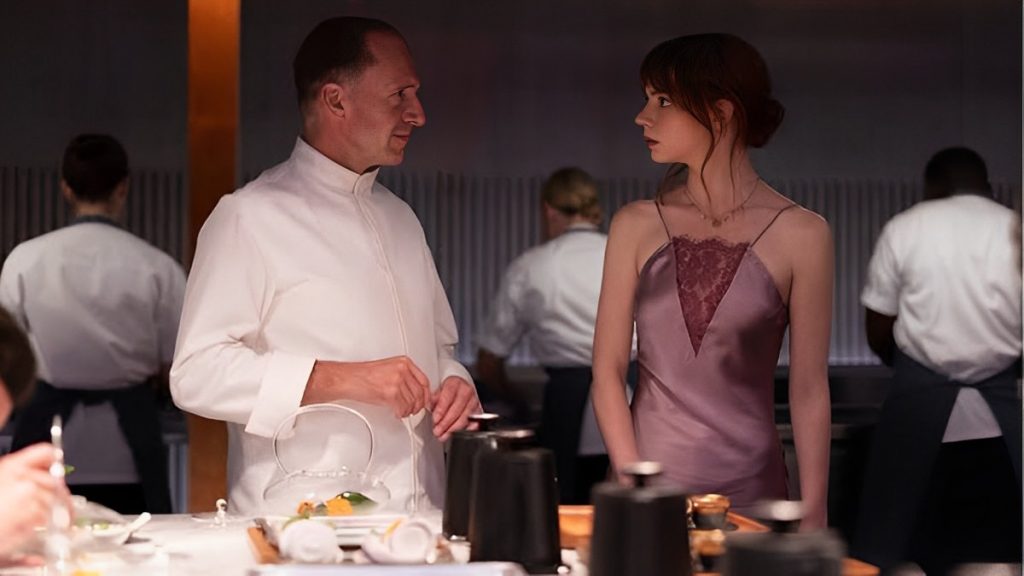 'The Menu' not only serves exquisite food but also tells about the great class divide told through food and is an authentic piece of gastronomic performance art. Gluttony is the ultimate sin of everyone present, be it the tech bros or the washed-up actor. They have too much, but it's never enough.
Slowik, an artist himself, sees them as the establishment. The unfeeling palette of the rich repulses him as they have no appreciation for the effort that goes into a plate of food. He takes a liking to Margot, confronting her to reveal herself. She is an escort, explaining why one of the guests had been eyeing her since they got on the boat.
They both share the frustrations that their 'services' aren't appreciated. Slowik recognizes Margot as one of their own and seemingly recruits her to his cause. Later, he asks her to fetch a barrel to the dining room. While looking for this barrel, Margot comes across a picture of a younger Slowik as a fry cook flipping cheeseburgers.
As the time for dessert comes, Margot knows just how to push Slowik's button. She taunts her by calling his food bland and unfeeling, claiming he lost his mojo long ago. Irrespective of many courses, she claims to be hungry and challenges Slowik to cook her a cheeseburger and fries.
During this meal's preparation, Julian, the fading artist, rediscovers his passion for cooking. Making that cheeseburger reminds him of the pleasure of simpler days when he cooked without pretensions. Since he has gone on to become a brilliant chef, the love has disappeared. As Margot bites into her burger, that passion comes back to him momentarily.
In Margot, he found a muse. So, as a way of thanking her, he spares her life. Slowik lets her go with the burger and the fries. He had found someone who believed in him, and it would upset him to hurt that person. The rest are still enemies. Ultimately, when he commits artistic Hara-Kiri and burns down the house he built, we see Margot far from the site of the accident as she munches on the burger and relishes her survival.
You Might Also Like To Read: 'Furiosa': All You Need To Know About The 'Mad Max: Fury Road' Prequel