A comedian-turned-president who stood with his country and gave an example of a brave leader, Volodymyr Zelenskyy, Ukraine's president appeared remotely at the 64th Grammy awards.
On February 24, 2022, Russian leader, Vladimir Putin invaded Europe's second-largest country, Ukraine and since then the world is concerned about the situation prevailing.
The award night was held at MGM Grand Garden Arena in Las Vegas and live telecasted on Sunday. The ceremony was hosted by comedian Trevor Noah and he introduced Ukraine's president to the audience.
Since the attack on Ukraine, president Zelenskyy has stood with his people and contacted other leaders, and appealed for aid and support against the Russian invasion. The prestigious awards Grammys has launched its "Stand Up For Ukraine" fundraiser campaign and partnered with Global Citizen. President Volodymyr Zelenskyy, 44-year-old, gave an appearance and was part of the campaign. He drew the world's attention to the silence and not music in Ukraine through his strong speech at the award ceremony on Sunday night.
Ukraine's President Volodymyr Zelenskyy Speech At Grammys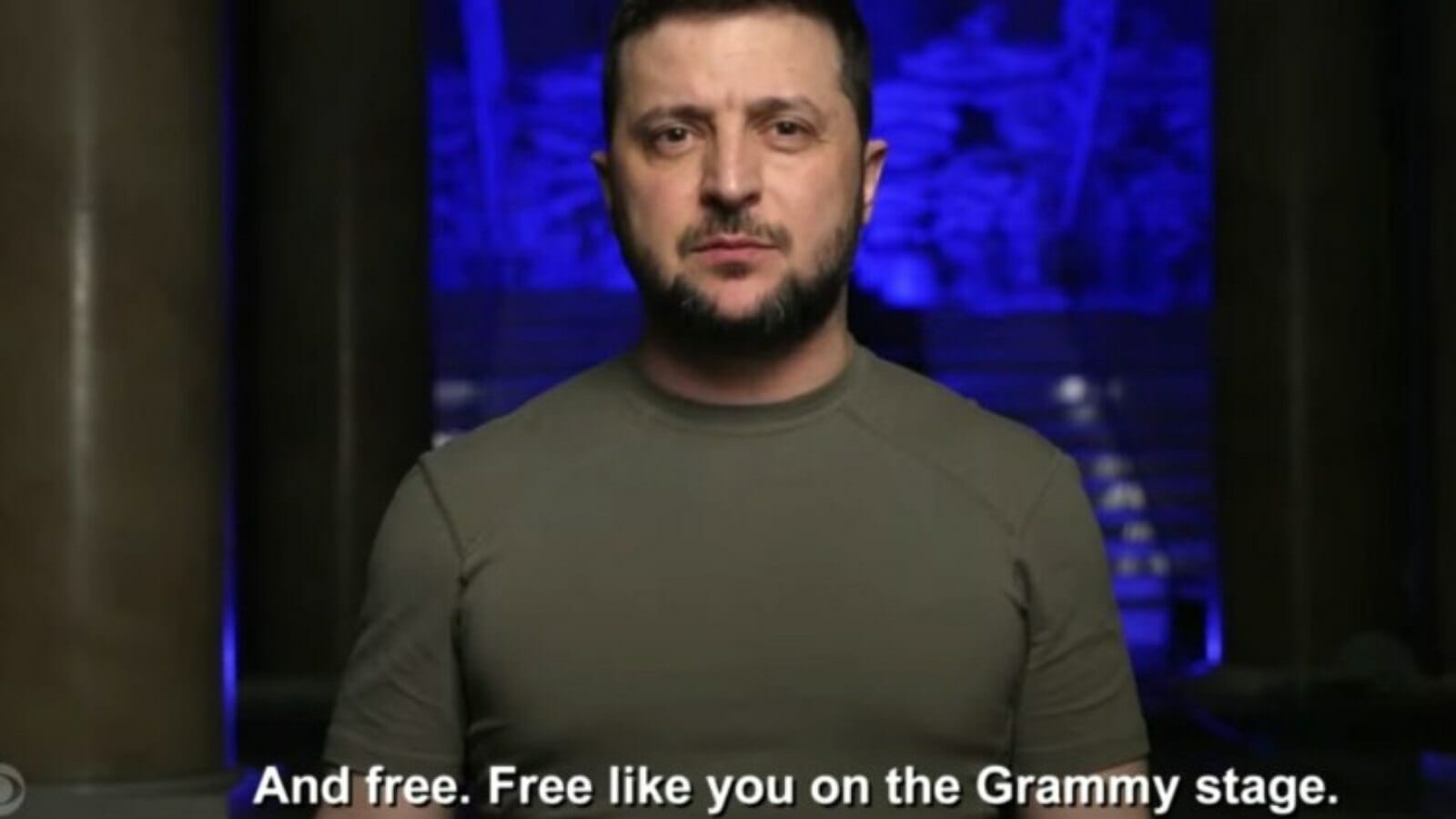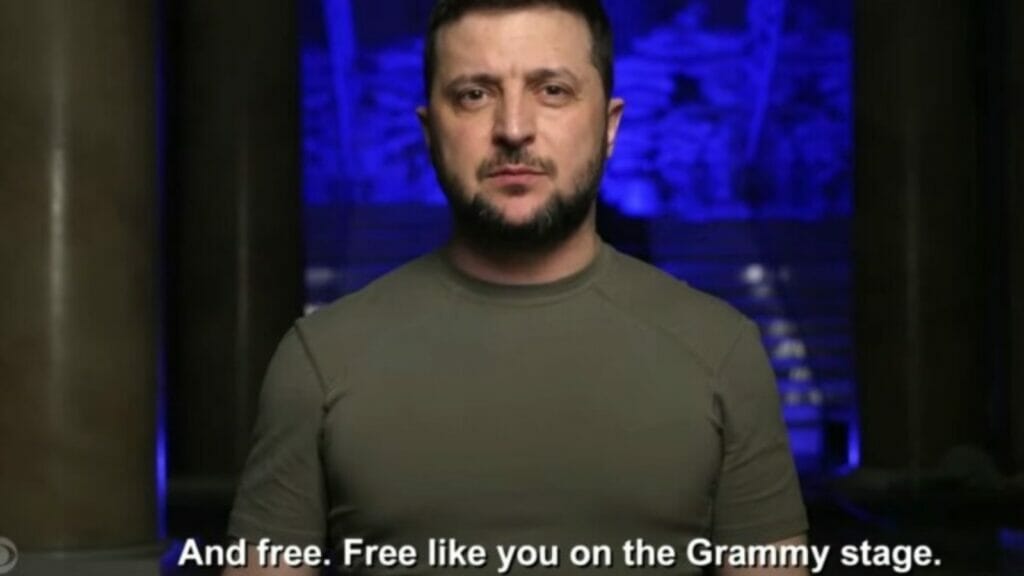 President Volodymyr said, "the silence of ruined cities and killed people. Our children drawing swooping rockets, not shooting stars. Over 400 people have been injured and 153 children died, and we all never see them drawing." Speaking about the current situation he added, "Our parents are happy to wake up in the morning in a bomb shelter, but above. Our loved ones don't know if we will be together again."
While connecting with audiences from behind the screen, Zelenskyy talked seriously of the brutality incurred on Ukraine's attacked urban communities, where they are battling for control and defending themselves from Russia.
Furthermore, he conjured the mounting setbacks and millions of displaced people with the help of sober illustrations in his speech.
"The war does not let us choose who survives who stays in eternal silence. Our musicians wear body armor instead of tuxedos; they sing to the wounded in hospitals- even to those who can't hear them. But the music will break through anyway. We defend our freedom. To live, love. To sound. On our land, we are fighting Russia which brings horrible silence with its bombs, the dead silence."
He asked for help by urging people to break the silence, "Fill the silence with your music! Fill it out today to tell our story. To Tell the truth about the war on your social networks, on TV. Support us, in any way you can. Anything, but not silence. And then peace will come. To all our cities the war is destroying: Chernihiv, Kharkiv, Volnovakha, Mariupol, and others. They are legends already, but I have a dream of the living…and free. Free like you on the Grammy stage."
Grammys Take The Initiative 'Stand Up For Ukraine'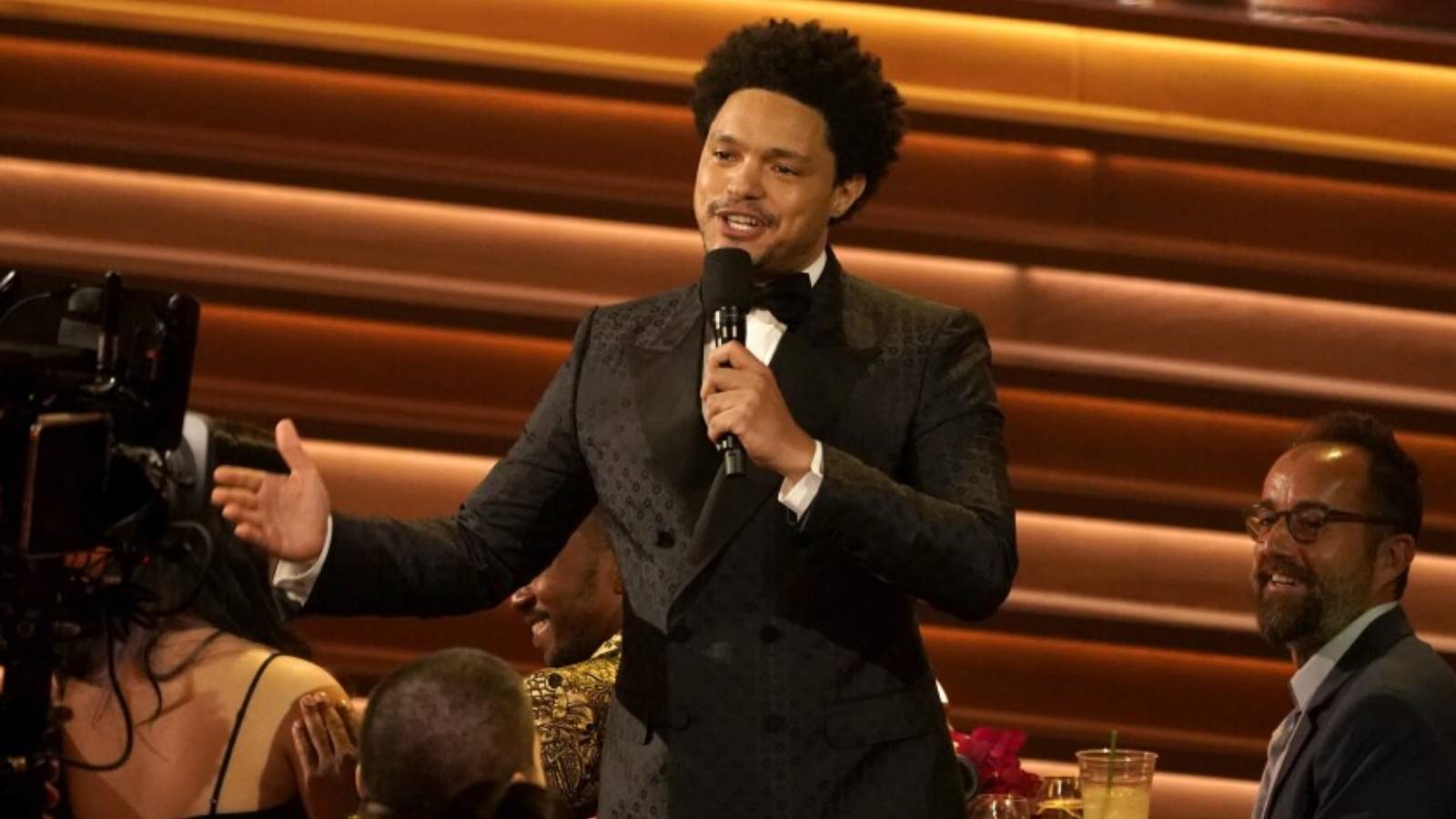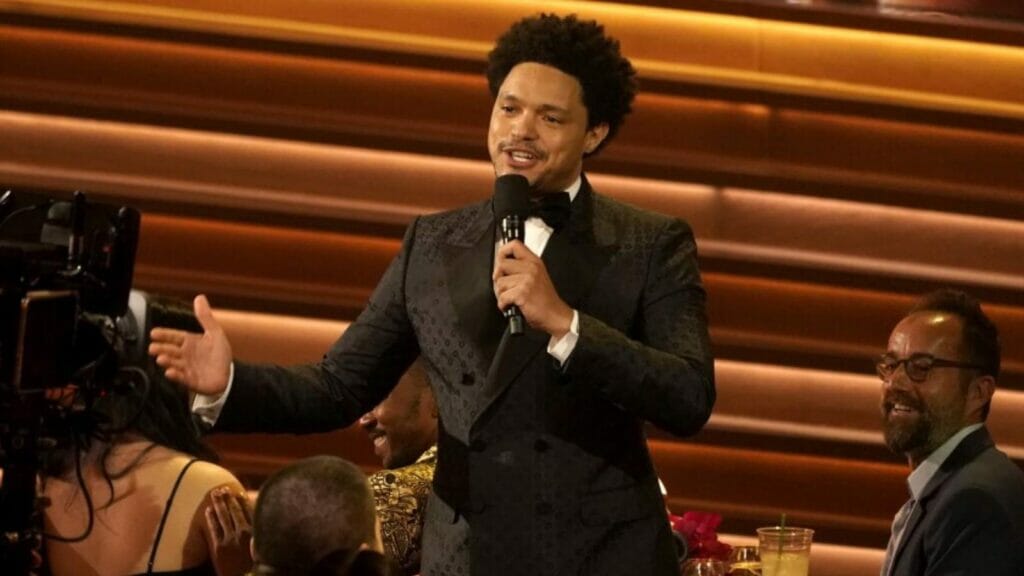 "One thing that has always made music so powerful is the way it responds to the times. Even in the darkest times, music has the power to lift spirits and give you hope for a brighter tomorrow. And there is nobody that could use a little hope right now more than the people of Ukraine," Trevor said after the speech.
Additionally, John Legend sang "Free" with Ukrainian musicians Mika Newton and Suzanna Iglidan. The segment was done to "raise awareness about the situation in Ukraine and will feature opportunities for viewers to take action and contribute to the global 'Stand Up For Ukraine' campaign," said the Recording Academy on Saturday.
Also Read: Trevor Noah Discusses Hosting the Grammys And His Admiration For BTS And Silk Sonic