Finally, it is good news for Kourtney Kardashian and Travis Barker, as the couple welcomed their first child together. In November 2023, Kourtney and Travis welcomed their first child. The couple has been trying various methods to conceive a child, and finally, they are blessed with an adorable baby boy.
Before the arrival of the baby, Kourtney Kardashian had a feud ongoing with her sister, Kim Kardashian. It all began after Kourtney and Travis' Italy wedding, which was planned by Dolce & Gabbana. A few months later, Kim Kardashian was appointed by the fashion house for their show during Milan Fashion Week. This did not sit well with Kourtney, and she called her sister opportunistic. Now, Kim Kardashian has not received an invitation to meet Kourt's child.
Related: Not The Feud, Kourtney Kardashian Missed Kim Kardashian's Birthday Party For A Completely Different Reason
Kourtney Kardashian Has Not Called Kim Kardashian To Meet Her Child Due To Strict 'Invite-Only' Policy
After a strenuous process, Kourtney Kardashian finally became a mother to Travis Barker's child. Kourt revealed that she was pregnant with Travis' child during one of Blink-182's concerts. While the parents are happy with the child, they have executed a strict 'invite-only' policy, where the couple will send specific invites to people to meet the child.
While the list of people invited to meet the baby boy is not known, it is alleged that Kim Kardashian has not yet been invited to meet her nephew. Insiders told The Sun why Kim Kardashian has not met Kourtney's baby yet.
The sources said, "Kourtney is going to be introducing the new baby to her family on an 'invite-only' basis. [Kourtney] and Travis have communicated that they will be taking 'family only' time for the newly blended family and for Kourt to rest, and then they will be inviting the extended family over on an individual basis."
The reason for the Poosh owner and Blink-182 drummer's policy is due to Kourtney being protective of her child and not exposing him to any external germs. "Kourtney has said it's a germs thing – to protect the baby and not expose him to any risk – but it's, like, part of her new strategy to keep everyone at arm's length," the sources added.
In Case You Missed: Kourtney Kardashian Slams "Egotistical, Selfish Mind" Kim Kardashian
Kourtney Had A Life-Threatening Fetal Surgery Before Birth Of Her Child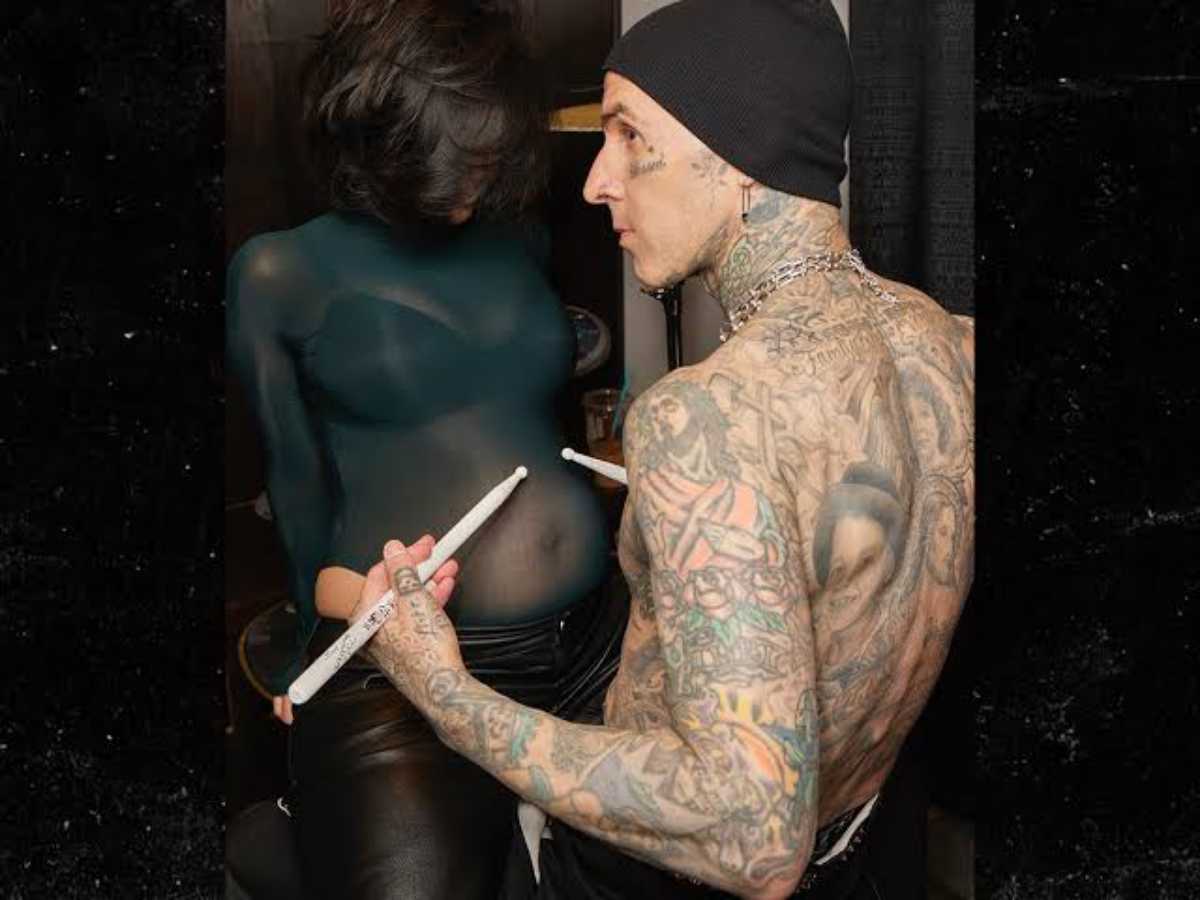 In September 2023, Blink-182 postponed four concerts in Glasgow, Belfast, and Dublin because Travis Barker had a family emergency. Later that month, Kourtney penned a post saying that she was doing better after a fetal surgery. She wrote a note on Instagram thanking the doctor for saving her and the child's lives. During the surgery, Kris Jenner and Travis Barker were by her side. She extended her gratitude towards them as well.
 

 

View this post on Instagram

 
Kourtney Kardashian credited mothers who had to fight during their pregnancies. She wrote, "I don't think anyone who hasn't been through a similar situation can begin to understand that feeling of fear. I have a whole new understanding and respect for the mamas who have had to fight for their babies while pregnant."
Kourtney concluded, "Praise be to God. Walking out of the hospital with my baby boy in my tummy and safe was the truest blessing."
You Might Also Like To Read: Did Travis Barker's Crush On Kim Kardashian Lead To The Kourtney Kardashian's Feud With Her Sister?