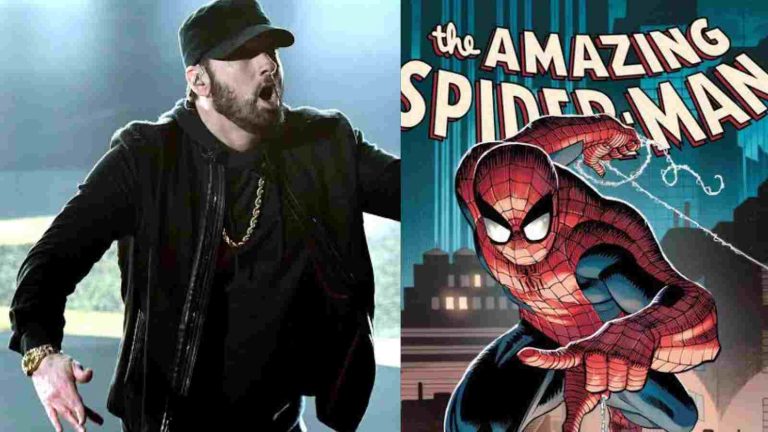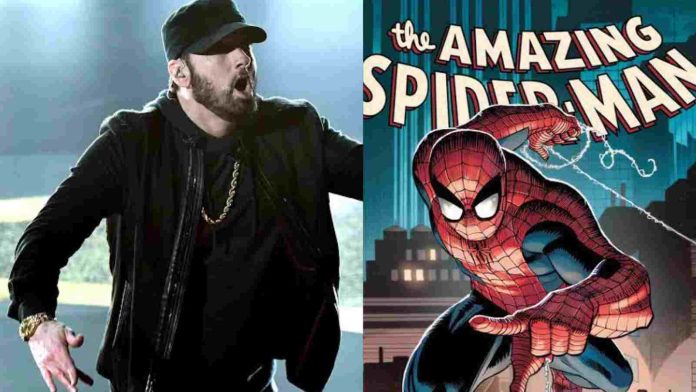 Now that's the crossover we did not know we needed! Eminem is featured in the new 'Amazing Spider-Man #1 variant. The Detroit rapper had references from the comics in his songs. The lyrical maestro had been an ardent collector of comic books and possessed the 'Amazing Fantasy' 15—the first-ever appearance of Peter Parker aka Spiderman.
The web-slinger is entering a new era with the 'Amazing Spider-Man' #1. The internet went into a frenzy speculating that Eminem will be featured in the new comic book series. However, that's not true the web-slinger and Slim Shady will not be going head-to-head in any twisted Marvel Cinematic Universe narrative. The rapper is set to battle it out on a mic with Spiddy!
Also Read: "I Almost Died": Eminem Recalls His 2007 Overdose
hustl. Has Released The Eminem And Spider-Man Limited Cover Variant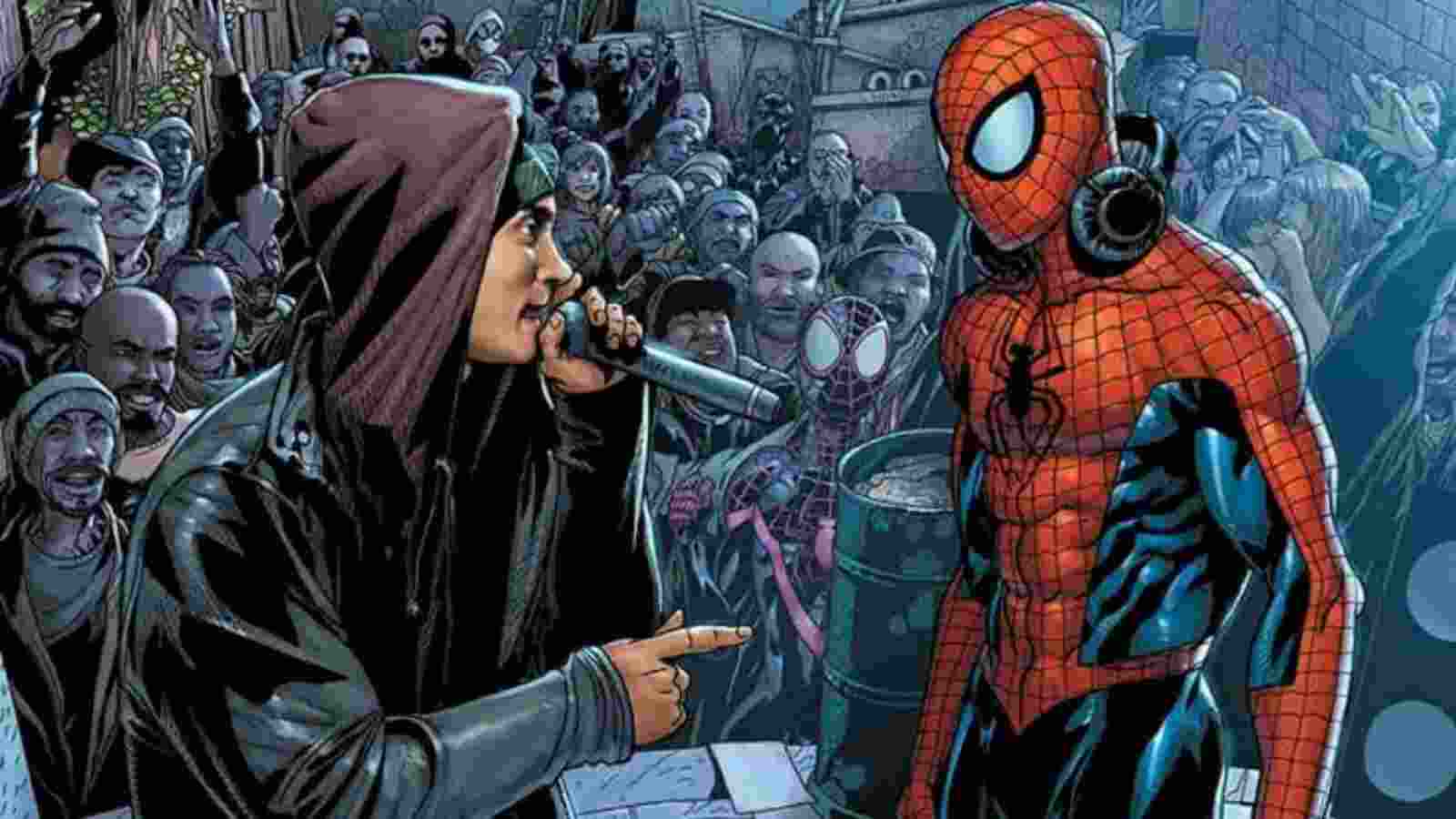 The 'Monster' rapper has its face on another Marvel comic book venture. This time he is seen battling with Spiderman in a cipher. On November 22nd, 2022, hustl., announced a new collaboration for the release of 'The Amazing Spider-Man' #1 (Legacy #895) with a limited edition cover variant. Salvador Larroca and Edgar Delgado have done the illustrations on the cover.
The cover looks like the artists are paying homage to the critically acclaimed and commercially successful film '8 Miles'. The loose biopic of Eminem had the last battle, where he and the other rappers are seen in a cypher. In the crowd, we can see Luke Cage, Ghost-Spider, Daredevil, and others. Eminem shared the news on his social media platforms captioning the post, "Like Spider-Man crawlin' upside of a wall. HONORED to be on the official variant of The Amazing Spider-Man (2022)."
The Chief Operating Officer of hustl., Keri Harris said, "It's truly an honor to be able to bring Eminem and Spider-Man to fans slinging raps on this official Marvel variant cover. There is no doubt that fans lucky enough to find themselves holding one of these will possess a highly sought-after collectible." The 5,000 limited print issues were instantly sold out. But, there will be 1,000 limited print "spotlighted variant comic cover" which will be available on November 29th, 2022, on The Haul.
Also Read: Why Is 'Stan' Featuring Eminem Censored On Youtube Even After So Many Years?
Twitter Was Sent Into A Frenzy Looking At This Cross-Over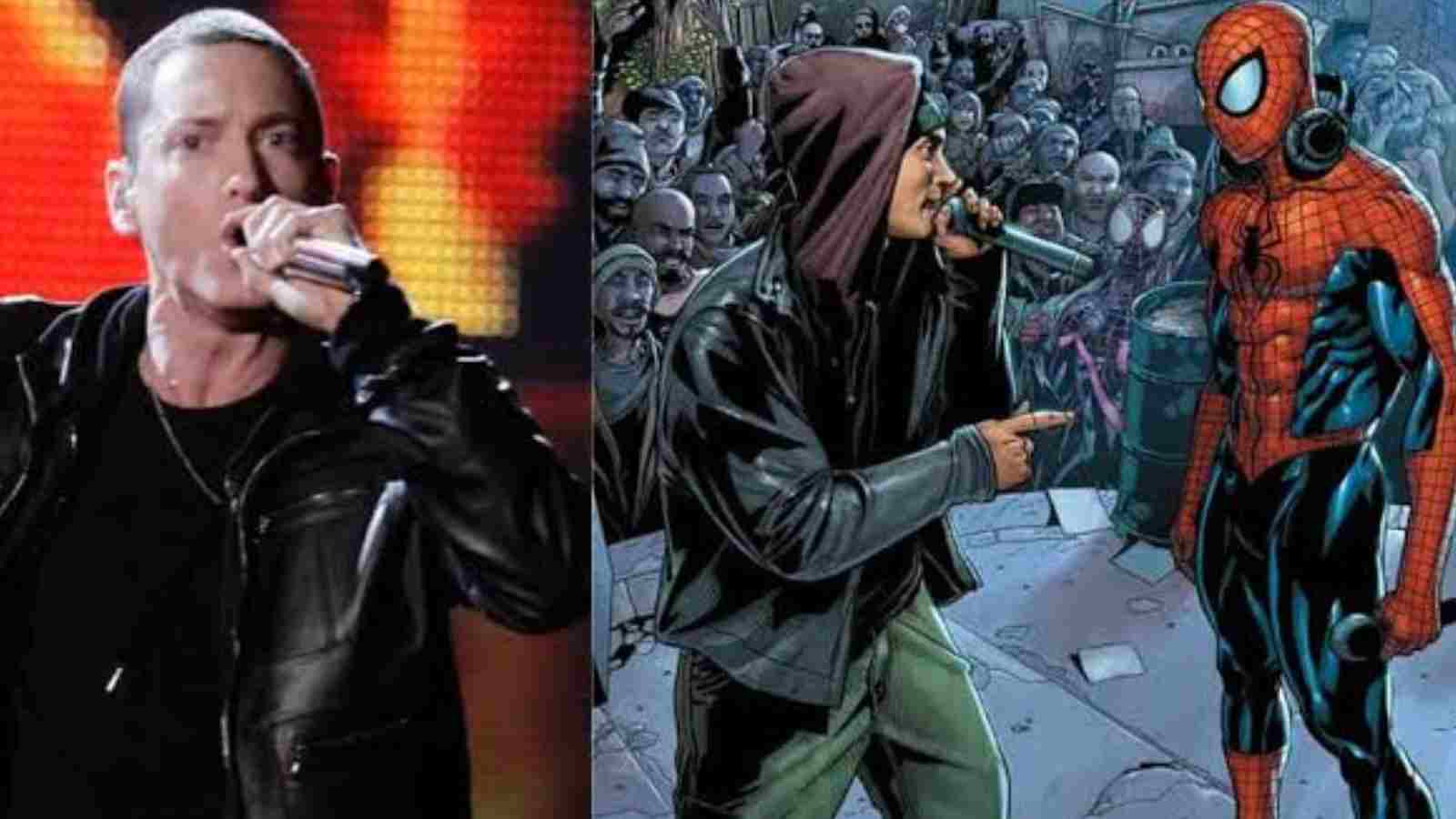 In 2015, Eminem said that he has always been a comics nerd. Marshall said, "I've always been into comic books. Spiderman, Hulk, old Batmans, Supermans — mostly vintage Marvel s**t from before I was born. "
He continued, "Just being able to have those pieces of history is crazy. I would not want to face off with somebody comparing comic book knowledge, but I know a pretty good amount." Twitter was "tripping balls" looking at this collaboration.
It's awesome to see someone like him who has a huge love for comics and nerd culture get opportunities like this. You know he's big into when Ed Sheeran talks about how they just talk about avengers for 4 hrs straight when they first met😄🤓

— Ron (@uFo_98) November 22, 2022
That's so cool! 😍

— Niamh (she/her) (@Niamhkells7) November 21, 2022
Do #Eminem fans realize that Marshall is only on the COVER of this SpiderMan comicbook, not a character in the book at all ?

Just checking cause some Stans are tripping balls on Saturn right now #calmdown pic.twitter.com/sATyoziOYu

— EricEpoteArt__ (@EricEpoteArt__) November 22, 2022
This makes so much sense, Mary Jane got to you!

— Nettle✨ (blue checkmark) (@nethornk) November 21, 2022
Spider-Man and Em bout to turn this into 8 mile

— Nathanael (@JohnathanVinyl) November 22, 2022
Also Read: Will Tom Holland Return For 'Spider-Man: Freshman Year'? Here's What We Know