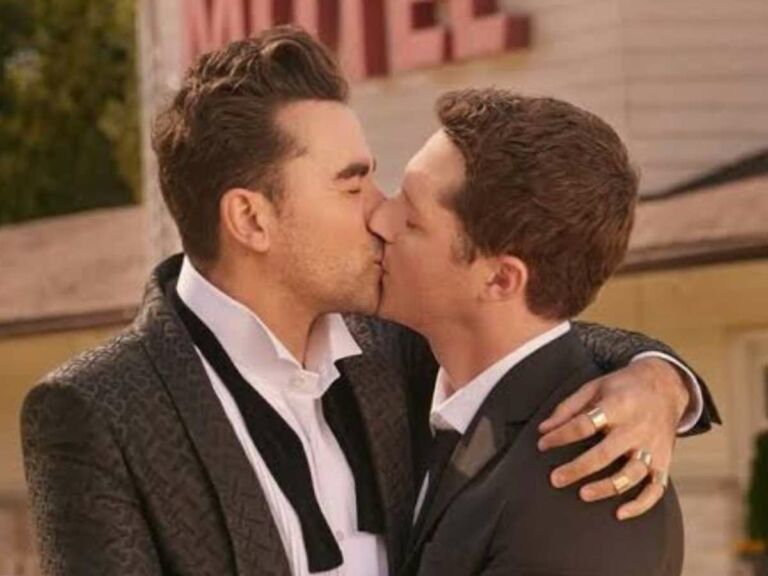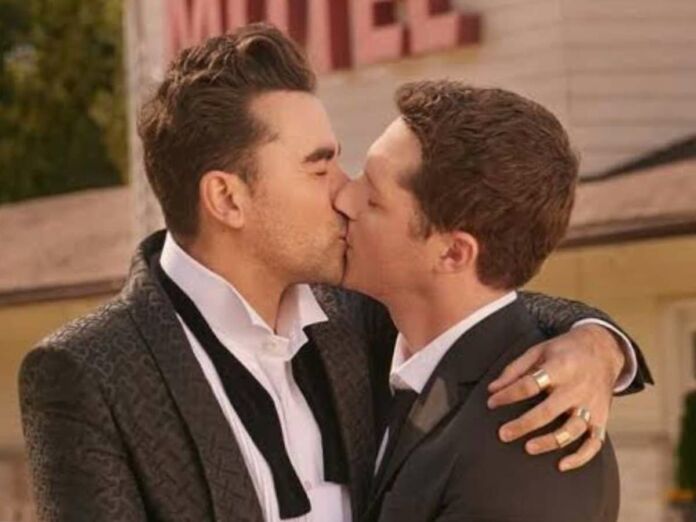 The world has become bleak since 'Schitt's Creek' went off the air! The one who cherished the show, devoured the love, and came out with a full heart may understand the feeling of emptiness. The show was a trailblazer when it came to building a character arc, progressively progressing a story of love, and writing vivid characters that will be etched in television history forever. 'Schitt's Creek' taught us not to love but to preserve its sanctity. One of the love stories that taught us the value of perseverance and patience was the one between David Rose (Daniel Levy) and Patrick Brewer (Noah Reid).
This is the cue to play Mariah Carey on a loop! When David came to Schitt's Creek, he had a fractured love affair with 'love'. The concept was paralyzed when the heart broke multiple times without any healing. David believed in "the wine and not the label." He loved unabashedly, but he did not find the one to reciprocate the unapologetic love. So, here comes the hero to save our damsel in distress! However, the damsel came with a lot of baggage from previous relationships, which had complex knots. Patrick, very patiently, undid the knots so that David's love could breathe again and live again. However, the journey that the couple embarked on to untie the tangles had many adorable moments.
Related: How 'Schitt's Creek' Got 'Heart Wants What It Wants' Right
10) The Frantic Voicemails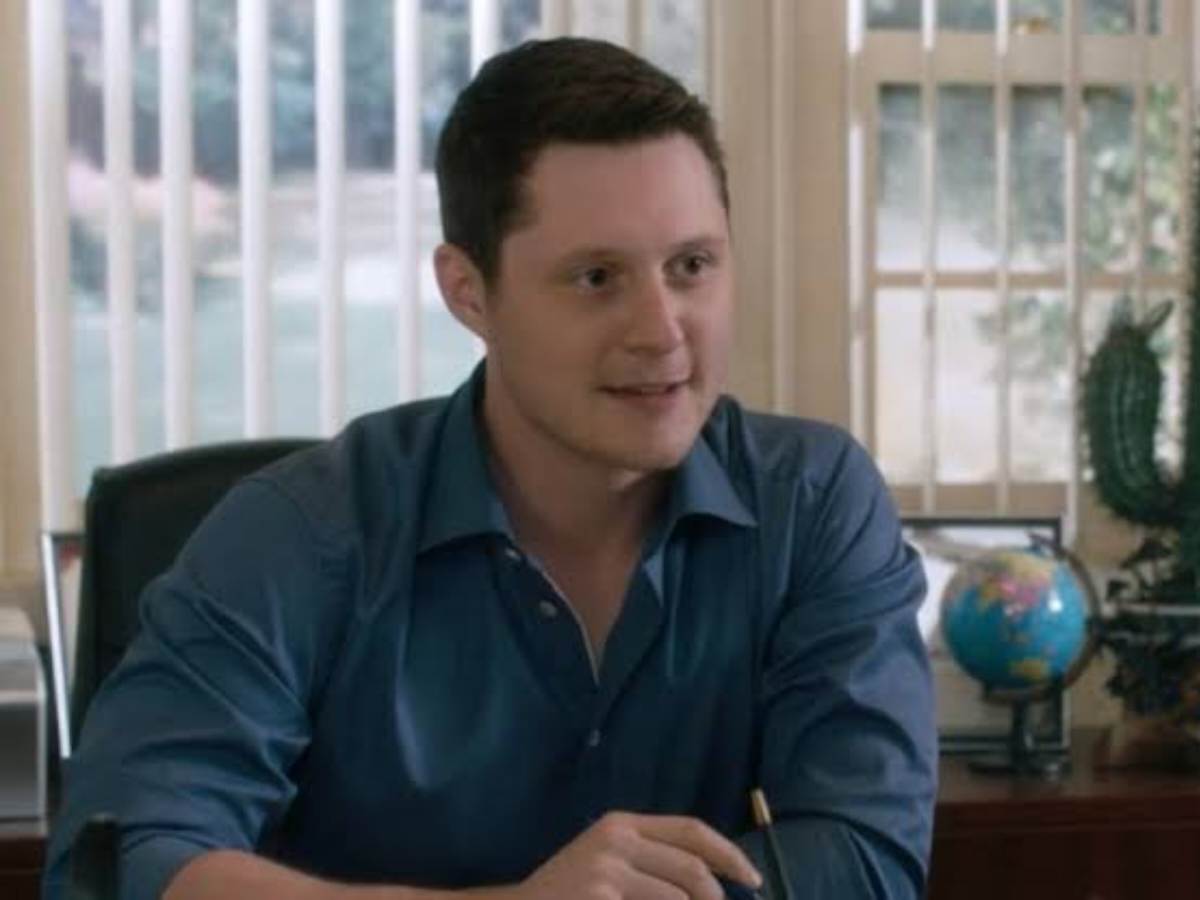 After a heartbreaking confrontation with Moira Rose, David decides to get the general store on a lease for his new business. So, unaware of the process, he comes to get help from Ray. While Ray is busy taking pre-wedding pictures of a couple, Patrick comes to help David. During their first meeting, they could not stand each other.
David is completely clueless about how to explain his business idea, and Patrick is not ready to back off from the banter. So, Mr. Brewer asks David to fill out the form on his own. David is not ready to back off, so he frantically sends multiple voicemails to him explaining the idea. It was a masterclass in writing a scene for a situational comedy. However, Patrick helps himself by filling out the forms for David.
9) Framing The Love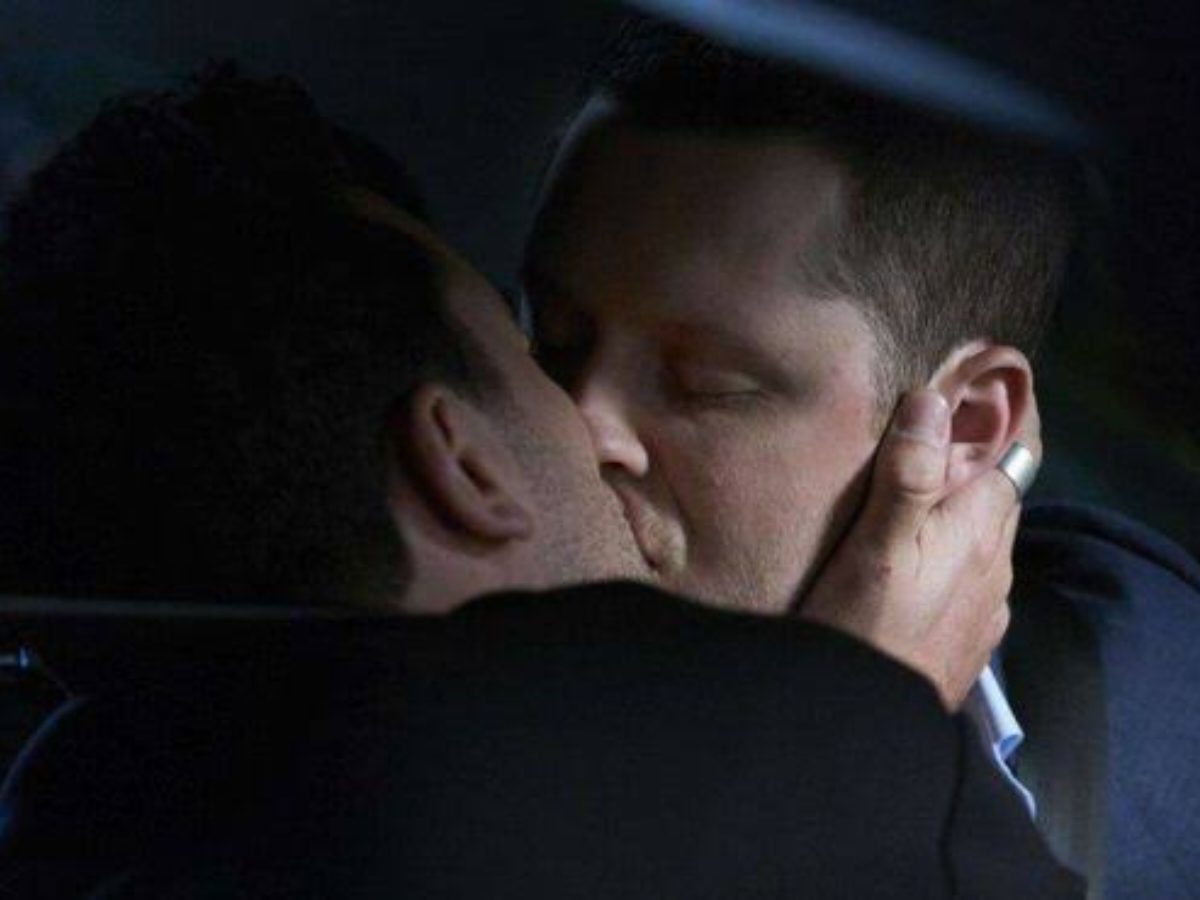 The season three finale is a big night for the Rose family. Alexis is graduating from high school, Johnny Rose has fully booked the motel, and it is David's birthday, but no one remembers it! Patrick then proposes to David that they all go to the café to celebrate his birthday. It is the first time in the series that the two go out on a date together. Patrick books a table for the two and arrives in a three-piece suit bearing a gift!
After Stevie crashes the celebration, she insists David open the present. So, when David finally opens it, Patrick has framed the bill from their first sale at the Rose Apothecary! The two share their first kiss before calling it a day.
8) Patrick Is 'Simply The Best!'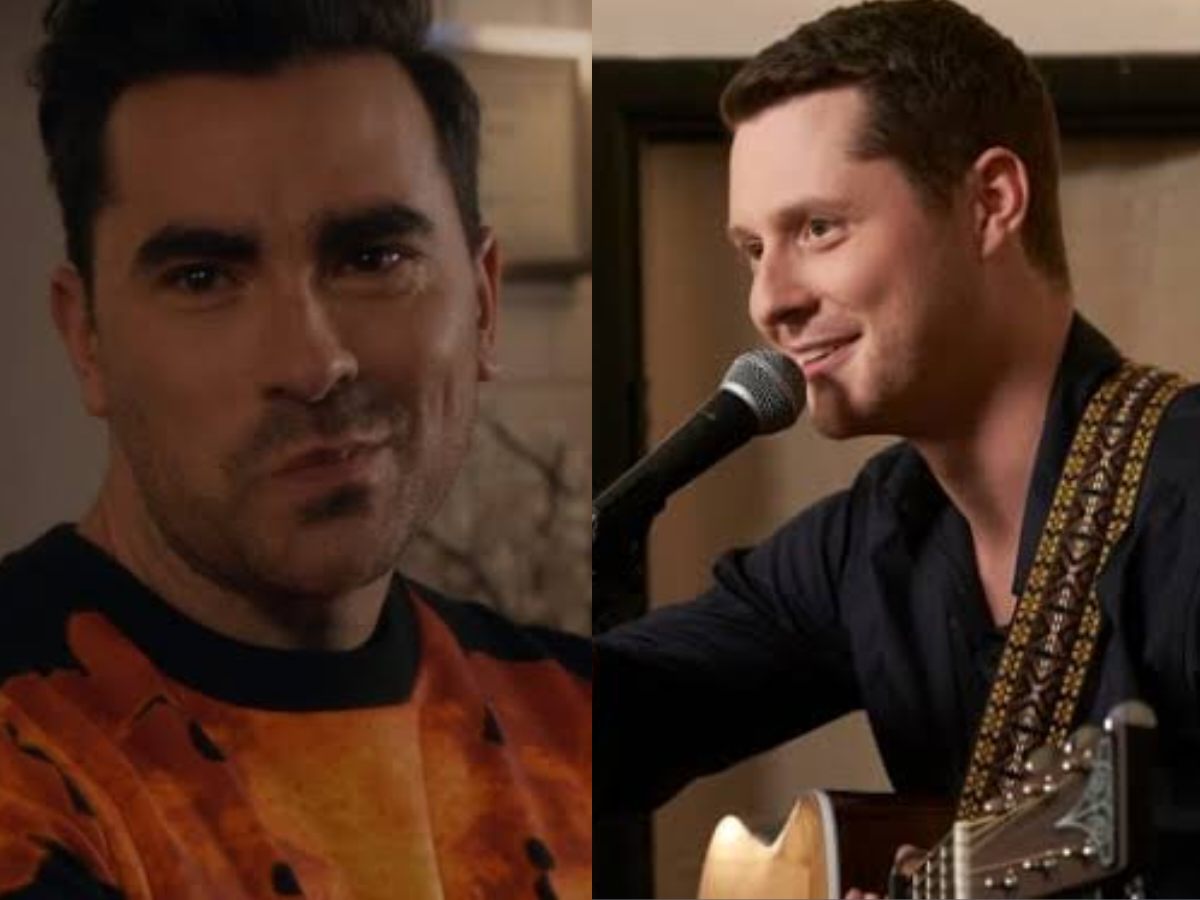 When the café is deserted with no customers, Patrick suggests that they hold an open night for everyone in Schitt's Creek. He proposes that he will play guitar and sing a song as the host of the night. But David protests against the idea of Patrick performing, as he does not want to be embarrassed in front of the people. When the open night commences, Patrick dedicates Mariah Carey's 'Simply The Best' to David and serenades him.
7) The First Confrontation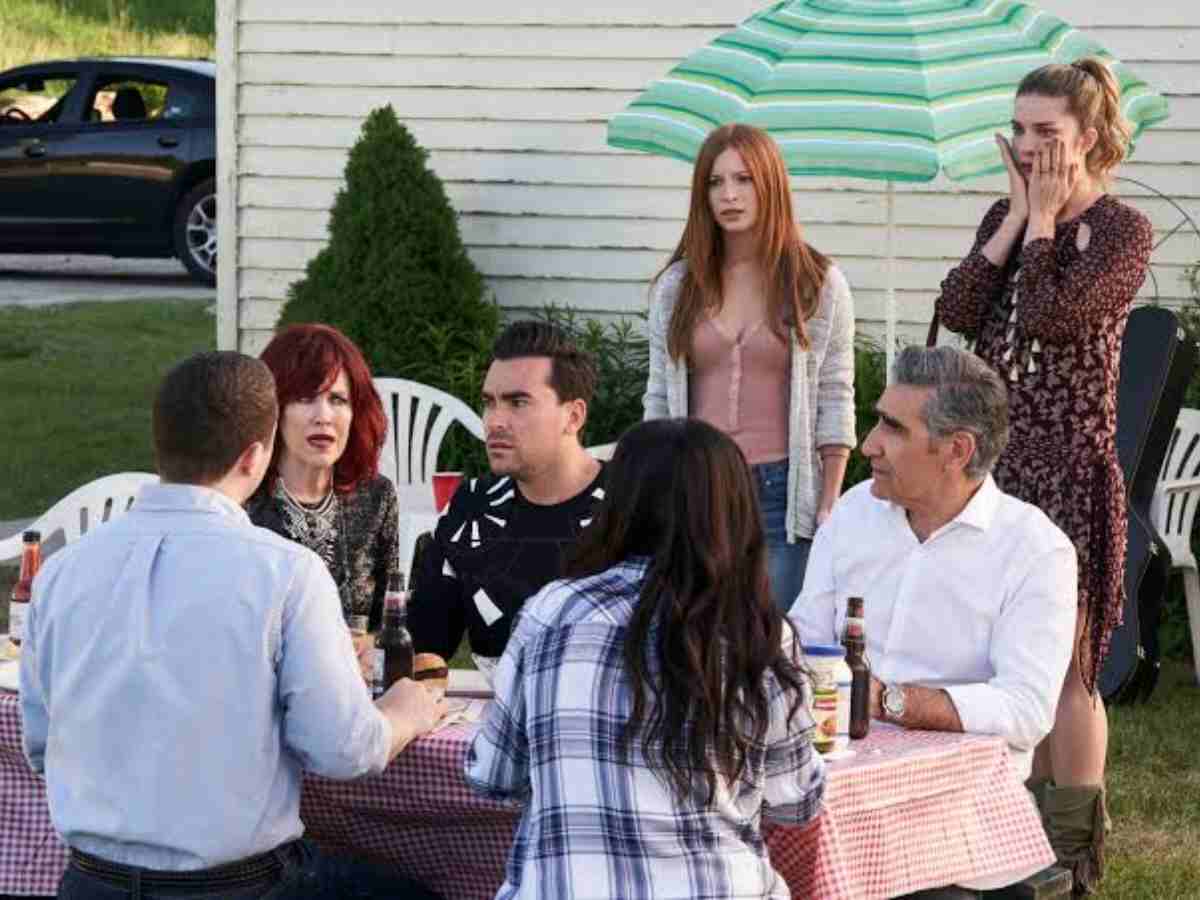 David feels it is precarious to involve Patrick in family affairs and traditions as their relationship is in its nascent stage. David has experienced betrayal in the past, so he does not want to bruise his wounded heart anymore.
But, after his family's insistence, he invites him to a family barbecue. But it does not turn out as they thought. Alexis brings Patrick's ex-fiancée to the barbecue, which hurts David the most. But as Heidi Priebe once said, "To love someone long-term is to attend a thousand funerals of the people they used to be."
6) David And Patrick Explore Open Relationship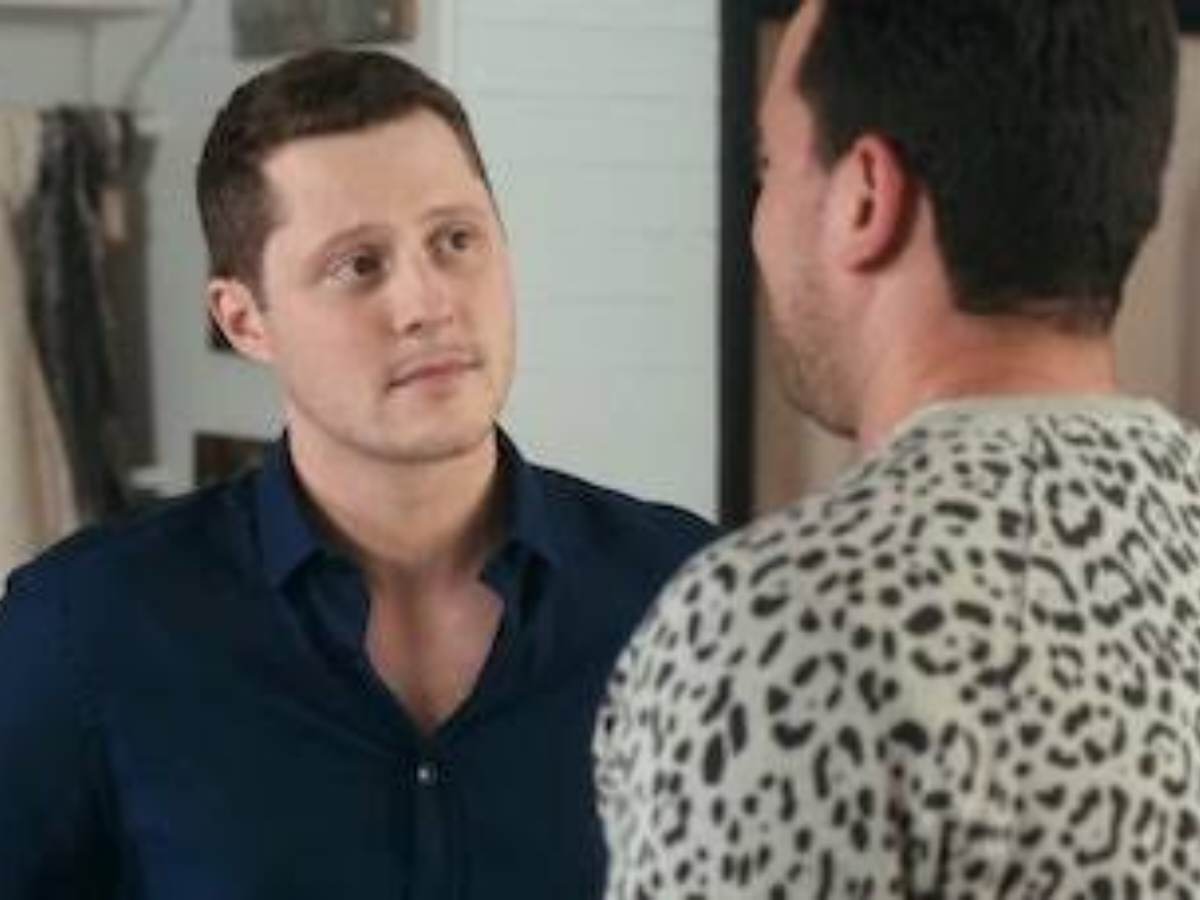 During season five, David decides to test his love, Patrick. A lean and handsome boy named Ken arrives at the store and leaves his phone number for Patrick. Unlike David, Patrick has little to no experience with men. To make David jealous, Alexis pushes his buttons and gaslights him into asking Patrick to explore more, opening their relationship to others.
However, he realizes that he has dug the grave for his love on his own, sending Patrick on a date without setting ground rules. This makes David worried. Nevertheless, Patrick comes back from the date and admits that he could not do anything. He puts the gravel back in the garage because his love has stood the test, burying every ounce of jealousy or worry.
5) Patrick Confesses His Love To David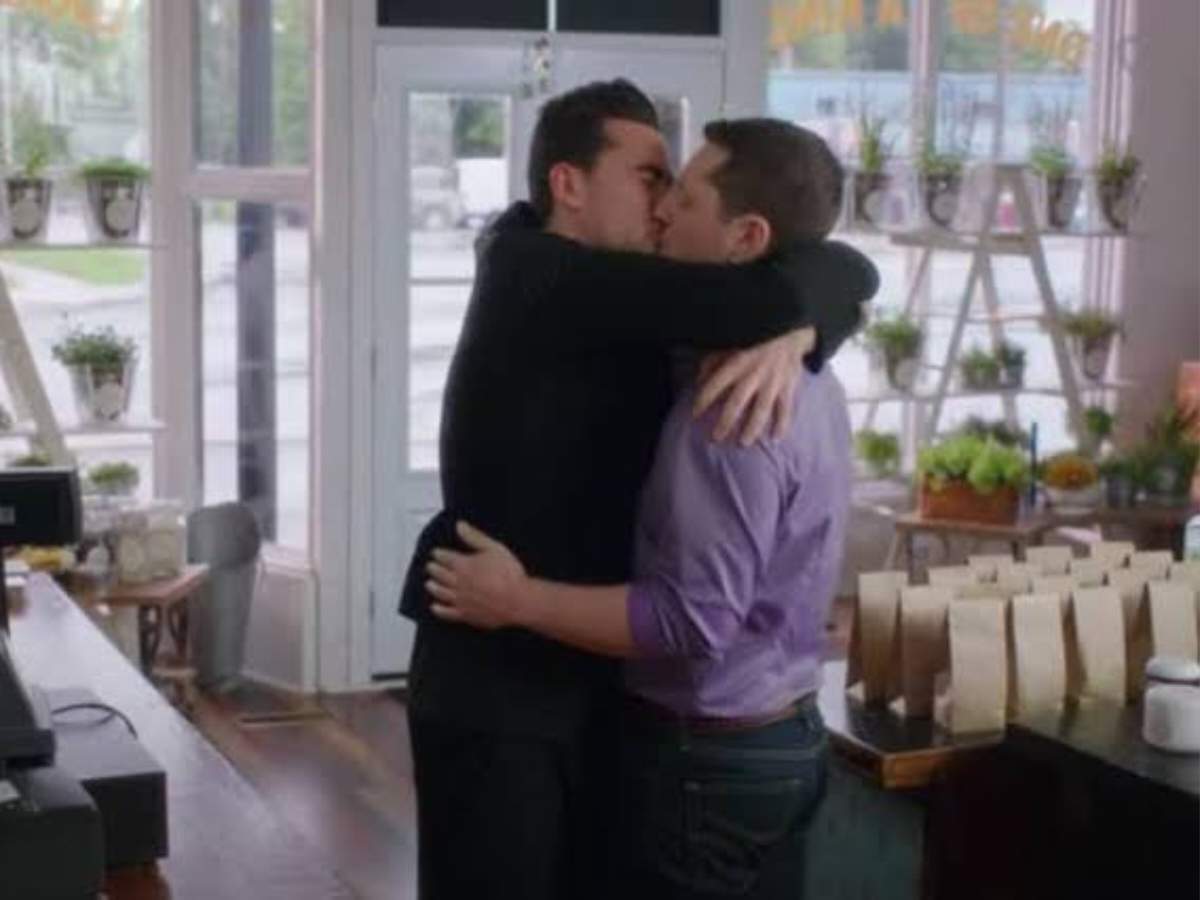 One of the best episodes of 'Schitt's Creek' is 'Single's Week'. A lot happens before and after the episode, but it sets the romantic tone of the series ahead. The town is getting ready for 'Valentine's Week,' which will bring singles and money to the town, all thanks to Alexis Rose. But Alexis confesses her love to Ted, and this creates awkwardness between all the people involved. Patrick asks David to deliver the scarves for the pets to Ted's clinic. David is afraid of facing Ted. However, Patrick calms him down by telling him that he loves him and says, "You're my Mariah!"
In Case You Missed: Is Schitt's Creek A Real Place? Where Was The Series Filmed?
4) David Stands Rock Solid With Patrick When He Comes Out To His Parents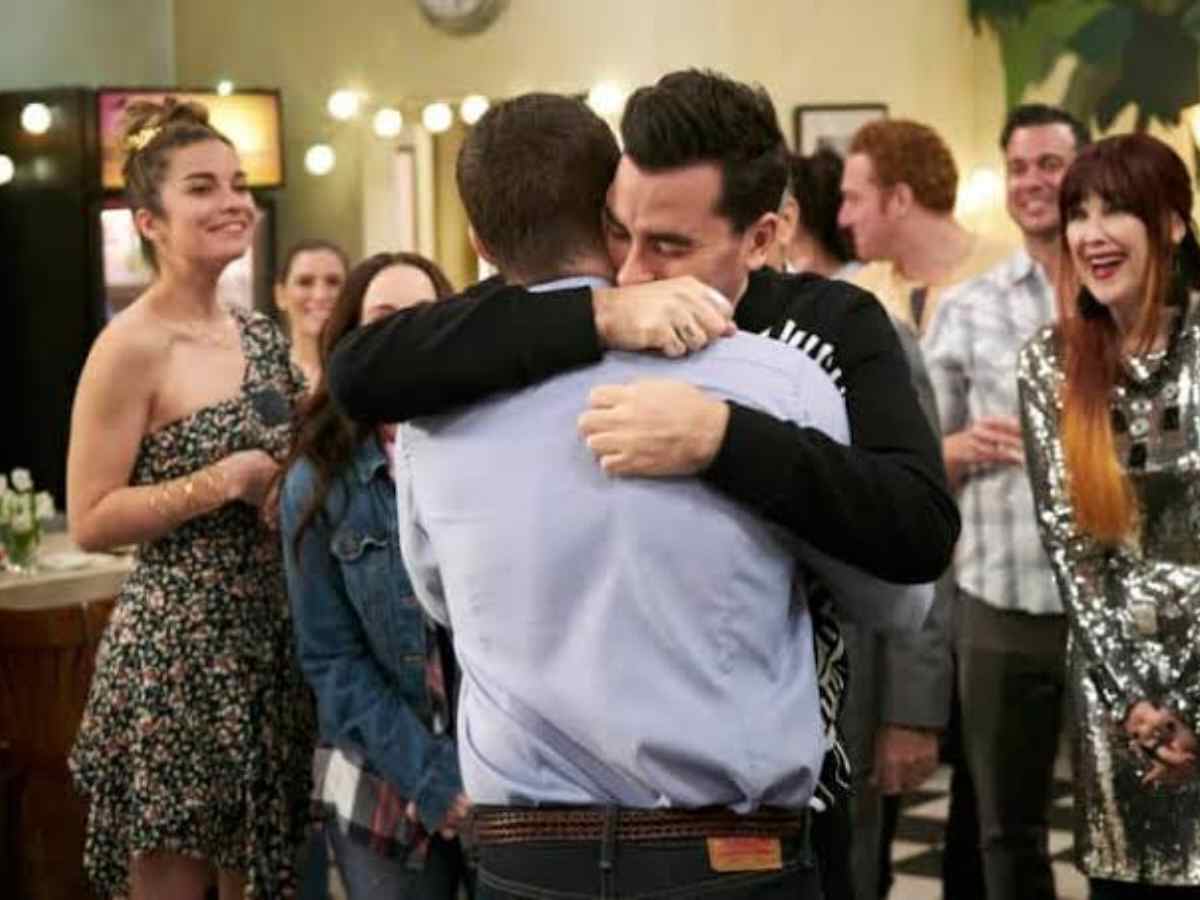 One of the most endearing moments on 'Schitt's Creek' is how these two stand right behind one another and nudge one another in the right direction. David, for Patrick's birthday, invites his parents to town as a surprise for him. But they come without any information about David and Patrick's romantic relationship. After Johnny outs Patrick to his parents, chaos ensues.
However, in all the chaos, David maintains his zen and tells Patrick about it. Patrick tries to defend his family, but David tells him to come out to his parents on his terms. It reaffirms that everyone must stand by the person like a rock as they go through the incredibly intimate process of coming out.
3) Patrick Proposes To David During The Hike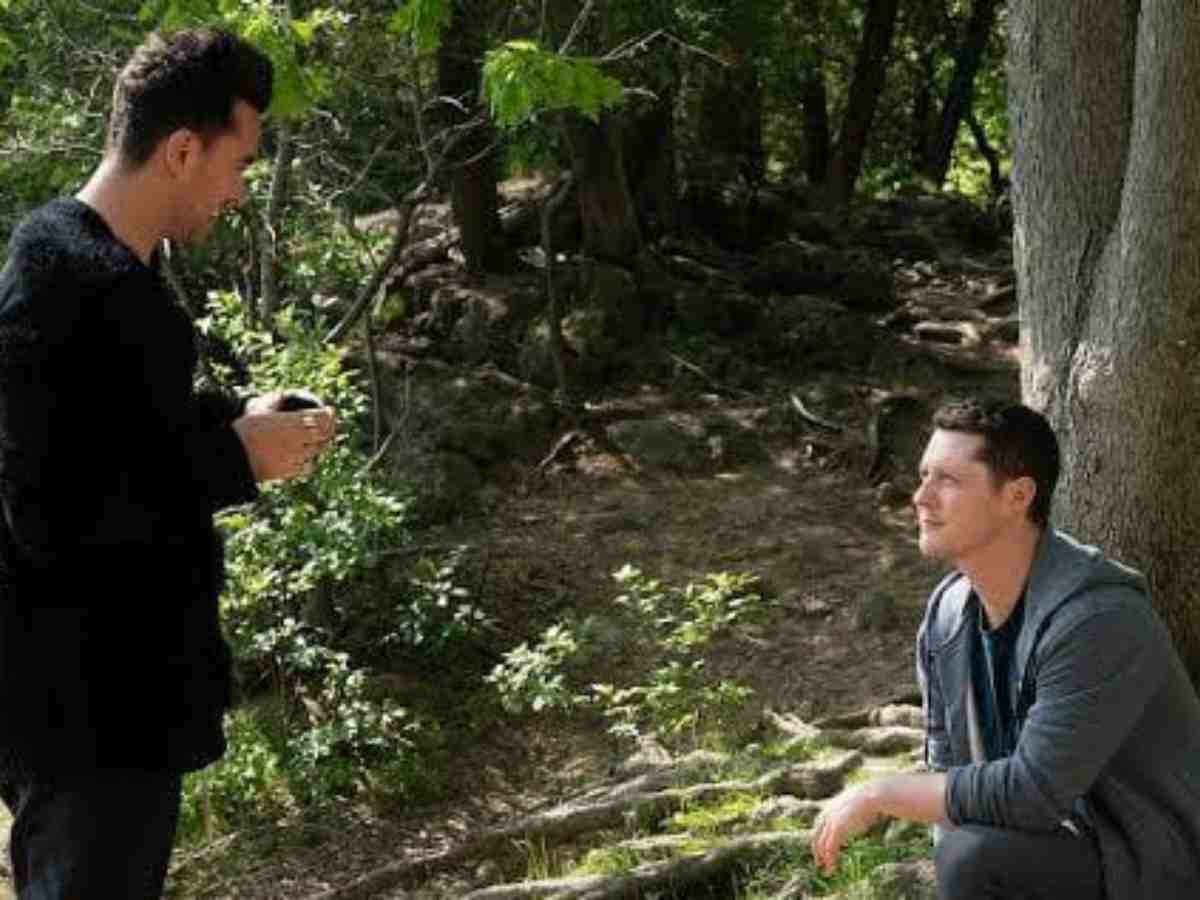 After anticipating that Patrick is taking him on a romantic date to some English Gardens, David realizes that it is a hike! Throughout the activity, David throws tantrums. As they are ascending, a branch gets stuck in Patrick's leg. He feels that it was a mistake to come hiking. David feels bad and asks him to make the hike worthwhile as he will be getting to relish cheese at the end of it. But it was not only cheese that was worth waiting for. Patrick goes on his knees and asks David to marry him.
2) The Compromise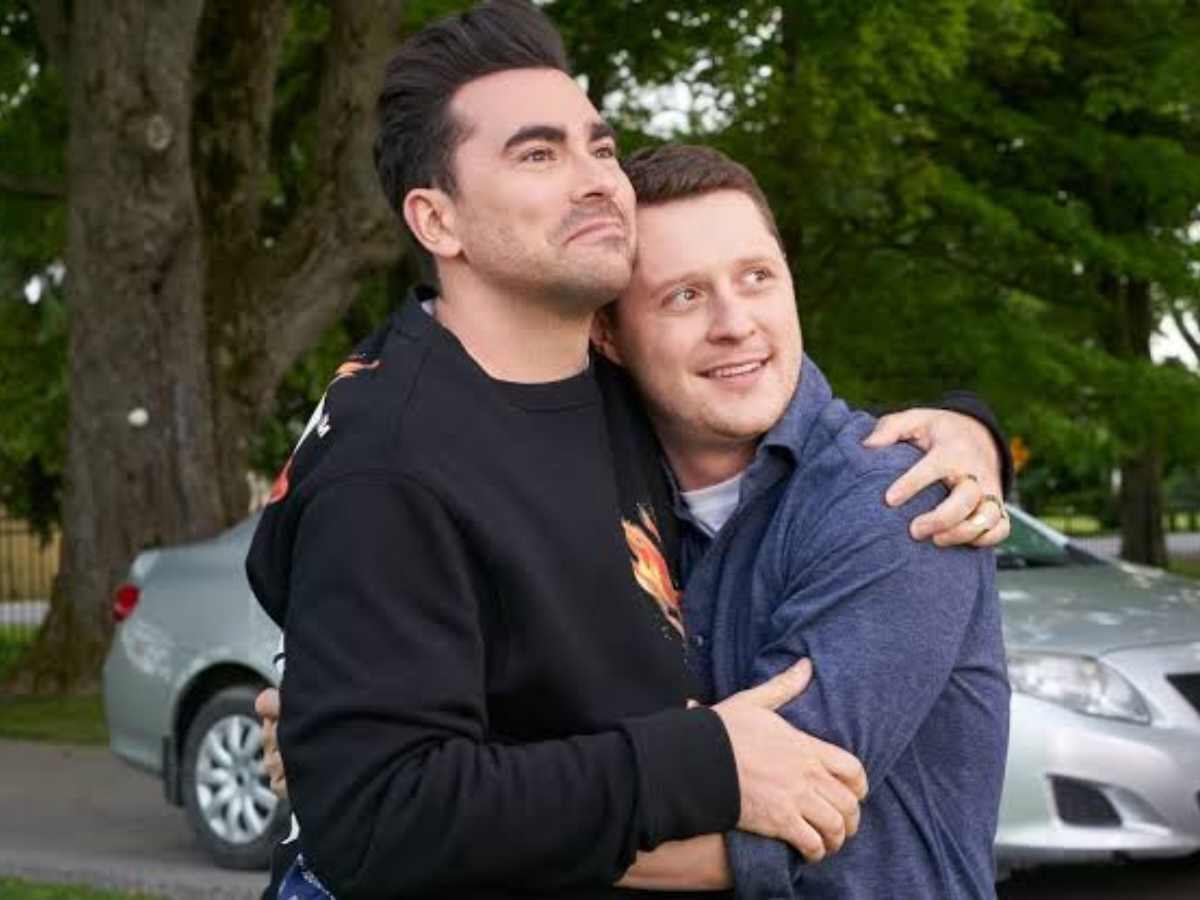 When Johnny Rose and Co. bag a deal to expand the Rosebud Motels, it involves them moving to New York. David is excited to go back to New York and show his partner the life that he led there. But Patrick has something planned that could not be accomplished due to David's insistence on moving to the city. However, like every time, Stevie comes to David's rescue and tells him that Patrick has been negotiating for their dream house in the town. This makes David realize that if he relocates to New York, his connection and level of comfort with his partner would be jeopardized.
1) The Wedding Bells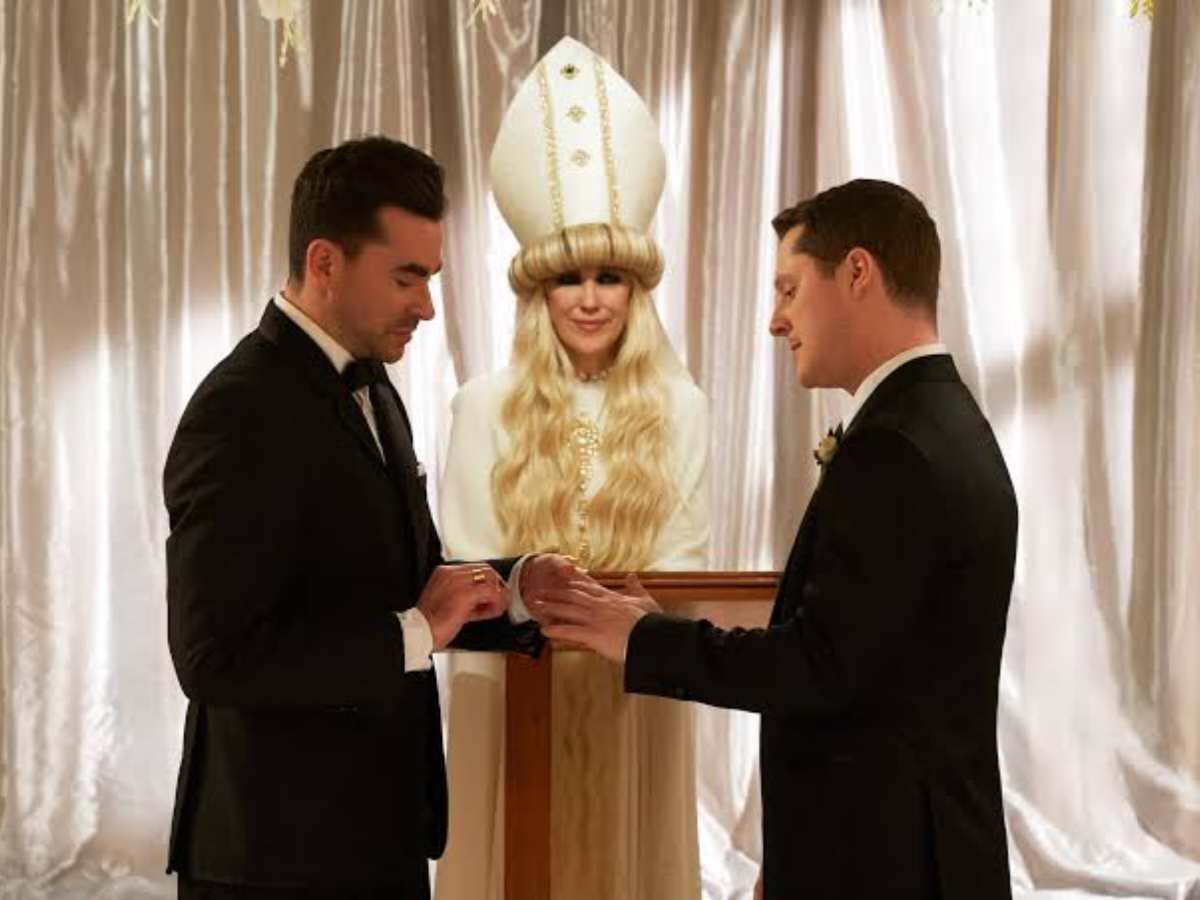 The last episode of the series leaves our eyes wet and our hearts full. The perfect ending is old Hollywood. So, on the wedding day, David does not expect the storm that clouds his wedding—literally and metaphorically! But it is the last test before the two tie the knot for a lifetime after untangling the past ones. So, Patrick tries to give David and us a "happy ending" that we will cherish in our hearts for the last time. It taught us that the endings, even if they are murky, are endearing when your companion illuminates the path to a new life!
You Might Also Like To Read: "Never Say Never": Eugene Levy Hints At Possible Revival Of 'Schitt's Creek'