Taylor Swift has amassed great stardom with her consistent efforts toward giving the best of music to her fans! In 2022, Swift reached the pinnacle of her career with the release of her tenth studio album, 'Midnights'. Later, when she announced the global 'Eras Tour', Swifties went into a frenzy. The tour has made Taylor into a billionaire, and it is on the verge of becoming the highest-grossing tour of all time.
During the span of 'Eras Tour', Taylor Swift's personal life went through turmoil, but eventually she found love in Travis Kelce. After parting ways with Joe Alwyn and briefly dating Matty Healy, she has been happy with the Kansas City Chiefs, Travis Kelce, and their love story is no less than that of a romantic film! While Taylor has been silent about the love that is blooming between her and Travis during the Argentina concert of 'Eras Tour', she has seemingly professed love for her beau.
Related: Travis Kelce Gets Asked If He Is In Love With Taylor Swift. Here's What He Said
Taylor Swift Changes Lyrics To 'Karma' Dedicating It To Travis Kelce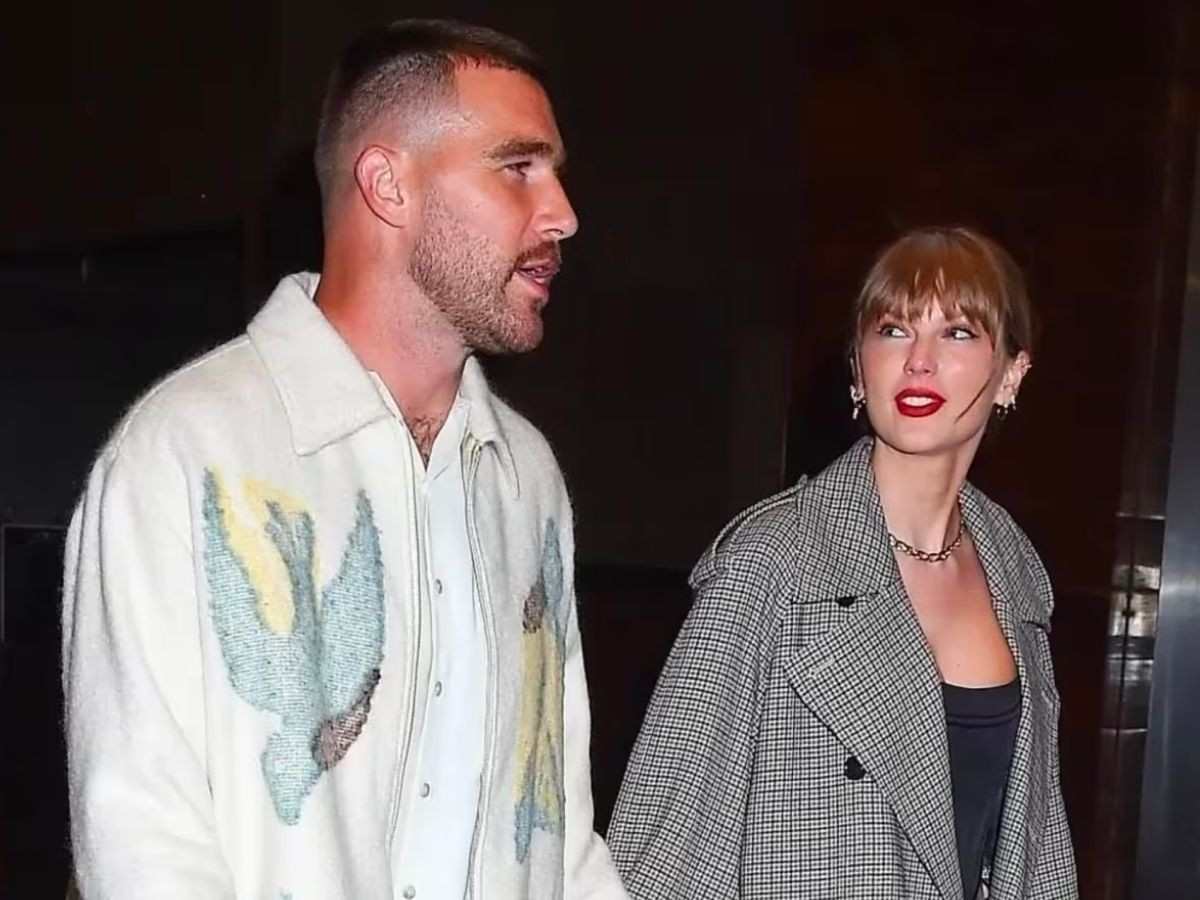 After signing off from the US and Mexico leg of the 'Eras Tour', Taylor Swift kicked off the Latin American leg on November 9, 2023. The first stop of the tour was Buenos Aires, where she was to perform for three nights.
It was not confirmed whether Travis Kelce would make it to Argentina to support his girlfriend. But a source confirmed to Page Six that Travis Kelce will make it to the concert. The source said, "He has to be back on Sunday for practice on Monday."
Travis Kelce reacts to Taylor Swift's "Chiefs" lyric change for 'Karma' at the Eras Tour.

— Pop Base (@PopBase) November 12, 2023
During the concert at the Estadio River Plate Stadium in Buenos Aires, Argentina, Taylor Swift confirmed that she is surely in love with Travis Kelce and declared that he is her boyfriend! Before the concert, Taylor was spotted with Travis Kelce and her father, Scott Swift.
Swift changed the lyrics to her popular song, 'Karma', from 'Midnight'. Taylor Swift's song goes, "Karma is my boyfriend, Karma is a god, Karma is the breeze in my hair on a weekend, Karma's a relaxing thought." However, during the Argentina concert, she sang, "Karma is the guy on the Chiefs, coming straight home to me."
In Case You Missed: Is Travis Kelce The First Boyfriend Taylor Swift Has Shown PDA With?
The Artist Ran To Kiss Her Beau After A Successful Concert
Rarely has Taylor Swift displayed affection for her ex-boyfriends in public. There were reports that Taylor and Travis Kelce went into PDA mode during the afterparty of SNL in New York.
During the party, Travis put his hands on her lower back or her waist and gave her a little kiss, which continued throughout the night.
Taylor Swift running to kiss Travis Kelce after her show in Argentina. pic.twitter.com/pz6g9sgjNn

— Pop Crave (@PopCrave) November 12, 2023
Taylor Swift could not contain her excitement to see her beau, Travis Kelce, after the Buenos Aires concert. She ran towards him, and the couple locked lips before exiting the venue, officially professing love to the Kansas City Chiefs tight end.
You Might Also Like To Read: Travis Kelce Becomes The Leading Receiver In Kansas City Chiefs History. Here's How Taylor Swift Reacted