All the LGBTQIA+ folks got their summer teen romantic film in the form of 'Heartstopper.' The Netflix audience gave such a positive response to the season that Netflix decided to renew it not only for the second but also for the third season. The streaming platform informed the eager fans that they have begun the filming of season 2.
The first season followed the life of two lads Charlie and Nick, who fall in love with each other as Nick discovers his sexuality. The show was lauded and appreciated for two things. First, they got the 'paper-to-screen' visuals on point, and second, the representation! Now, that the new season is on its way, here is what we know!
Also Read: Heartstopper: Netizens Are Gushing Over The New LGBTQIA+ Drama On Netflix
'Heartstopper Season 2': What We Know So Far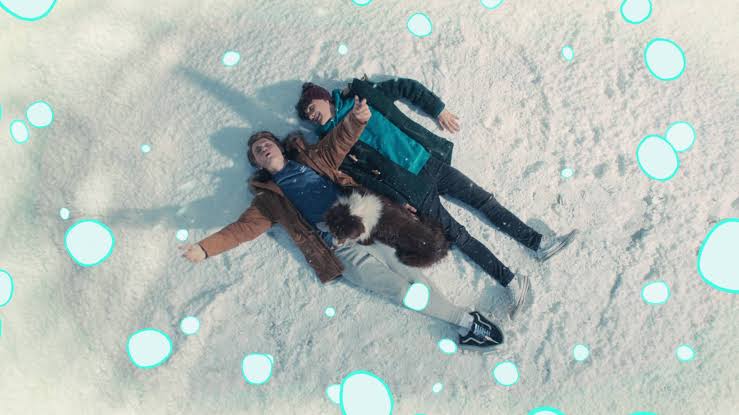 The show became a cult instantly. The show is an adaptation of Alice Oseman's graphic novel with the same title. In May, the streaming platform announced that they will renew the show for two more seasons. Social media gave a positive response to Heartstopper, and the queer people especially approved of the representation of gay and trans characters in the show.
For the new season, the original cast will stay intact. There were uncertainties about whether Yasmin Fimmey who plays Elle will be back for the season. The reason was that she was selected for 'Doctor Who.' However, the makers confirmed that she will be back for the new season. The cast includes Kit Connor (who plays Nick), Joe Locke (Charlie), William Gao (Tao), Tobie Donovan (Isaac), Corinna Brown (Tara), Kizzy Edgell (Darcy), Sebastian Croft (Ben), Rhea Norwood (Imogen), and Jenny Walser (Tori). 
New Additions And The Plot
The whole cast of the new season
There are four new additions to the cast. The new cast includes Jack Barton(David Nelson), who will play Nick's brother; Nima Taleghani (Mr. Farouk), who will play a teacher at Truham; Bradley Riches (James McEwan); and Leila Khan as Sahar Zahid, a South-Asian, non-binary, and plus size character. The story may follow volumes III and IV of the novel. In the former, the couple faces a turbulent phase in their relationship. In the latter, they face personal demons.
Also Read: "Don't Say Gay Is Being Written Into Law But You Do Belong": Ariana DeBose Gives Powerful Speech To LGBTQ Community
Twitterati Showered Their Love On The Upcoming Season 
honestly still cant believe that they already started filming heartstopper season 2 and season 3 is already confirmed like lifes good rn pic.twitter.com/vVZDBP2jaW

— Fran 🌱 JOE DAY (@joesbodyguard) September 21, 2022
— Love, Danny 🎡 (@DannyWxo) September 22, 2022
SHAKING IN PUBLIC

— zara loves dan ⎊ (@foolsdnp) September 22, 2022
heartstopper season 2 era you are so iconic already pic.twitter.com/mjxv0wSiF0

— ella💕 (@lovelikingnickk) September 21, 2022
Also Read: Heartstopper Season 2: Everything You Need To Know